I went out to the Stadium tonight, but it didn't really feel like I was there. The place was tame, though I kind of expected that given the time of year and match-up. The game also went as quickly as we've seen a Yanks game, just two hours and 19 minutes. That's what happens when the teams score in bursts and the pitchers otherwise roll. The Yanks got to Brett Myers early, and it was enough for Andy Pettitte.
Biggest Hit: Cervelli opens it up
Things seem to be breaking Brett Myers's way this year. His peripherals are good, not great, though his ability to keep the ball in the park, a problem for him during his days with Philadelphia, have certainly helped him out. In fact, nearly all of his other peripherals are right in line with his career. That includes strikeout rate, walk rate, hit rate, batting average against, and OBP against. His SLG against, however, is a puny .398, down from .443 for his career.
The Yanks took care of business early, putting Myers on the ropes right at the start. Curtis Granderson got it started with a one-out double, and then the Yanks kept the pressure on. Teixeira walked, and then Cano singled to load the bases. Swisher worked a 3-2 count before taking a walk, bringing home Granderson and opening the scoring. Jorge Posada struck out, but one batter later Francisco Cervelli grounded one up the middle to score two. The hit was huge. The Yanks will feature a weak bottom of the order this weekend, and for one of them to come through when the top of the order has done its job can, and probably will, be the difference in these games.
The hit was big for Cervelli, too. When Jorge Posada took a foul ball off his foot on May 16th, Cervelli was hitting .393/.460/.500. Clearly that wouldn't last. Full-time exposure caught up to him, and he's hit .188/.306/.217 in his last 86 PA. He's better than that, I'm sure, and if he ends the season at .280/.372/.344 I think we'll all be pleased. Still, huge hit. Turned out to be the difference maker.
Biggest Pitch: We'll just give it to Pettitte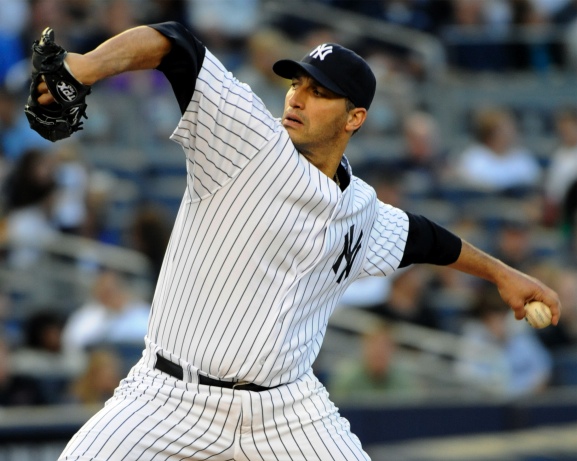 Normally the starting pitcher has some kind of impact situation where he comes through heroically, setting down his opponent and putting his team back on offense. Pettitte didn't really run into much of that last night. He had a little trouble in the second, but even then it was a bloop, a walk, and a double. After that he cruised. Even in the eighth he was all but out of the inning until Jeter and Cano failed to connect on a double play. So even though there weren't any big swings for Pettitte he still has the biggest pitches of the night.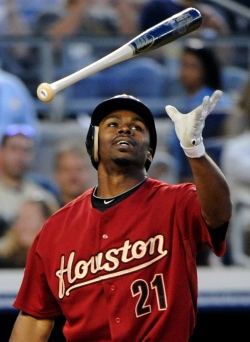 There were a few instances where Astros' hitters made solid contact off Pettitte. For instance, in the sixth Jeff Keppinger, Lance Berkman, and Carlos Lee all hit decent outfield flies. But they weren't scorchers. In fact, if you follow the FanGraphs link below you'll see that while they're classified as fliners — something that's between a liner and fly ball — all three fall further under the fly ball category (hence the fliner, fly designation). In other words, they weren't rockets at luckily positioned players.
In terms of WPA, Joba's strikeout of Berkman was the biggest negative swing of the game. With the tying run on third that's understandable. The biggest positive swing for the Astros was Manzella's double. Again, the Yanks had the lead and the two runners came on a walk (after a tough AB) and a bloop. Again, well-pitched game for the Yanks.
Just as a quick side story. When Joba delivered ball one to Keppinger, the guy in front of me turned to his girlfriend and said that it was an unintentional intentional walk. Yeah. Because when you can walk Jeff Keppinger to load the bases for Lance Berkman, you have to do it.
This, that, and the other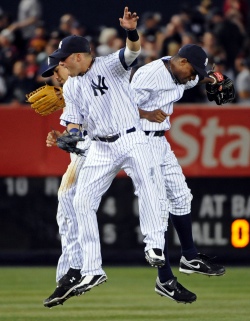 It looks like Teixeira is back in turn-it-around mode. He hit well in the Baltimore series and he continued that last night, going 1 for 3 with a walk, RBI, and run scored. I have a feeling that this time his turnaround is for real. Then again, I said that at the beginning of May.
Good to see Jorge pick up a hit. It's only his fourth since coming back, and he has yet to hit for extra bases. With his two strikeouts last night he's whiffed 11 times in 37 PA since June 2. After the layoff I expected he'd go on a rehab assignment, just go get back in the rhythm. Hopefully he's getting there now.
In the annoyances department, Tommy Manzella drove in the first two Astros runs and scored the third. Kid has an OPS below .550. Yes, it happens. It's baseball. Doesn't make it any less annoying. Thankfully, it's the kind of thing we'll forget by the time Javy Vazquez throws out the first pitch tomorrow. Probably before that, even.
And, in the best news of the night, Andy Pettitte picked up his 200th win as a Yankee. That makes 237 for his career. He'll need quite a few more seasons like this if he's going to flirt with 300. The odds on that have to be pretty long.
Also, if the outfielders keep doing that, I'll keep posting the pic.
Chart and box
The line never crosses into Astros territory. I approve.
Traditional box at .com. More green lines at FanGraphs.
Up Next
Yay for Saturday afternoon games. It's Javy Vazquez against Wandy Rodriguez.