Throughout most of the mid- to late-00s we grew used to the Yankees having mediocre pitching staffs. Some of those staffs had promise — 2007 comes to mind, when we dreamed of a rotation that included Chien-Ming Wang, Mike Mussina, Andy Pettitte, Roger Clemens, and Phil Hughes. That year, as was the case for all years from 2004 through 2008, the hopes never manifested. Something always went wrong, as we should have expected given the pitchers on the staff. That changed in 2009 with the additions of CC Sabathia and A.J. Burnett. The Yankees ranked third in the AL in ERA and fourth in FIP. Finally, a pitching staff we could be proud of.
The rotation seems to be even better this year. The Yanks are still third in ERA (though they are sixth in FIP), but this time it feels different. It feels like that one poor stretch in mid-May has put a dent in the record. Outside that blip, the staff has kept the score close for an offense that has, at times, sputtered. That's the biggest difference, at least as I can remember, between this year and last. The staff seems a bit more dominant, and I think that will really show up in the numbers once we get closer to season's end.
The last two turns through the rotation have put this on display. The Yankees are 7-3 in that stretch and the rotation, outside a couple of iffy starts from A.J. Burnett, has been stellar. One particular aspect I noticed these times around: the offense and the starters have kept the high-leverage situations away from the middle relievers. In fact, during this stretch only Joba, Mo, and the starter has faced a Leverage Index of above 2.00 — in regulation, that is. That's not good bullpen management. That's the starter pitching deep into games and the offense keeping the pressure off.
6/3 vs. Baltimore: CC Sabathia – 7 IP, 3 H, 3 R, 3 ER, 1 BB, 7 K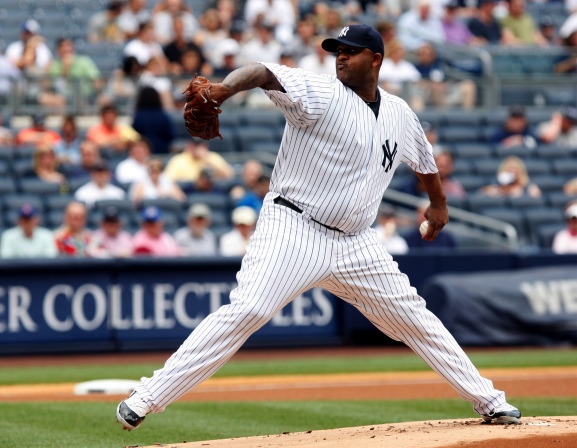 The Leverage Index got above 2.00 just twice. Both came in the ninth inning when Mo allowed the first two batters to reach safely. The Orioles then got three chances with the tying run at the plate, but couldn't bring anyone home.
Credit this one to the offense, which scored five runs by the third. Combined with a solid effort from Sabathia, the Yanks never let this turn into a high-leverage affair.
6/4 @ Toronto: A.J. Burnett – 6 IP, 6 H, 6 R, 6 ER, 4 BB, 2 K
Burnett got off to a poor start, surrendering a pair of homers to Jose Bautista and one to Edwin Encarnacion. The Jays were up 3-0 in the fourth and 4-0 in the fifth, so we didn't see many high leverage situations. The only one above 2.00 came during A-Rod's at-bat in the fourth. The Jays were up only 1-0, and the Yanks had first and second with none out. A-Rod grounded into a double play, which was the illustrative moment of this game.
6/5 @ Toronto: Andy Pettitte – 7.2 IP, 5 H, 2 R, 2 ER, 3 BB, 10 K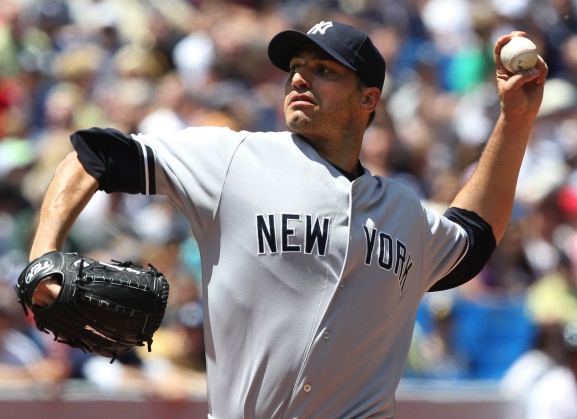 Andy was great, the offense was not. They somehow gave him a 2-1 lead, but he allowed a home run late which put the game into extra innings. That meant there were plenty of high-leverage situations. This is the only time during this stretch in which a middle reliever pitched in a high leverage situation. During regulation, however, the only pitchers who faced situations with a LI over 2.00 were Pettitte and Joba Chamberlain. Chan Ho Park faced the highest leverage situation overall. That came in the 13th, when the Jays had runners on first and second with two outs. He got John Buck to ground out to shortstop.
6/6 @ Toronto: Javy Vazquez – 7 IP, 1 H, 2 R, 2 ER, 4 BB, 9 K
As we knew he could do, Javy carved up the Jays' heavy swinging offense, using a mix of breaking and off-speed pitches to keep them from turning on an inside fastball. The game was close, thanks to another poor offensive performance, so we saw a few LI situations above 2.00. The only Yankees pitchers to face these situations were Joba and Mo. Joba allowed the only run there, but on the next hitter he induced a double play. That brought the LI down to 1.27, which made Tony Pena's decision to go with Damaso Marte over Mo a bit more justifiable.
6/8 @ Baltimore: Phil Hughes – 6 IP, 9 H, 3 R, 3 ER, 0 BB, 4 K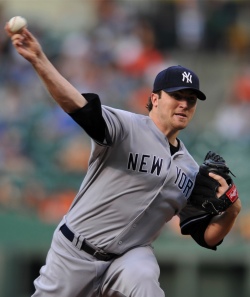 Hughes had a bit of trouble facing the Orioles for the third time this season, though it came mostly on dinks and dunks that found holes. The Yanks offense came alive for this one, scoring 12 runs. There were only two situations where the LI rose above 2.00. The first came in the second inning, when the Orioles were down 2-0 but had runners on first and second with one out. Phil Hughes induced an inning-ending double play. All those singles came when there wasn't much at stake. The zero walks was also encouraging.
The other? That came in the third, when Curtis Granderson came up with the bases loaded and two outs. That situation ended just a bit differently than Hughes's just a half inning before.
6/9 @ Baltimore: CC Sabathia – 7 IP, 9 H, 2 R, 2 ER, 3 BB, 8 K
Once again the Orioles got hits, but they didn't hit for many extra bases and they didn't bring around many to score. The offense wasn't quite as good in this one, scoring just four runs, which means a few higher leverage situations. Sabathia himself faced five batters with the LI above 2.00, but he allowed no runs in those situations. In the highest leverage situation, when the Orioles had bases loaded and two outs in the seventh, Sabathia delivered by striking out Luke Scott. Joba and Mo each faced LI situations above 2.00 as well.
6/10 @ Baltimore: A.J. Burnett – 6.2 IP, 8 H, 4 R, 4 ER, 1 BB, 5 K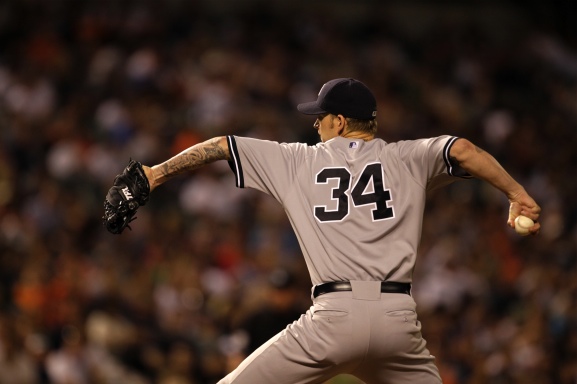 A decent but not great, or even really good, start by A.J. Burnett, in which he was wild early, settled down, but couldn't finish the job in the seventh. He faced just one situation with the LI over 2.00, and that came in the sixth when Adam Jones doubled to put the O's ahead.
Orioles pitchers faced nine situations with the LI above 2.00 and three with it above 3.00. They recorded seven outs and two walks, one intentional.
6/11 vs. Houston: Andy Pettitte – 7.1 IP, 4 H, 3 R, 2 ER, 1 BB, 4 K
It is unbelievable how good Pettitte has been this year. The Yanks needed him in this one, as the offense scored just four runs. He faced two situations with the LI above 2.00 and pretty much succeeded both times. With a runner on first and no outs in the eighth he induced a double play ball that Derek Jeter botched. The next hitter, Michael Bourn, sacrificed, which Pettitte couldn't do much about. Joba came in and faced two high leverage situations, above 3.00, and recorded outs in both. Mo also faced two high leverage situations in the ninth, retiring the hitter both times.
6/12 vs. Houston: Javy Vazquez – 7 IP, 6 H, 3 R, 3 ER, 0 BB, 6 K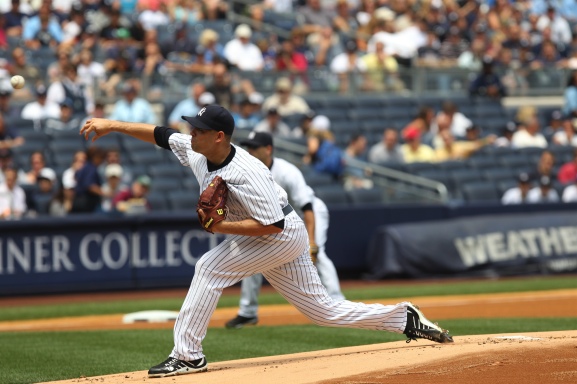 Other than a couple of home runs, both solo shots, this was an excellent outing for Javy. He's really come around lately. He pitched so well, and the offense picked up so many runs so early, that there were no situations where the LI crept above 2.00. There was one situation where it hit 1.99. Jorge Posada, however, is a high-leverage kinda guy.
6/13 vs. Houston: Phil Hughes – 5.2 IP, 7 H, 5 R, 5 ER, 2 BB, 6 K
Maybe he tired down the stretch — he was over the 100 pitch mark and he's been at or above that for plenty of starts this season. Remember, too, that in 2006 Hughes rarely pitched more than five innings, and he didn't throw too many innings in any of the following years. So fatigue is a concern. That's a topic for another post, though.
Hughes faced two situations where the LI got above 2.00, and he recorded outs in both, a strikeout and a fielder's choice groundout. Again, score this one for the offense, which scored enough runs to cover for almost anything, including Hughes's sixth-inning meltdown.