You can't win them all, but some losses are uglier than others. This was one of the ugly ones. A.J. Burnett continued his streak of awful starts, the bullpen wasn't much better, and the lineup blew a few chances on their end. Kinda felt like business as usual during a Burnett start, didn't it? With the Red Sox and Rays each winning, the Yanks' lead in the AL East was trimmed down to two.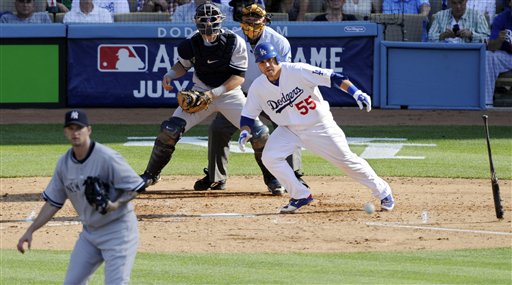 Can't Stop The Bleeding
Believe it or not, the Yanks actually held a lead in this game. Not a cheesy little one runner either, Mark Teixeira hit a three run jack after birthday boy Derek Jeter and Curtis Granderson led off the game with walks. Yanks were up three-zip before Hiroki Kuroda even recorded an out, but even Bad A.J. couldn't screw this up, right?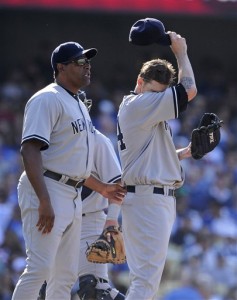 Wrong. Burnett gave two of those runs right back on a single, single, ground rule double, and sac fly in the bottom of the inning, then gave up even more in the 3rd when he walked the bases loaded and allowed a hit or two. There's really not much more to say than that. He was wild, got hit hard, same old same old. He and Boone Logan put 16 men on base in five innings. They're lucky they only gave up seven.
NL Fever … Catch It!
Let's take a walk through the height of baseball stupidity. It's the top of the 4th inning, the Yanks are down by one, and there are runners at the corners and one out. The runner at first was Brett Gardner, at third was Nick Swisher. Burnett steps up to the plate and promptly squares around the bunt. It's a safety squeeze with the intent of getting the runner to second and avoiding the inning ending double play. A.J. eventually got the bunt down and moved Gardner over, but off course the inning ended with no runs scored after Derek Jeter struck out. Icing on the cake: Burnett allowed the first two batters to reach in the next half inning before being pulled. Again, the height of baseball stupidity.
I mean, where do I start with this? You want to avoid the double play with the pitcher up? Fine, then tell Brett Gardner to steal second. It's what he does. I'd rather see him get thrown out than gift wrap them a free out on a bunt. Also, if you're just going to pull Burnett at the first sign of trouble the next inning, then just pull him and pinch hit. You've got a long man for a reason. If you're going to make a move, make it too soon rather than too late. Oh, and Logan in a relatively close game? FAIL.
Girardi made a comment during one of FOX's between inning interviews about being worried about his players when they start thinking too much, well what about himself? We're not splitting atoms here, it's just baseball. Stick with the KISS method: Keep It Simple, Stupid. We've seen this movie before, doing this fancy smallball crap never works with a team build to hit the ball far, far away.
Random Acts Of Mediocrity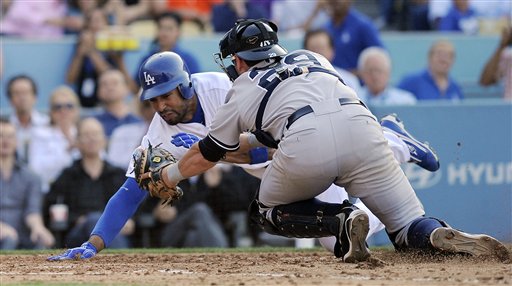 It really is a shame no one could have foreseen Chan Ho Park struggling in his second inning of work. It's not like I've been beating on that drum for weeks now, but what the heck. Maybe this time will be different. I don't get how Girardi goes to CHoP for multiple innings in a three run game and wait until they were down by five to use David Robertson. That's the opposite of common sense.
Jeter came to the plate three times with two men on base. The result? Three strikeouts. Not his best day, but then again this hasn't been his best month either.
Big ups to Joe Torre for using both Hong-Chih Kuo and Jonathan Broxton for multiple innings tonight. That'll help tomorrow.
It's worth mentioning that Burnett's grandfather passed away yesterday, so I'm not going to get on him for pitching poorly regardless of how the rest of the month played out. I've been there, it's not easy.
WPA Graph & Box Score
Teases. Here's the box, here's the other stuff.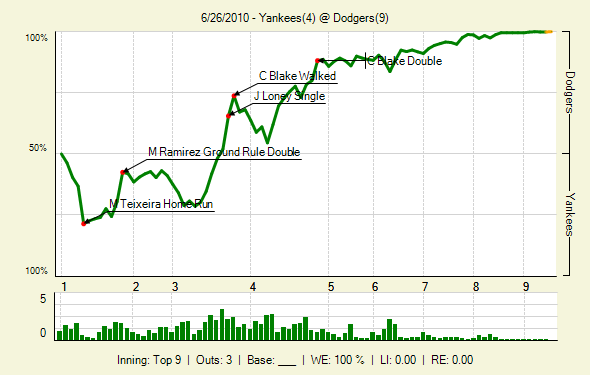 Up Next
Another night game for the rubber match, with ESPN carrying the Andy Pettitte-Clayton Kershaw matchup at 8:00pm ET.