At some point over the next month or so, the Yankees are going to make a move or two (or more) to shore up some weak spots on their roster, though I don't think we'll be seeing any huge names come in or big trades go down. Instead it'll be just a few tweaks like the Jerry Hairston and Eric Hinske pick ups last year. A trio of players were designated by assignment by their various teams yesterday, and on the surface they appear to be halfway decent fits for the Yanks, even if they're just fliers.
Remember, when a player is DFA'd, his team has ten days to trade or release him, or seven days to place them on waivers. If he's claimed off waivers, the new team takes on the entire contract, so that doesn't happen very often. Obviously, a player has to be pretty unproductive to get cut by his team, so finding scrap heap pickups is never easy. Especially for a team like the Yanks, who are expected to contend each year.
Let's run down each of these three recently DFA'd players to see if they fit into the Yanks' plans at all…
Greg Dobbs, Phillies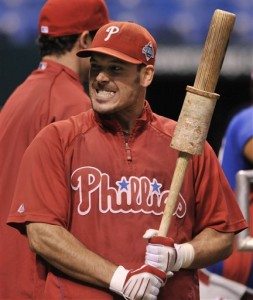 As much as we want him to, Hinske is not going to magically walk through the door sometime in the next month. The Braves are too good and he's too productive (.397 wOBA) for them to even consider moving the human World Series ticket. Instead, the Yankees are going to have to search for an approximation of Hinske's abilities: a lefthanded hitter with pop and some defensive versatility. Juan Miranda can meet the offensive needs, but he's relegated to first base and designated hitter. Colin Curtis has basically no power (.109 ISO in the minors), last night's booming double notwithstanding.
The Phillies DFA'd Dobbs yesterday, a move that was a long time coming. As R.J. Anderson explained, he simply hasn't produced since his breakout 2008 campaign. If the Yankees were to bring him in, it would be nothing more than throwing a bunch of garbage at the wall and seeing what sticks. Maybe he goes on a three month mini-tear and proves to be a valuable lefty bat off the bench. He's experienced in that role, which does have value because pinch hitting isn't as easy as it looks.
Essentially, Dobbs is a really poor man's Hinske. Left swinger, can fake the four corner spots, all that jazz. He's still owed roughly $767,000 the rest of the way, which is money the Yankees saved by cutting Chad Gaudin* in Spring Training. If you're an optimist, you could say he's worth a shot. If you're a realist, then just forget it.
* It's funny how that whole Gaudin thing worked out. The Yanks cut him and still had to pay him approximately $740,000 of his $2.95M contract, then ended up bringing him back for the pro-rated minimum once Oakland cut him. So in essence, the Yanks went from having Gaudin all year for $2.95M to having Gaudin for five-sixths of the season at roughly $1.08M. Gotta say that worked out well financially, no?
Cla Meredith, Orioles
If you're a reliever and the Orioles cut you, that's a pretty good sign that you stink. Affectionately nicknamed The Claw, the side-arming Meredith developed a niche as a ROOGY with the Padres during his years in San Diego, but moving to the AL East hasn't been too kind to him. Even focusing on just performance against righthanded batters this season, Meredith hasn't missed any bats (4.22 K/9) and allowed a whole lot of fly balls (40.5%), which lead to lots of extra base hits (.320 ISO).
What Meredith does have going for him are minor league options and a dirt cheap salary (owed about $483,000 the rest of the season). I never have a problem with bringing in cheap relievers to stash in Triple-A and serve as depth, though I have to acknowledge that ROOGY's aren't exactly an important part of any bullpen. At the big league level, the Yanks already have a more useful version of Meredith in Gaudin, who can at least offer multiple innings.
Eric Patterson, Athletics
Corey's brother, the A's cut ties with Patterson after getting 325 plate appearances of basically nothing (.299 wOBA) since acquiring him as part of the Rich Harden trade. For all intents and purposes, he brings two things to the table: defensive versatility (he can handle all three outfield spots and second base, and probably third if given the chance) and a little speed. Patterson was a hot shot prospect a few years ago, and those guys always seems to get a few more chances than everyone else.
For all intents and purposes, Patterson is a slightly better version of Ramiro Pena minus the ability play short. There's nothing wrong with that, except that the Yankees already have four utility infielders on their 40-man roster likely to provide the same amount of nothing as Patterson. He's probably the least interesting player in this post, from the Yanks' perspective.
Again, waiver pickups are never great, but they don't have to all be long-term pieces. If a player like Meredith provides 20 decent innings during the summer, then that's an asset in a super tight division. The Yankees aren't ones to shop in the clearance aisle, but it never hurts to look.