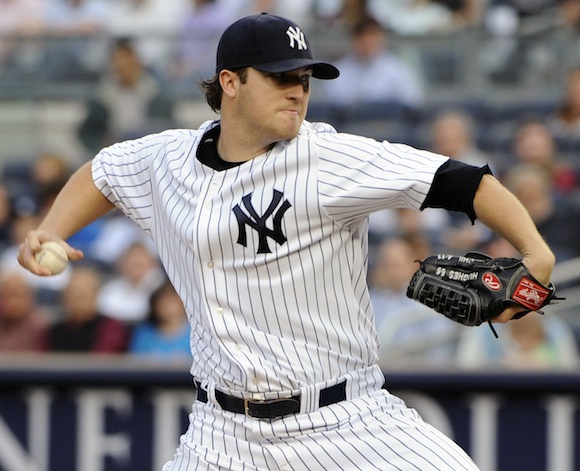 Later tonight, Phil Hughes will make his 11th start of the season, and he is fast approaching a personal milestone. If all goes according to plan, on June 25, one day after his 24th birthday, Hughes will make his 14th start of the season. For the youngster, that start will mark a career high, and Hughes will be in uncharted Major League territories. For the Yankees, it's time to see what Hughes can do as the league adjusts to him.
Tonight, Hughes draws the Orioles, a familiar opponent. This is the second time in two starts Phil will face the punchless O's, and it's his third appearance against them this season. In fact, Hughes has thrown more innings against Baltimore than he has against any other team during his career.
This year, Hughes has enjoyed success against Baltimore. Overall, he is 1-0 with a 1.42 ERA in 12.2 innings. The Orioles have knocked out eight hits while walking five times and striking out nine times. During last week's outing, Hughes went seven strong and gave up a run on six hits and a walk while K-ing seven. In April against Baltimore, Hughes gritted through 5.2 innings without his best stuff. He walked four and struck out two that day.
For Hughes, then, tonight is a challenge. It is only the second time in his career that he is making a third start against the same team in one season. The last time that happened was in 2007, and Hughes was barely 21 years old. It is also the first time as a starter that he is facing the same team in back-to-back outings. What can we expect then from the Yanks' emerging ace?
A few weeks ago, Hughes faced a somewhat similar situation. After dominating the Red Sox in Fenway on May 7, he faced them two starts later on May 17, and the outcome was ugly. He allowed two home runs — half of the taters he has surrendered all year — and got a no-decision after allowing five runs on six hits in five innings. He struck out just three and couldn't locate his cutter effectively enough. Boston had good swings against Hughes, and even the outs were loud.
Tonight, the Orioles, at 16-41, losers of nine of ten and with a Major League-worst 186 runs scored, are the team we would want Hughes facing in his third time through the league, but we shouldn't write them off quickly either. As always, Hughes will try to establish the fastball early, but the Orioles will have a better sense of his pitch selection. According to Pitch f/x, Hughes has thrown change-ups just 1.6 percent of the time this year, and that figure might be generous. If that change-up is going to be deployed this season at all, tonight would be the ideal time to work it into a game.
If Hughes is going to develop into an ace, tonight then is a test. It's not a definitive test, but it will start to show us how Hughes adapts to a league that is in the process of adapting to him. It is but another step as the Yanks try to turn their former first-rounder into a front-line starter.