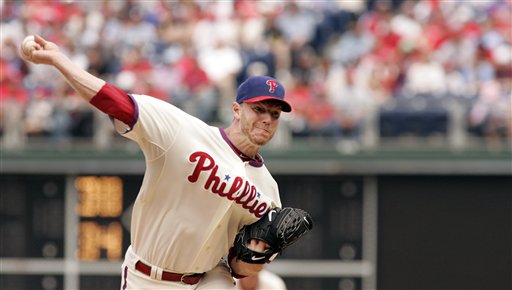 Hard to believe the Yankees and Blue Jays have yet to meet this season, isn't it? I guess that's a good thing though, because the Yanks have won 19 of the last 32 games between the two clubs, and that was when the Jays had that guy you see above. Not to sound arrogant, but it's nice to have some wins in the bank for the second half.
They don't have Halladay any more, but the one thing the Jays do have is the ability to hit the snot out of the ball. They lead all of baseball with 91 homeruns, 17 more than any other team and 30 more than the Yankees. Jose Bautista (16), Vernon Wells (13), and Alex Gonzalez (11) (!!!) have all hit double digit homers, then you've got John Buck, Aaron Hill, and Adam Lind with at least eight each. Someone should check the water up there.
Here's the lineup that will have to slap hit and small ball it's way past those big bad Blue Jays and starter Brett Cecil…
Jeter, SS
Swisher, RF
Teixeira, 1B
A-Rod, 3B
Cano, 2B
Posada, DH
Thames, LF – ahhhhhhhhhh!!!
Granderson, CF
Moeller, C
And on the mound, the former Jay, A.J. Burnett.
First pitch is scheduled for 7:07pm ET, and can be seen on YES. Enjoy the game.
Dave Eiland to take personal leave
Update by Ben (6:45 p.m.): Yankees pitching coach Dave Eiland is taking an indefinite personal leave from the team. While neither Joe Girardi nor Brian Cashman said why Eiland needed the time off, the Yankee skipper said this was not indicative of a rift between the coaches. "Everything is great between Dave and I," Girardi said.
During Eiland's absence, current bullpen coach Mike Harkey will move to the dugout to serve as the temporary pitching coach. The Yankees will probably add a coach from the minors next week. "We'll carry on as business as usual," Girardi said. "Just as when you have a player go down, we'll make it work."
The Yankees do not know when Eiland will return, but the team is willing to give him time and space to straighten out whatever personal issues are taking him away from his professional duties. "He's going to take the time he needs," Cashman said. "That's it. We'll get him back as soon as practical."