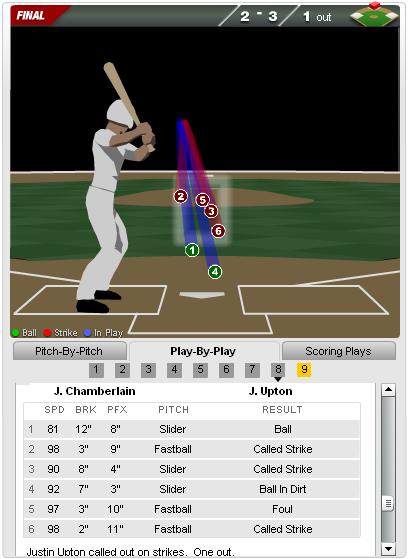 Somewhat lost in the offensive explosion that was the top of the 8th inning last night, Joba Chamberlain looked pretty damn fantastic in the bottom of the frame. Ironically enough, he walked the leadoff hitter on seven pitches with a seven run lead, which is the mecca of no-nos, but after that he was simply untouchable. Not one of his eleven fastballs dipped under 95 mph according to PitchFX, and six of them were at either 97 or 98. His 2-2 fastball to strikeout The Justin Upton looking for the first out was simply devastating (above), a 98 mph heater down and on the outer black. It was an unhittable pitch; the best possible result for Upton was a foul ball and probably a broken bat.
It's the hardest I remember seeing the enigmatic starter turned reliever turned starter turned reliever turned starter turned reliever throw since the first half of 2008, so basically two full seasons. Joba has shown a few 95's and 96's at times this year, but sure enough he'd come back out with 91's and 92's the next time out. He hasn't been able to maintain that velocity from outing to outing. What was different about last night?
I can't offer a definitive answer, but I can't help but wonder if the long top half of the inning gave him more time to get loose. Remember, it was a one run game before Arizona's lolpen did what it's done all season, and Joba was getting loose at the very start of that half inning in anticipation of a close game and a setup situation  after three outs. The Yanks' offense instead spent 21 minutes and three seconds piling up six hits, a walk, and six runs, so any sense of urgency was removed.
It's no secret that starters and relievers have different warm up routines, and perhaps Joba is still adjusting to warming up in a matter of minutes instead of at his own pace. His fastball velocity has been creeping up all season, which isn't all that surprising since everyone's starting to get in midseason form and it's warm out and the whole nine. But the upper-90's is something I don't think any of us saw coming. Maybe that velocity is hiding behind a few more warm up pitches, and Joba just needs to start his routine a little earlier, in the 7th inning or something.
Granted, pure velocity isn't everything, he's still got to locate his pitches in order to avoid hard contact. Major League hitters will hit 98 if you don't locate it, which makes that pitch to Upton particularly impressive. It wasn't quite Ubaldo good, but it was certainly good enough to get a batter that's tormented the Yankees through the first two games of the series. If Joba can start to maintain even 95-96 and keep the ball down in the zone and out of the middle third of the plate, he'll be highly, highly effective.
Perhaps I'm completely off base here and Joba just decided to turn it loose with a six run lead, figuring if he walked a guy, he walked a guy, it wasn't the end of the world with the greatest reliever to ever walk the face of the Earth behind him. Maybe it was the Arizona heat that loosened him up. Maybe it was dumb luck. Whatever it was, I hope we see more of it in the future.