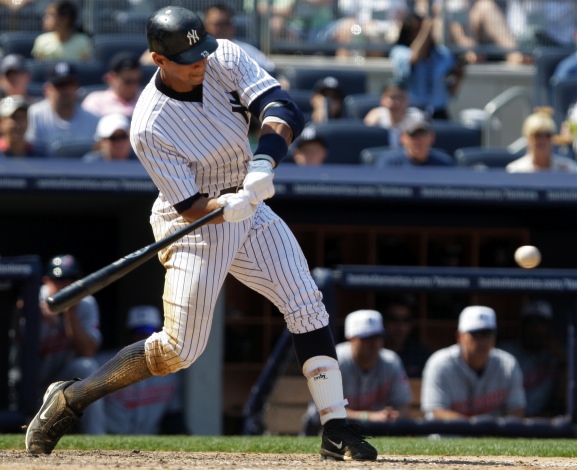 Once upon a time, Alex Rodriguez was the very model of perfect health. From 2001-2007, he averaged 159 games and hit .304/.400/.591 with 329 home runs. Once upon a time, Alex Rodriguez wasn't 34 and didn't suffer from hip problems. Oh, to be young and an All Star again.
Over the past few years, we've seen A-Rod suffer through some injuries. He hurt his leg in 2008; he underwent hip surgery in 2009. Since June 9, A-Rod has seen game action just once, and he had to pull himself in the 2nd inning with hip pains. The team diagnosed his injury as tendinitis, and after much rest, A-Rod says he wants to play tonight.
The decision last night to rest A-Rod for at least another game didn't sit well with many pundits. Even though Jorge Posada left Sunday's affair complaining of a sore foot and was due for a turn in the designated hitter role, with Roy Halladay on the mound, the team could have put its best lineup forward with Posada, healthy enough to catch, behind the plate and A-Rod as the DH. The Yanks' bats made the point moot by the third inning, but the Yanks seemed to be playing A-Rod's injury close to the vest.
As with many decisions the team needs to make, this one had a good reason behind: Alex Rodriguez is still owed a lot of money by the Yankees for a lot of years, and although the team has to play to win this year, it also must be mindful of the money it has invested in A-Rod. Once 2010 ends, the Yankees will still have to pay A-Rod $164 million over the next seven years. Although the megadeal A-Rod signed in the halcyon days of 2007 is front-loaded, an average annual value of $23.4 million for a player who will be playing his ages 35-41 seasons is simply immense.
We could debate the A-Rod contract for the next seven years. Based on his WAR value numbers, A-Rod's last deal with a steal, but he has yet to outplay his new contract. As he continues to age and as his offensive numbers — and in particular, his home runs — continue to dip, the contract will look just as bad as it did on Day One. Even when A-Rod as a 39-year-old in 2015 is making just $21 million, it's hard to see A-Rod's production outweighing his salary, and since signing the new deal, he hasn't topped 138 games in a single season.
The Yankees know this. In fact, they knew it from the start, and this knowledge is why I believe Hank Steinbrenner has taken a silent back seat to the goings-on in the Bronx. Armed with this knowledge, the Yanks could either push A-Rod into the ground now by playing him against the Astros and Phillies in a mid-June game or they could sit him for an extra day or two to ensure that hip conditions, often known to be degenerative, do not stunt his career or the team's investment.
Once upon a time, the Yankees almost signed Albert Belle to a five-year deal that would have been worth upwards of $80 million. It would have made Belle the highest paid player, and the similar deal the slugger in fact signed with the Orioles did just that. Two years later, Belle had to retire because of a degenerative hip condition. Belle's injuries and A-Rod's aren't similar, and A-Rod shouldn't be forced out of the game at an early age because of his leg woes. Yet, the Yankees know how fragile these injuries can be, and while it's easy to get up in arms over A-Rod's resting, it's all about protecting a very long-term investment. Seems like a good idea to me.