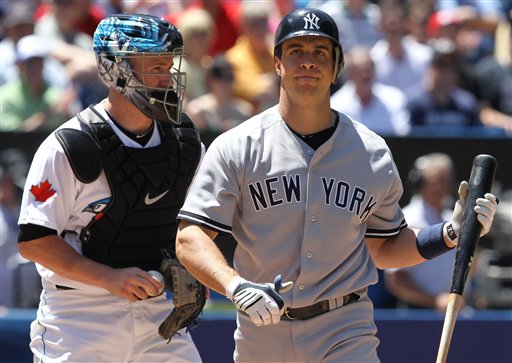 If you've watched the Yankees at all this year and last, you've surely noticed that first baseman Mark Teixeira has had an exceptionally tough time against changeups in 2010. This was particularly obvious last Saturday, when he looked helpless in striking out five times against changeup specialists Ricky Romero and Casey Janssen. The advanced metrics are picking up on Tex's weakness against changeups as well, saying he's been worth 0.58 runs below average against the pitch (for every 100 seen) this season compared to 0.88 runs above average last year and an even 1.00 for his career.
The struggles against changeups carry over to the fastball as well, which is expected given the relationship between the two pitches. It's called a changeup in the first place because it changes the hitter's timing off the fastball. Tex has produced 0.43 runs below average against the heater this year (again per 100 seen), compared to +2.20 last year and +1.70 for his career. Clearly, he's not recognizing changeups and it's affecting him against fastballs, which a hitter of his caliber should (and traditionally has) murder.
The season isn't young anymore, we're 59 games in and Tex is hitting an unacceptable .224-.338-.388. Maybe it's time to (forgive the pun) change things up and try something not necessarily drastic, but unique. Allow me to quote Jack Moore fromSPN's TMI blog…
Recently, Tampa Bay Rays manager Joe Maddon has employed an unorthodox strategy against pitchers with great change-ups. Ever since Dallas Braden and his nasty change threw a perfect game against the Rays, Maddon has stacked his lineups with players who bat with the same hand as the starting pitcher in order to neutralize that pitch. The change-up is a pitch that is typically used to neutralize opposite-handed hitters, and so Maddon is attempting to take away this advantage from pitchers with great change-ups by reducing the number of opposite-handed hitters in the lineup. So far, the strategy has worked pretty well.

(snip)

However, the Rays sent up switch-hitters Ben Zobrist and Dioner Navarro to bat right handed against Marcum, and even more telling was that they not only used right-handed catcher Kelly Shoppach as the DH, but they hit him clean-up.

Did it work? Marcum's line — four innings, 10 hits and seven earned runs — certainly suggests it did. Shoppach, Navarro, and Zobrist were a combined 3-for-6 against Marcum, including a home run by Navarro.
Maddon essentially tailored his lineups to take away the opposing pitcher's greatest strength, and so far it's worked. It's unconventional, but it's hard to argue with the early returns. Maybe this an approach Teixeira should take, batting from the same side as the pitcher if he has a great change, reducing what is his greatest weakness at the moment.
I'm sure it'll be a tremendously uncomfortable experience for him since he's never faced a non-knuckleball pitcher throwing from the same side in his big league career, but at this point it might be worth a shot. I already cited his awful stats, and whenever Tex seems to be coming out of it, he sinks right back into the pit of suckiness. It shouldn't happen with a player of his caliber, and whatever they're trying now just isn't working.
Of course, Tex is just 30-years-old and in the prime of his career, so perhaps it's best to just show confidence in him and hope it works itself out. How much longer can they wait though?