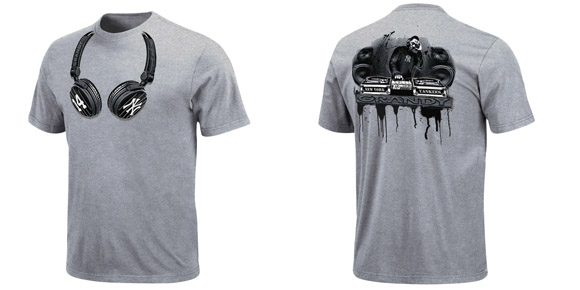 We'll get to wrapping up the Yanks' 6-3 afternoon victory over Baltimore later tonight. For what it's worth, the last-place Orioles are probably going to fire manager Dave Trembley. I'm sure that won't be anything close to the cure for what ails them.
For tonight's open thread, we have baseball fashion. Yesterday, six members of the Yankees unveiled t-shirts and jerseys they designed as part of MLB's new Players Choice Signature Series line of apparel. Joba Chamberlain, Curtis Granderson, Andy Pettitte, C.C. Sabathia, Nick Swisher and Mark Teixeira all designed shirts, jersey and hats that reflect their personality and heritage. Joba's, for instance, includes an eagle feather based on his Native American background. "It was my family, my heritage, what I stood for," Chamberlain said. "It was an honor to get asked to do it."
The shirts, now on sale at Yankee Clubhouse Stores, Modell's and at the dot com's shop, are pretty snazzy. My favorite is the one above with Curtis Granderson as the DJ. A few more from Sabathia and Pettitte — featuring his trademark stare interlaced into the 46 on his back — are below. Click on any of the images to enlarge, and check out Tim Britton's coverage for more info about the designs. Thanks also to Maury Brown for the images.