The Yankees boast a .361 OBP and a .355 wOBA as a team, the best and second best marks in baseball, respectively, but they still seem to be one bat short. Part of the problem is the underperforming Mark Teixeira and Alex Rodriguez, but Nick Johnson's absence (.388 OBP before getting hurt) hurts as well. There have been rumors that the Yanks will look to acquire another hitter before next month's trade deadline, and that it could be a versatile outfielder. We've already looked at a pair of possible bench options in Jeff Keppinger and Ty Wigginton, and now it's time to look at a potential every day player: David DeJesus.
Over the last two seasons, perhaps no player has been linked to the Yankees in speculative rumors more than DeJesus, and I've never quite figured out why. He was born in Brooklyn but raised in New Jersey, and I remember him having a pretty big series in the Bronx a few seasons back, but that's pretty much the only connection I can find. Then again, the Yankees were in need of a young and productive outfielder for quite a few years there, so he made sense.
The 30-year-old DeJesus is enjoying the finest season of his career this year, already racking up 2.3 WAR in the team's first 73 games (five win pace). His .325/.394/.482 batting line (.383 wOBA) represents career highs across the board and not not by small margins either, though a BABIP 41 points over his established career baseline is certainly helping things out. DeJesus has shown a pretty significant platoon split in his career (.319 wOBA vs. LHP, .358 vs. RHP), though it's not as pronounced as say, Curtis Granderson's. For what it's worth, ZiPS rest of the projection calls for a .297/.369/.451 batting line (.360 wOBA) the rest of the way, which represents a career year.
Defensively, DeJesus can play all three outfield spots, though he's at his best in left (+18.9 UZR/150 career) and is basically average in center (-1.2) and right (+0.1). This year is the first time he's played right on basically an every day basis, though he doesn't really have the arm strength typically associated with the position. Regardless, he's no worst than a league average defensive outfielder on a full-time basis.
Baserunning is a different matter, because DeJesus is a shockingly bad basestealer. He's not Robbie Cano bad, but bad enough. He's just 18-for-38 in stolen base attempts over the last three years, which is an unacceptable 47.4% success rate. I know some people don't like the word unacceptable, but I think it absolutely applies in this situation. If you aren't a good basestealer, you simply stop trying to steal bases. Easy fix, end of story. The good news is that DeJesus is a very good baserunner in all other baserunning situations (moving up on grounders, going first-to-third, etc.), having been worth 8.34 runs above average in those spots since 2008.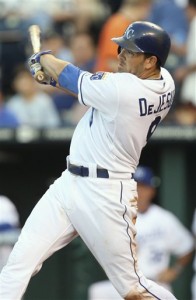 As for the cash money, DeJesus is owed about $2.6M the rest of this season, and there's a $6M option for his services in 2011 with a $500,000 buyout. He's currently projected to be a Type-B free agent, but he's very close to Type-A status (exactly one point away) and could conceivably play his way there in the second half. Remember that every dollar the Yankees spend is actually $1.40 because of the luxury tax, so the $3.1M he's guaranteed becomes a $4.34M expense for the Yanks. If they pick up the option, it becomes more than a $12M expense. Hal Steinbrenner put his foot down with the budget last year, refusing to approve a trade for Mike Cameron because it would have added $5M to the payroll, and so far there hasn't been any indication that he will budge this year.
The problem with DeJesus isn't production, far from it. The money is an issue that the brain trust will have to consider, but there's also the question of where exactly does he fit with the team? The Yankees already boast a tremendously productive starting outfield in Brett Gardner (2.0 WAR), Nick Swisher (2.3), and Granderson (1.4), so it's not like DeJesus is going to come in and take one of those guys' job. The designated hitter's spot is, for all intents and purposes, open for the rest of the year because you can't count on Johnson a) returning anytime soon, and b) staying healthy when he does return. I suppose a five headed outfield/designated hitter platoon monster of Gardner, Granderson, Swisher, DeJesus, and Marcus Thames could be employed, but when is the last time a team tried something crazy like that and it actually worked?
We still don't know what the Royals will ask for in exchange their best outfielder, but they're not going to just give him away given his age, production, and salary. Assuming the option is picked up, Sky Kalkman's trade value calculator pegs DeJesus' trade value at $26.5M, which Victor Wang's research says is basically equivalent to a top hitting prospect, or a top pitching prospect and a lesser prospect. If you want to start piecing together Grade-B and C prospects, you're talking three players minimum. If Kansas City were to kick in any money in the deal, that's just more you'd have to surrender in terms of young players.
This post isn't intended to say whether or not the Yankees should look to go out and acquire DeJesus, I'm just presenting the information and explaining what the situation is. There's no denying that he's an above average every day player, but there are very real cost issues – in terms of both money and players – that need to be addressed, plus the entire playing time situation.