As we move closer to the trade deadline (barely more than five weeks away now), we're going to take a look at a few players that may or may not make sense for the Yankees given their needs. It seems foolish to waste time writing about players that don't make sense for the Yanks, but most of the time their names will be linked to the team just because, so we might as well give our two cents. We've already looked at one bench option in Jeff Keppinger, and now it's time to look at another: Ty Wigginton.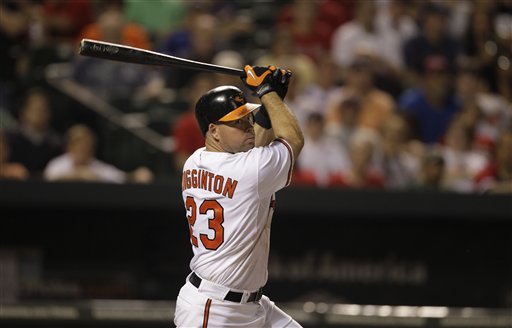 I'm not sure why, but Wigginton seems to have a lot of Mark DeRosa in him, in that lots of fans think he'd be the perfect utility player for the Yankees. He's kind of a big name and has had some big seasons in the past, so it's a match made in baseball rumor heaven.
Wiggy certainly had himself a huge start the season, hitting .300/.361/.613 with 13 homers in his first 167 plate appearances, which I'm sure the Orioles loved because it boosted his trade value. Since then though, the former Met is hitting a whopping .225/.349/.270 in 109 plate appearances, bringing his overall season line to .272/.356/.485. That's still very good obviously, and it's not completely out of whack because he's produced like that over full seasons before. For what it's worth, ZiPS rest of the season projection calls for .280/.343/.464 with 11 more homers the rest of the way, but that assumes he'll be playing on an every day basis, which he most certainly would not being doing on the Yankees.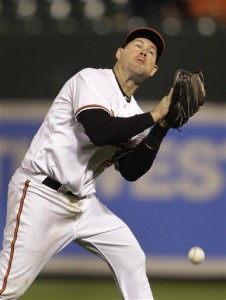 Defensively, Wigginton does offer extreme versatility, having spent considerable time at every infield spot but shortstop, plus the corner outfield positions. He's not very good at any of those spots though, with negative UZR's across the board over the last few seasons (some in the double digits) and there's no reason to expect him to improve at age-32. Not that he would be asked to steal or anything, but Wigginton is 5-for-14 in stolen base attempts over the last three years, and has cost his team about three runs on the bases in non-stolen base situations during that time. For all intents and purposes, he's a righthanded bat off the bench that can fake it at several spots defensively.
As for contract status, Wigginton is owed just a touch under $2M for the remainder of the season, and he'll become a free agent this winter. He isn't projected to be any kind of compensation free agent either, and isn't even close enough to the Type-B threshold to make it interesting (more than 14 points away). Because he's spend so much time at first base over the last two seasons, he's lumped in with 1B/OF group, which is based on a different set of stats and knocks his performance down a peg.
The Orioles are reportedly seeking a young shortstop in return for Wigginton, which is perfectly fine as long as they don't think they're getting a franchise cornerstone. The Yankees have a few players that fit that bill, namely Ramiro Pena, Reegie Corona, and Eduardo Nunez, all of whom have their strengths, but generally aren't considered future every day players. I can't imagine that Baltimore will get a better return than those three, especially if they don't want to eat any of the money left on his deal.
Yankee bench players have been a largely underperforming group this season, and the problem has been somewhat exacerbated by nagging injuries to Alex Rodriguez and Jorge Posada. Wigginton certainly makes sense on the surface, but the cost is rather steep (basically five to six years of one of those prospects for four months of Wiggy plus his salary). The Yankees showed last season that you can find valuable reserves on the trade mark for a pittance. Just because it can be done doesn't mean that it should.