This morning Joe took us through the tale of Frankie Cervelli and Brett Gardner, in which two young Yankee players came out of the gate hot but have since gone in different directions. Cervelli's not the only player on the team to experience some sort of regression and Gardner's not the only one to have maintained an unexpected level of performance. Two veteran members of the starting rotation also fit the bill.
The word "regression" has a negative connotation to it, but remember that in the world of statistics it basically means reverting to the mean. That can be a positive thing, such as a player who performed poorly early improving later on. To steal Joe's example, think Mark Teixeira last year.
At the beginning of the season, Javy Vazquez was giving the Yankees exactly the opposite of what they had expected. He was getting hit around and doing everything but soaking up innings, and it was quite ugly at times. Andy Pettitte on the other hand, managed to exceed all expectations and emerge as the team's best starter. Cervelli and Gardner started at basically the same place in terms of performance before hitting the fork in the road, but Vazquez and Pettitte did the opposite. They started at different ends of the spectrum and met up later on.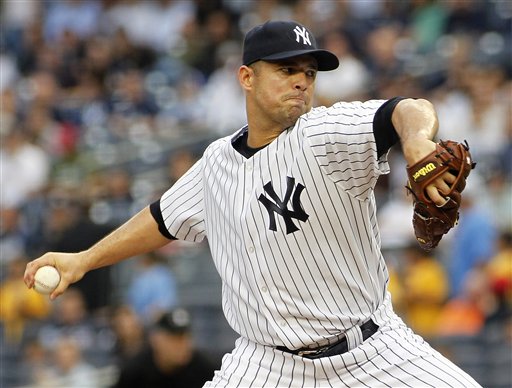 When Javy struggled early this season, the all too simple "he can't handle New York" narrative was everywhere we looked. He was booed unmercifully at home, not only because he was pitching poorly in 2010, but also because of the perception that he cost the Yankees the 2004 pennant. Vazquez has since done more than just right the ship, he's been the team's best pitcher for the last month, compiling a 2.93 ERA with a .596 OPS against. Prior to his start on Saturday, the Yankees had scored just 11 runs in Vazquez's last five starts, but he still managed to win three of those games.
During his first five starts, Javy put a total of 39 men on base in 23 IP, which is certainly a ton. His batting average on balls in play stood at .358, but even more damning was a ~55% strand rate, an unfathomably low number that certainly contributed to his 9.78 ERA. His velocity had dipped from his usual low-90's into the upper-80's and he appeared to nibble in an attempt to compensate, walking 5.87 men per nine innings in his first five starts (more than double his 2.4 career mark). Twenty-three innings is about 11% of a typical season for Vazquez, a bona fide workhorse with a track record of being no worse than a league average strikeout machine.
Clearly Vazquez wasn't pitching to his capabilities, but he wasn't getting any help either. His BABIP and LOB% luck were simply terrible, unsustainably bad. Sure enough, what followed was a combination of Javy appearing to regain confidence and a statistical correction. In his six starts since (we're throwing away that one batter relief appearance), he's posted a .215 BABIP and a ~80% LOB%, bringing his season totals to a much more respectable .269 and 70.8%, respectively. The luck literally went from one extreme to the other.
Vazquez's track record is long enough that we pretty much know what to expect. He's been a dead average (literally, 100 ERA+) pitcher in the American League, and we'll gladly take that going forward. Javy isn't as bad as he was in his first five starts and he isn't as good as he has been in his last six — his true talent level likely lies somewhere in between. And there ain't a damn thing wrong with that.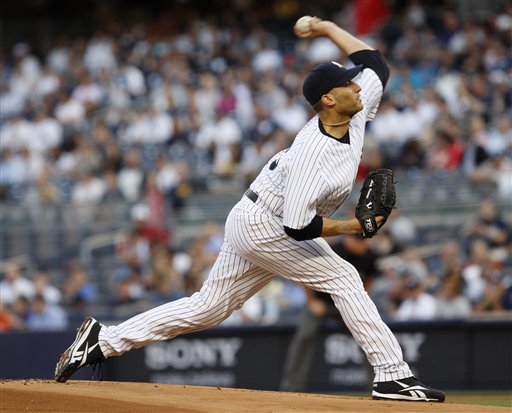 A soon-to-be 38-year-old starter in the AL East isn't supposed to be a staff ace. He's supposed to be a veteran leader that gives innings and keeps the team in the game. Expect anything more and you're likely to be disappointed. Well, unless that pitcher is the 2010 version of Andy Pettitte.
After three ever so slightly better than league average campaigns (106 ERA+) since coming back to the Yanks, Pettitte ripped a page out of the 1997 playbook this year and has been the Yanks' best and most consistent starter. In his first six starts (prior to his little bout with elbow inflammation), he held opponents to a .619 OPS with a 2.08 ERA. In his six starts since, those numbers are .660 and 2.83. Slightly worse, sure, but still stellar.
Looking at some not necessarily more advanced stats, but ones that better represent underlying performance, helps back up Pettitte's consistency. He got batters to swing and miss just 5% of the time in his first six starts, but that number has jumped up to 9% since. He stranded about 82% of baserunners in the first six, and about 80% in the second six. His GB/FB rate went from 1.02 to 1.47. Strikeouts? 6.23 K/9 before, 6.10 after. Walks? 3.00 B/9 before, 1.96 after. I could go on and on.
I'm comfortable saying that Pettitte's best years are behind him, but his 2010 season has a little "last hurrah" to it. I find it to be very 2008 Mike Mussina-esque. You don't expect him to keep performing this well, but the season is close to 40% complete, and he just keeps doing it. Season totals of a .256 BABIP and 82.1% LOB% tell us to expect a regression, but I get the sense that we might be waiting a while. Sometimes unexplainable things happen to extraordinary players, which Pettitte certainly is.