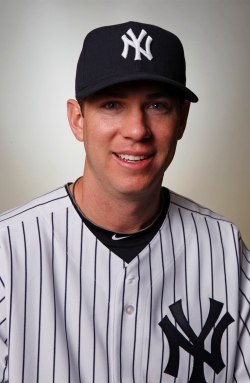 Sometimes your options are so poor that it really doesn't matter what you do. That's the situation at the back of the Yankees' bullpen right now. Chan Ho Park, Chad Gaudin, and Boone Logan have provided so little value that, in theory, you could call up a random AAA reliever to replace them and you'd realize equal, if not better, results. That appears to be just what the Yankees will do. By all appearances, Dustin Moseley will join the team tomorrow at the Stadium.
We learned yesterday that Moseley has an out clause in his contract that allows him to elect free agency if not on the 25-man roster by July 1. Last night he was scheduled to make his final start before that date, but as Donnie Collins reported in the early evening, Moseley would not make his start. Collins went on to confirm that the move did not involve an injury, and later that Moseley was throwing in the bullpen. That sounds like we're just an official announcement away from seeing Moseley join the team.
That means the Yankees will have to jettison one of those three underachievers. Since they have a 40-man roster spot free they could simply option Logan and let that be that. That way they could keep both Gaudin and Park on the major league roster while stowing away Logan for depth. It sounds like the most likely move from a GM who covets his depth. But at this point I'm not sure it's the correct move.
What, exactly, do the Yankees think they're going to get from Chad Gaudin? Pick a stat, either results- or peripheral-based, and you'll see nothing but dreck. ERA: 6.89, FIP: 6.10, xFIP 4.57, tERA 5.96. Oh, he has a 3.84 SIERA. His numbers have improved a bit since joining the Yankees, so maybe he's not a total waste. But that doesn't mean the Yankees have to keep him around. They can try to do better than simply not a total waste.
Now seems like as good a time as ever to start sending the bullpen cart to Scranton and picking up random relievers for auditions. Moseley starts on Tuesday. Albaladejo figures to get a shot soon enough, probably at the expense of Park or Logan. Moseley will get a few chances, and a lack of success will lead to his release, only to be replaced by someone like Romulo Sanchez or Jason Hirsh. Better to find out what they have now, rather than try to deal for someone at the deadline when there's an answer right under their noses.
Will Moseley, or any of these guys for that matter, prove the answer to the Yankees' bullpen issues? Probably not. But chances are they won't provide a necessarily worse option than Park or Logan or Gaudin. At this point there isn't really a reason for Gaudin to be on the team. Someone will have to go, regardless, when Sergio Mitre returns from his DL stint. Why not DFA the guy who will be DFA'd at some point anyway? At least that way Girardi will get to keep his coveted double-lefty tandem.