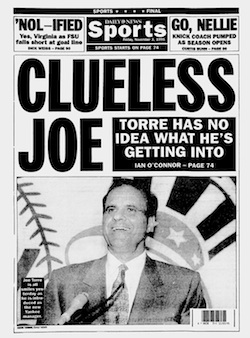 He started out in the tabloids as Clueless Joe, the mediocre manager with a sub-.500 record who wouldn't put up a fight against George Steinbrenner. On the way to a bitter divorce, he became one of the Yanks' all-time winningest managers with four World Series championships to his name. Along the way, he managed the biggest post-season collapse in baseball history and watched his once-reliable team sputter through some Octobers. Then he burned many in a book and hasn't been back since.
Last night, that man — Joe Torre — found himself in an odd position. For the first time since leaving New York amidst the turmoil of a midge-inspired playoff to the Indians in 2007, Torre faced off against his old teammates. The coverage has see-sawed from bittersweet to hyperbolically over the top. In other words, it's just another day in the world of New York sports.
Two of the better takes come from opposing sides of the Torre Divide. Buster Olney, in a piece to which Joe linked yesterday, looks at Torre's "bittersweet reunion" with his former team while Mike Vaccaro remembers the good times. Nothing sums up the city's mixed feelings over Joe Torre better than those two conflicting takes. Is his legacy The Yankee Years, a book I called unnecessary last year? Or is his legacy the return to greatness for a Yankee franchise that had been saddled by George Steinbrenner?
As is often the case, the answer lies somewhere in the middle, but there appears to be a growing sense among Yankee fans that Joe Torre outlived his welcome in New York City. He was never as good a manager by himself as he was when he had a strong cast of supporting coaches. In fact, after Don Zimmer's departure following the 2003 World Series, Torre seemed to lose a lot of his golden touch. Working with flawed teams, he reached the playoffs every year, but after the 2004 collapse, he couldn't guide the team past the first round.
While pondering Torre yesterday, I asked my Twitter followers if they thought Joe should have been fired after 2004 instead of after 2007. Even though we could argue that the 2004 Red Sox were a far superior team to their 2004 New York counterparts, the Yankees were up 3-0 and couldn't put the team away. Mariano Rivera struggled to close the door in Game 4, but Torre then went with Tom Gordon in the 8th inning of Game 5 to disastrous effect. Mo had to get six outs anyway, and he couldn't squeeze out of a first-and-third, no-out jam.
The responses were varied. Some thought Torre should have been fired after 2003 when he went with Jeff Weaver over Mariano Rivera in the 11th inning of a pivotal Game 4. Others thought that if not 2004, maybe after 2006 when he dropped A-Rod in the batting order and generally seemed to have no idea how to escape from Detroit. By the time the midges descended on Cleveland and Torre didn't want to waste a mound visit to try to pull his team off the field, the ship had sailed. The Yankees weren't going to fire Torre outright, but they weren't going to play nice either.
After the book came out, sentiment turned against Saint Joe. He burned Alex Rodriguez, the player with which the team has a love-hate relationship but who drives fans to the team; he threw Carl Pavano and Kevin Brown, admittedly easy targets, under the bus; he slammed Brian Cashman. It was an ugly, ugly affair.
Today, I have very mixed feelings about Joe Torre. As last year's team and this year's show, the Yanks don't need that Joe win; they have another one who is perfectly capable at handling the team's owners, the New York media, and his high-priced superstars with their fragile and not-so-fragile egos. Yet, I'll always have a soft spot for Torre. He came onto the scene after 12-year-old Ben lived through his most heartbreaking moment as a Yankee fan, and then, Torre turned the team into winners. He had a way with the Yanks that made him a commanding and comforting presence. I wasn't, though, sad to see him go. He had outlived his time in New York and burned a bridge with that book.
When Mariano Rivera took the mound last night and threw 10 of 13 pitches for strikes, as the Dodgers' 4-5-6 hitters failed to put a ball on play, Torre grew disgruntled. His team had beaten him, and it was great.