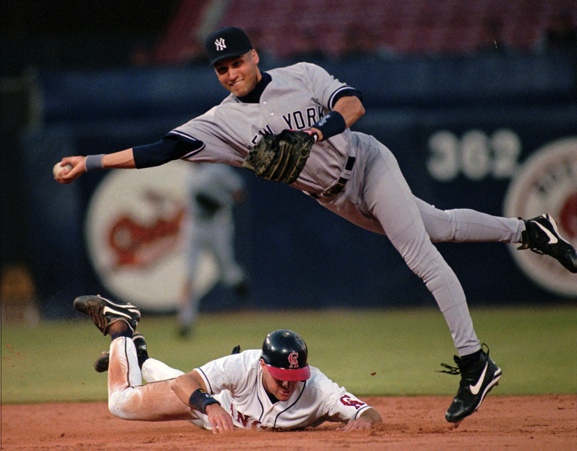 The 1991 New York Yankees went 71-91, finished 5th in the American League East and earned themselves the sixth pick of the 1992 Amateur Draft. With that pick, they took a high school short stop out of Kalamazoo, Michigan, named Derek Jeter. From the first round of that draft, only Jeter, Jason Kendall and supplemental round pick Johnny Damon are still active, and Jeter's five World Series rings are tops among his peers.
This weekend, on the eve of the 2010 draft in which the Yanks, World Series champs with the best 2009 record in baseball, have the 32nd pick, Tyler Kepner took a look back at 1992, and his piece is an excellent work of long-form sports reporting. Kepner used his own Wayback Machine — in this case the cachet of The Times — to track down those participants in the draft who let Jeter slip through their fingers. Who were those five men picked ahead of Jeter?
The first choice that year was Phil Nevin out of Cal State-Fullerton by the Astros. The Indians took Paul Shuey, a reliever, with the second pick while the Expos selected B.J. Wallace due to the cost. Wallace signed for nearly $250,000 less than Jeter. Jeffrey Hammonds landed in Baltimore, and Chad Mottola went to the Reds. Mottola would play 59 games in the Majors while Jeter is at 2194 and counting.
In his piece, Kepner gets in touch with everyone involved in those first five picks. He quizzes then-Expos GM Dan Duquette for his draft pick motivation and talks to Shuey about his current fishing hobbies. Both Hammon and Nevin, sluggers during the height of a home run-happy era, defend their careers. Derek Jeter they were not, but the two both bummed around the Bigs for a combined 2100 games.
"Every time I'm approached about the draft, they talk to me like I was a flop because I wasn't as successful as Derek Jeter," Nevin said to Kepner. "But I'd hardly call my career a flop. I'm very proud of what I was able to do. I had a heck of a lot of fun and did a lot of good things in my life because of baseball. The draft just meant I got to go play."
The interesting — if obvious — story comes from Mottola, the flameout of the bunch. Drafted out of the University of Central Florida, Mottola signed for $400,000 as the Guy Before Derek Jeter. He now coaches at AAA and rues the way he approached the game but for all the wrong reasons. "The only thing I regret is not taking steroids, as bad as it sounds," he said. "I'm not mad at them. I'm more mad at the system that allowed it to happen. Maybe if I had done it, I'd be living the way they're living. But I know the way I played, and I'm not bitter at all."
As Kepner concludes, these five players were from five teams who thought they had found someone better than Derek Jeter. As Derek keeps marching toward 3000 hits, toward Cooperstown, toward perhaps another World Series ring or two, those five teams are still looking for their first World Series win since that 1992 draft. This year, Bryce Harper is the clear-cut number one talent, but the risk of another Derek Jeter waiting in the wings always looms large. In a risk-averse sport, the draft is a crapshoot. Just ask Dan Duquette and B.J. Wallace about that.