For some reason I've detected a bit of fan angst towards Curtis Granderson. It's not widespread or particularly vicious, but I'm actually a bit stunned that it exists at all. It seems like at least once a game I mention to Mike, or he mentions to me, how awesome Granderson has been. Yet he still has detractors. They all seem to spout the same lines about him, too. He can't hit lefties and is a platoon player. He has bad instincts in the outfield. He strikes out too much. It has seemed to me that these claims are quite overblown when contrasted with the things that Granderson does bring to the table.
The more I thought about it, the more my mind kept going to the parallels between Granderson and another outfield trade acquisition, Nick Swisher. They were acquired in different manners: Swisher a buy-low guy without a clear role, Granderson a costly acquisition who was immediately installed as the starting center fielder. After that, though, the storylines seem to line up pretty well. Considering the shifting fan perception towards Swisher, I think we'll eventually see the same for Granderson. Unfortunately, we might be looking at a similar timeline, which is to say a little over a full season.
In 2007 it looked like Nick Swisher was just hitting his stride. He had posted his second straight solid season, in which he bumped up his OBP 10 points over the previous season. The A's, however, stood little chance to contend in 2008 and decided to cash in their Swisher chip, sending him to the White Sox for Gio Gonzalez and Ryan Sweeney. Swisher responded to his new environment by posting what was by far the worst season of his career. It was enough for both manager Ozzie Guillen and general manager Ken Williams to sour on him. When they called around for trades that winter Brian Cashman pounced.
Swisher responded by posting the best year of his career. His 29 home runs didn't match his 35 from 2006, but he compensated with a flurry of doubles, which resulted in the best power season of his career. Combined with a .371 OBP it made for a .375 wOBA, better than his previous high, .368. Still, fans didn't love Swish. He made a few bonehead plays in the field and on the basepaths that stuck in everyone's craw, and that led to negative evaluations despite wildly positive results. It took an incredibly hot start this season for him to disprove the naysayers. It makes sense. After all, a .300 batting average can win over plenty of old school critics.
In the same manner, the Yankees acquired Curtis Granderson after a down year. It wasn't quite his worst — his 2006 was a degree below his 2009. But it was certainly a letdown after his 2007 and 2008 seasons. Many fans looked at his 2009 season as representative of what he was as a player. He can't hit lefties. He strikes out a ton. He hits for power, but that's about it. An early season slump and a three-week DL stint didn't help that impression.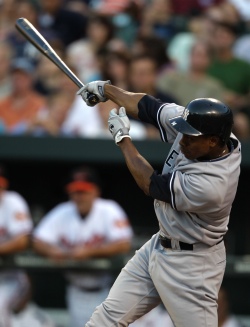 Yet, as I mentioned in last night's recap, Granderson has been quite excellent since coming off the DL. His early season slump set him back heavily — he was hitting .225/.311/.375 when he pulled up lame rounding second on May 1 — but as we've seen every single year of baseball's existence, anything can happen in 91 PA. In fact, it happened to Swisher in 2009. In 92 PA from May 1 to May 27 he hit .127/.297/.225, quite a bit worse than Granderson's initial cold streak. And, as mentioned above, Swisher recovered and ended with a career year.
Come to think of it, other than the platoon split the complaints about Granderson also pretty much mirror the complaints about Swisher. Both have a reputation for striking out, and while most objective measures both played good defense they had a reputation, at least in the eyes of Yankees fans, for playing sloppily in the field. All of this ignores the positives they bring to the game. I have had no problem with the defense from either, bonehead plays aside, and while strikeouts might be emotionally distressing and aesthetically ugly, they aren't really that worse than other forms of outs. They're just things that people tend to complain about.
Yet on the positive side, both possess power, and both are adept at getting on base. If a player can do both of those, he'll have a spot on any team. And, as Swisher has shown, prime-aged hitters can indeed learn new tricks. Granderson has been just fine for the Yanks. If he transitions like Swisher he could get even better as the summer rolls along. And that's not even getting into what next year could mean for him.