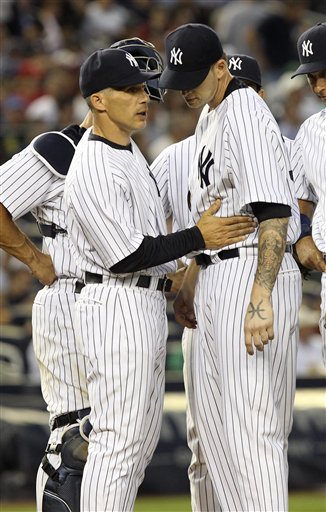 A.J. Burnett was so bad last night, he made a punchless offense look like the superstar sluggers they were supposed to be. The Phillies, a team that had scored six runs just twice since doing so on May 15, lit him up like Times Square. After 3.1 painful innings in which he threw first-pitch strikes to just 10 of the 21 batters he faced, Joe Girardi mercifully yanked him from what would be a 6-3 loss.
Last night's affair was one of those ugly outings where the pitcher shoulders all the blame. Burnett threw 87 mostly bad pitches en route to a six-hit, four-walk appearance. He was responsible for all six runs the Phillies scored and struck out three hitters. Shockingly, Phillies' batters swung and missed just five times against Burnett. He had nothing.
Unfortunately for the Yanks, having nothing has become a common theme for A.J. After starting the season 4-0 with a 1.99 ERA over his first six starts, the wheels have utterly fallen off. Over his last eight appearances, Burnett is 2-5 with a 6.36 ERA in just 43.2 innings. Opponents have knocked out nine home runs over those starts, and his K/BB ratio is an ugly 35/22. He's not giving the Yanks quality starts or innings right now.
For the team adjusting to the second of five years of the A.J. Burnett Era, this wildly inconsistent performance is nothing new. The Bad A.J./Good A.J. meme didn't arise out of thin air, and the Yankees and their fans know that Burnett is only as good as the movement on his pitches. He's a high-walk, high-strikeout pitcher with little command within the strike zone of his pitches, but his stuff can be so devastating and overpowering that the lack of command often doesn't matter. And to think the Yanks only have three years and $49.5 million left on this contract after 2010.
That's the real rub. The Yankees will have to live with A.J. Burnett and his amazing disappearing act through his ages 34, 35 and 36 seasons, and Baseball Reference's Juan Guzman and Pete Harnisch comparables don't inspire much confidence. Neither pitcher were still in the bigs come their age 35 seasons.
But does this inconsistency coupled with the inevitable decline of age make Burnett's deal a bad one? So far, it's tough to complain about it. He arrived with high expectations last year, and by and large, delivered on his salary. While earning $16.5 million, Burnett was, according to Fangraphs' WAR, a $14 million hurler. Considering the Yanks had to outbid the Atlanta Braves for his services and won a World Series in his first year in pinstripes, I'd say the team is happy to pay a $2.5 million premium.
Going forward, though, Burnett's 2010 experiences feature a few warning signs. As the Phillies demonstrated last night, Burnett isn't getting many swing-and-miss strikes. In fact, this year, his Swinging Strike percentage is down to 7.2 percent. Prior to joining the Yanks, Burnett was generally above 10 percent (and well above league average) in that category, but since coming to the Bronx, his swings-and-misses have dissipated. More balls in play inevitably lead to more hits.
In a similar vein, Burnett's strike outs have declined precipitously as well. In his peak years in 2007 and 2008, Burnett averaged nearly 9.5 K/9 IP. Last year, that figure declined to 8.48, and this year, he has around 6.7 strike outs per nine innings. We want to see that number stay steady.
It's still too early in the year to draw many conclusions, and Burnett's dip in numbers as well as a one-mph drop in velocity, could just be related to early season pitching woes. Nothing reminds us of Dr. AJ and Mr. Burnett quite like an eight-game, 2.50-ERA span, and he could start one of those next week against the Diamondbacks. But last night, Burnett didn't have it, and if that's what his aging future in pinstripes is going to look like, that deal he signed might just be for one year too many.