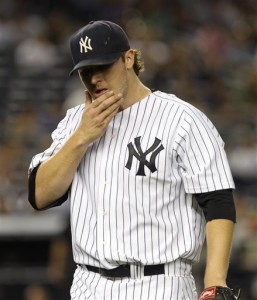 As he fielded questions from Yankee fans on Monday evening during a talk at The Times Center, Yanks GM Brian Cashman spoke about doing his job in one of the loudest and most volatile media markets around. With two tabloids competing for readers and two sports talk radio stations on everyone's dials, New York fans are fed constant outrage over their favorite teams' decisions. Everything is scrutinized, and few in the media have faith in the process.
Cashman, though, knows that he has to tune out the noise to be able to do his job. "If you listen to the fans," he said, "you'll be sitting with them soon enough." The same, he noted, applies to the media. If Brian Cashman and Randy Levine ran the Yankees as Mike Francesa and those columnists in The Post and The Daily News want him to, the team would be a train wreck of contradictions with a $300 million payroll and no farm system. Baseball requires an even keel.
Yet, the fans carry on and on. Last night, Phil Hughes had a bad outing. Against a poor offensive club, Hughes couldn't escape the sixth and walked away with just his second loss of the season. He allowed 10 hits and two walks in 5.2 innings while surrendering six earned runs. After the game, he claimed to be too strong after 10 days off, and that set off the fan base.
They shrieked, "The Yankees don't know what to do! Didn't they learn from Joba? They can't develop young pitchers! Just let him pitch! Off with their heads!" It was a typically expected response devoid of reason or context.
The Yankees have a plan. After last night's start, Phil Hughes was on pace for 188 innings, and the team will not have him throw that many. Last year, they tried limiting Joba's innings by having him throw stunted starts, and it clearly did not work. This year, they're going to do what teams do with many pitchers and allow Hughes extra rest. They've done it with Andy Pettitte; they've done it with Javier Vazquez; they may even do it with A.J. Burnett. Hughes will get his rest, and that's that.
Yet, the fans bemoan no matter what. If the Yanks had to shut Hughes down at the end of August, they would complain that the team is without one of their more effective starters for the stretch drive. If they give him rest now, they complain. Such is the nature of New Yorkers.
This approach — what I would call 20-20 managing — is nowhere more evident than in the bullpen as well. When Joe Girardi brings in a reliever and that reliever struggles, the 20-20 managers would have left in the starting pitcher. When the starting pitcher faces one batter too many and the game slips away, the 20-20 managers would have gone to a reliever. The 20-20 managers always push the right button and are never wrong.
But baseball doesn't work like that. The Yanks know what they want to do with their young arm, and right now, that will involve keeping his rhythm regular and his innings under control. The real issue with Phil Hughes is that his last eight starts have been unspectacular. He's 5-2 over that span but with a 5.33 ERA, and opponents are OPSing .798 against him. It is, though, only about innings to fans who think they know better.
The Yankees will always be scrutinized. They'll always be second-guessed. Even when they win, someone will say they could have won faster or better or sooner. Damned if you do; damned if you don't.