The Yankees needed this one. Not only to take the series, or to tie the season series, but to get on some kind of roll. They ran like a blitzkrieg through the light portion of their schedule before the offense sputtered against the Phillies. It has come alive a bit more over the last couple of days. Maybe the Yanks can use this to rally through their remaining NL schedule.
Biggest Hit: The only big hit of the game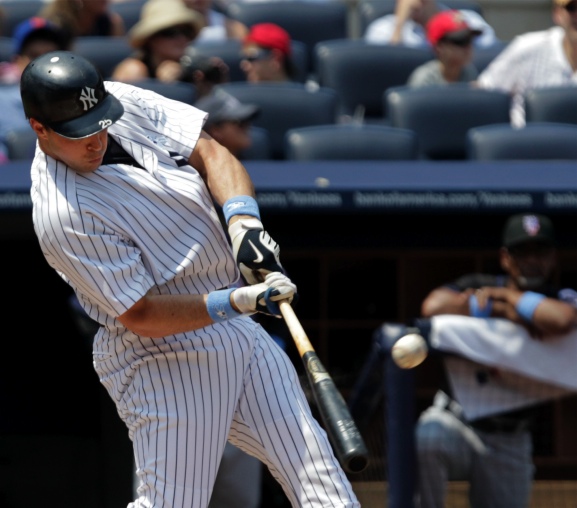 Though the Yankees managed nine hits yesterday, the onle ones that amounted to runs were the four in the third. Brett Gardner led off with a liner to left, which Jeter followed with a tapper that turned into an infield single. I'm not sure why Nick Swisher decided to bunt in that situation, but it caught the Mets off guard. He pushed it past Johan Santana all the way to Ike Davis. Ruben Tejada ran to cover first, but Santana didn't see him there. They collided and the ball fell to the dirt. The Yanks had bases loaded and none out.
Looking for a strikeout or a groundball, Santana started working Teixeira with a pair of changeups low. He missed on the first and got Tex to swing over the second. On the 1-1 pitch Santana went to his fastball, trying to run it in on Teixeira. He succeeded, but Tex had enough time to get around on the 91 mph pitch. Just as Michael Kay told us that Santana had allowed two grand slams this year and four in his career, Teixeira made it three and five. The ball went over the scoreboard in left and gave the Yankees a 4-0 lead.
"If it's 94, 95 he doesn't come close to doing what he did," said catcher Rod Barajas after the game.
We're still waiting for Teixeira to hit consistently. He's shown signs like this all year long, which means he's been productive at times. Once he gets in a groove — and yes, I'm still confident he will — we should see much of the same production we did last summer.
Biggest Pitch: Sabathia induces the 5-4-3 double play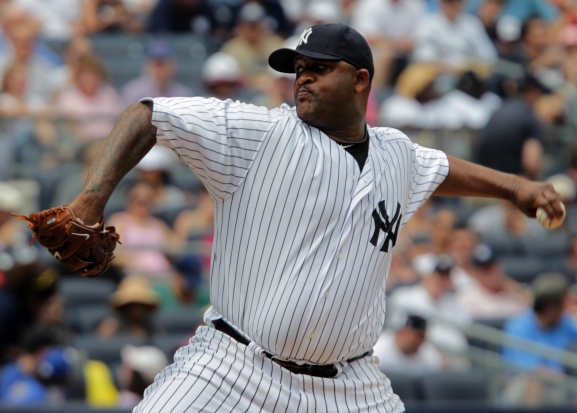 For his second straight start CC Sabathia was involved in a marquee matchup. He pitched very well on Monday, allowing just three runs through seven innings. Even those came in just one inning, after he took a comebacker off the pitching hand. After that he seemed fine, much better than the starts in which he struggled in May. This time he faced Johan Santana, which of course brings a bit of history. Santana had defeated Sabathia in their Sunday matchup earlier in the year, but he would not complete the sweep.
Before the seventh inning CC had allowed no more than one baserunner per inning. He had walked the leadoff man in the fifth and allowed a leadoff double in the sixth, but both times he stranded him. Then, in the seventh he finally faced a situation with two runners on. It started with an Ike Davis single to lead off the inning and continued when Jason Bay drew a walk. CC alternated fastball and changeup to get Rod Barajas swinging, but the Mets still had two more outs to go.
Fernando Tatis took care of both of them. CC dropped a slider over the outside half for strike one, and then threw a changeup in the dirt. He came back with a changeup on the next pitch, and it actually looked like a decent pitch. But Tatis got on top of it, grounding it to A-Rod, who flipped the ball to Cano, who flipped in turn to Teixeira to complete the 5-4-3 double play and end the inning.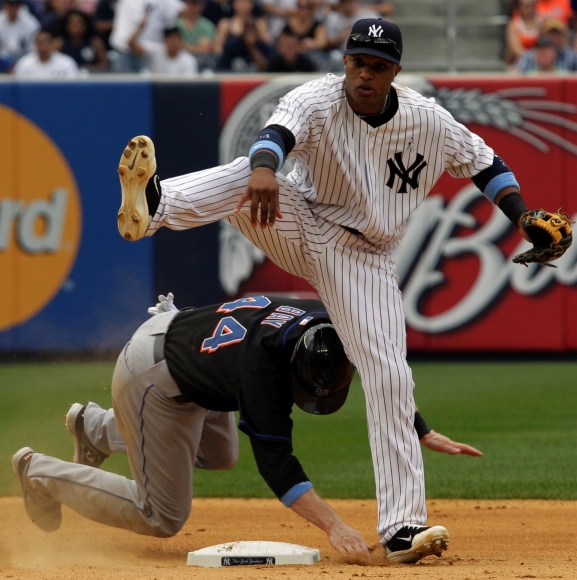 CC ended with an excellent line: 8 IP, 4 H, 0 R, 2 BB, 6 K, 66 of 100 pitches for strikes. Had it not been for the rain delay I have to think he'd have come out for the ninth. But there's no complaining when Mo comes in and works his magic.
Miscellany
Brett Gardner continues to impress both in the field and at the plate. He led off the rally that led to Tex's slam with a single, a liner the opposite way on a belt high fastball. He also made an excellent catch on a Rod Barajas fly ball out by the wall in left. His .378 wOBA is not only right around what Johnny Damon posted last year, but is also .001 ahead of Carl Crawford. UZR doesn't rate his defense particularly well right now, -2.0, but according to John Dewan's +/- system Gardner has saved five defensive runs.
Teixeira since the five-strikeout game: 13 for 47 with three doubles, four homers, and nine walks. That puts his triple slash at .276/.414/.596.
Posada since the grand slam game: 8 for 22 (.364) with a double and three jacks. That's an .818 SLG, homes.
Granderson since returning from the DL: .257/.333/.514. Power's there for sure, but he could stand to get on base a little more frequently.
On a less optimistic note, A-Rod since leaving the Orioles game: 2 for 18 with a double and just two walks.
The only Yankee starters without a hit were Cano and Rodriguez. Cano was hit by a pitch.
Graph, box, highlights
Yeah, I could use a graph like this right about now.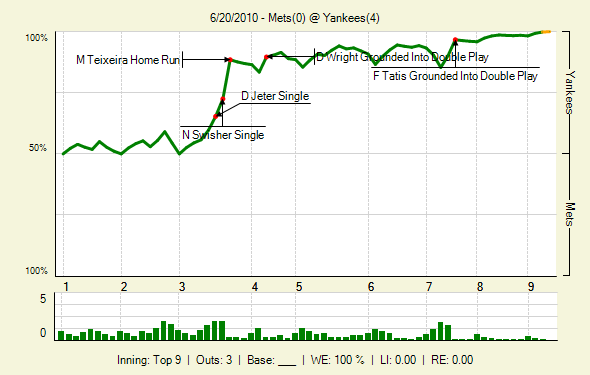 More at FanGraphs. Also check the box score and highlights.
Up Next
They're flying out to Arizona, where A.J. Burnett will look to right the ship against Rodrigo Lopez. Game, unfortunately, starts at 10.