Over the course of 162 games, teams will lose games they're supposed to win. The last place team in a division, at least a couple of times in a year, will beat the leader. It's part of the game. These girls know it. Yesterday seemed like it had the potential to be one of those you can't predict baseball moments. CC Sabathia owns the Orioles. He had held them to a .582 OPS in his career, his lowest mark among AL teams. He had a 2.52 ERA against them and was 11-1 in 16 starts. His team had won 13 of those games.
Yet CC hasn't been himself lately. He has allowed five or more runs in three of his last four starts. His ERA has climbed to above 4.00, at 4.16, which was higher, coming into the game, than that of his opponent, Kevin Millwood. That's just not right. Still, something's been off with CC, and with that in mind it certainly seemed like a day where the Orioles, if they caught a few breaks, could steal a win. Unfortunately for them, the Yankees' offense was just too strong.
Biggest Hit: Alex hits it out to right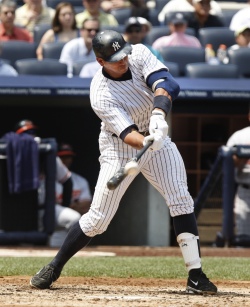 While Alex Rodriguez has been excellent this year, he's not quite the A-Rod we've known for the past six years. Most of it's there. He's hitting .297 with a .376 OBP. Where he has lacked to this point, what we've missed, is his power. Coming into yesterday's game his ISO was just .195, 50 points lower than the mark he posted last year after his return from hip surgery. Not that anyone's really complaining. Again, he's hitting just fine, and he's playing markedly better defense. And it's not like he has no power.
The third inning started off well. With one out Mark Teixeira ripped a changeup to left, setting himself up in scoring position for A-Rod and Cano. Millwood had already allowed two in the first, and with the Orioles offense being the Orioles offense he really had to bear down there and get A-Rod somehow. He had a plan, it appeared, Everything was down in the zone. Fastball, splitter, slider. A-Rod took the first four and worked a 2-2 count. He fouled off the next two, both fastballs, the first outside and the second low and in. A splitter in the dirt later and the two squared off on a 3-2 count. Millwood came back with a splitter, but he left it belt high outside. A-Rod got his arms extended, which, if this were Mortal Kombat, would set up his fatality.
He hit the ball on a line, but with the close and low fence in right it was a sure home run. That put the Yanks on top 4-1, and they'd pick up another after a walk and pair of singles. Even with a mistake-prone Sabathia on the mound that was more than enough.
Biggest Pitches: The home runs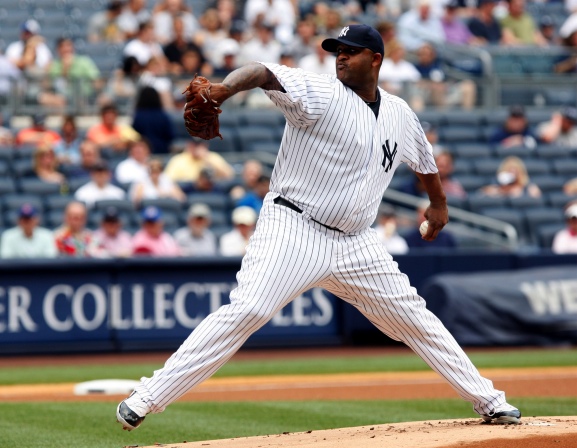 Through the first two innings CC Sabathia looked like his normal, invincible self. He was hitting his spots and his stuff was working. In any case, he plowed through the first six Orioles hitter with aplomb, using just 21 pitches to set them down in order. Adam Jones led off the second, and Sabathia started him with a fastball low and away for called strike one. On the next pitch he came inside with a fastball, but he let it catch too much of the plate. Jones hit it perfectly, sending it into the visitor's bullpen for his team's first run.
That wasn't especially worrisome at the time. Even with Sabathia's recent troubles, it was hard to get too worked up over one solo shot. Sure enough he went right back to work, retiring the next three hitters on just 10 pitches. He needed just nine to get through the fourth and would have been out of the fifth with 11 if he hadn't made a poor throw to first. That cost him eight pitches, all fastballs, to backup catcher Craig Tatum. Nine pitches after that he was done with the sixth.
What followed was strange, mainly because of what had come before. He had thrown just 70 pitches through six innings, and if not for his own blunder it could have been as low as 62. Imagine that. Sixty-two pitches through six. Even at 70 he was in complete game mode. He did record the first out in the seventh, but it took him six pitches. Ty Wigginton singled next, but that was no big deal. Only the Orioles second hit of the game. Then came the mistake. Sabathia missed with two fastballs to Luke Scott. Again he went to the fastball, but this one was right down Broadway. Out it went, and the Orioles had put the game within three.
Things looked really down when he walked Garrett Atkins, but all became right after that. But he had thrown 23 pitches in the inning, and at 93 pitches and the game within three Girardi went to his setup-closer tandem, Joba Chamberlain and Mariano Rivera, to seal it. Though there was a slight hiccup in the ninth, the good guys won again.
As long as Curtis Granderson continues hitting, I will write about him
It was another multi-hit day for Curtis Granderson, including an RBI single in the third that not only put the Yankees up 5-1, but also set up first and third with one out. Since his return he is 10 for 24 with four doubles and a homer. He's also playing, by the eye's measure, excellent defense in center. This is the guy the Yankees traded for this winter, the veteran, the finished product that could step in and become a part of the Yankees' lineup. He still doesn't have a set spot — long-term he's more of a No. 2 than a No. 7, but those are the breaks when Swisher is killing the ball.
In the future I'd like to see Granderson stealing a bit more. Clearly he's taking it easy, but soon enough he's going to feel 100 percent. With Francisco Cervelli and Brett Gardner batting behind him, attempting the base becomes a more viable option than if he has Teixeira and A-Rod behind him. If he and Gardner can get going on the base paths, the Yankees will have added yet another dimension to the starting lineup.
Picture of Gardner's homer
Because the little dude has as many home runs this year as Jason Bay. (With a nod to Greg Fertel.)
Boring green line and box score
It feels like we've seen the same green line for the past three days. Can't we change the channel?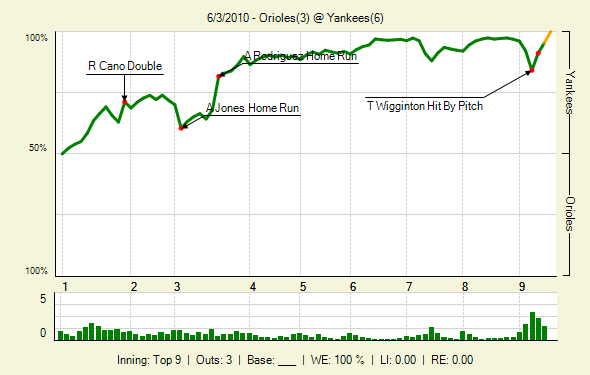 This and more numbers at FanGraphs. Or you can try the more traditional box score.
Next Up
I can't wait for tomorrow's series preview. It's the perplexingly good Blue Jays, with lefty Brett Cecil on the mound, against A.J. Burnett.