Hard to believe that it's only June 10th and yet the Yankees have already clinched the season series against Baltimore, but that's what happens when you beat a team the last ten times you face them. The Yanks were unable to complete their third straight series sweep of the O's on Thursday, though their two main AL East competitors also lost, keeping them just two games back of the Rays.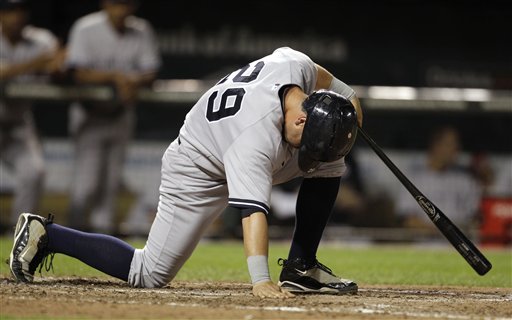 It … Just … Kept … Carrying
They say the New Yankee Stadium is a bandbox, but Camden Yards certainly played that part in this game. The Yankees were nursing a one run lead in the 5th inning of this one, and A.J. Burnett had settled down after some first inning jitters to retire the last ten men he faced. The lead quickly evaporated when former eighth overall pick Scott Moore (look it up if you don't believe me) got a hold of a 92 mph heater that ran back out of the plate, lifting the ball high in the air toward right-center. And up in the air it stayed.
I honestly thought it was a deep fly ball off the bat, deep but certainly playable. Instead the ball just hung up, chasing the outfielders back to the wall before ever so slowly landing in the people for a solo homer. Moore tied the game, which was certainly disappointing but far from a death sentence at that point in the game.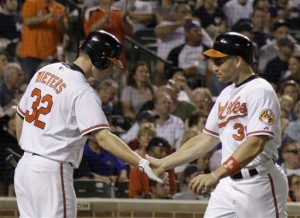 The winds from the Inner Harbor came into play again an inning later, or at least what I assume were the Inner Harbor winds. I always figure if it's windy and there's a large body of water nearby, blame it on that. Anyway, Luke Scott ripped a hanging curveball into right with one out in the 7th, and again the ball just seemed to hover in the air for eternity. Nick Swisher chased it back to the big scoreboard and made a valiant leaping effort to catch it, but the ball hit off his glove and Scott ended up on third. Again, it looked like a deep but playable fly ball off the bat, but instead it was ten feet up the wall.
Adam Jones drove in what was ultimately the winning run with a double two pitches later, though that one needed no help from the wind. He hit it right on the screws, giving his team the lead. Moore's homer and Scott's triple were the Orioles' two biggest hits of the night, combining for .248 WPA, win(d) probability added.
Cleanup Roulette
It's unfortunate whenever any player goes down with an injury, but when it's your most potent righthanded bat and cleanup hitter, well then, that sucks. Alex Rodriguez left Thursday's game after the bottom of the first inning with a stiff  groin before he even came to the plate, and was replaced by the noodle bat of Ramiro Pena. There was no obvious reason for A-Rod's departure at the time, though it appeared he took a short step before stopping himself on a hit hard ball through the 5.5 hole. He's tentatively listed as day-to-day, and will see a doctor tomorrow.
Pena went 0-for-2 with a sac bunt during his six innings at the hot corner, but was pinch hit for in the top of the 7th with men on first and second and two outs. Backup catcher Frankie Cervelli and his .207-.313-.268 batting line over the last 31 days took Pena's place in that 7th inning, but struck out after a hard fought eight pitch at-bat that featured one fastball and seven sliders. Cervelli then stayed in the game to catch while Kevin Russo took over at third.
It was just one lineup spot, but it effected 20% of the roster (A-Rod, Pena, Cervelli, Russo, and Chad Moeller) in one way or another.
Kinda Bad A.J.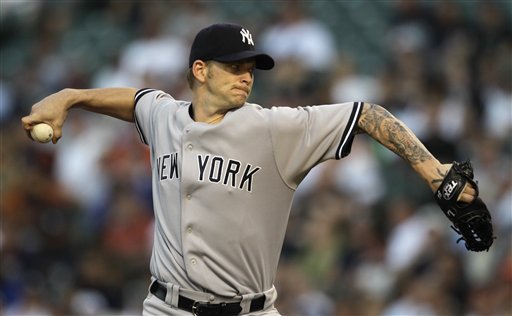 It was a tale of two, really three A.J. Burnetts in this one. Bad A.J. allowed a pair of runs in the first on two singles, two hit batsmen (he really hit three batters in the first, but Nick Markakis struck out swinging when he got hit), and a sac fly. Good A.J. showed up after that to retire the next ten Orioles, but Bad A.J. came back for an encore in the 5th, 6th, and 7th innings. He gave up one homer, two doubles, one triple, and two singles (with an intentional walk mixed in) to the last 15 men he faced.
It was an overall mediocre performance by the Yanks' supposed number two starter, though four runs in 6.2 innings of work is usually good enough to keep the team in the game, as it was tonight. Believe it or not, this was second time in his last three starts that A.J. did not issue an unintentional walk, something he did exactly zero times in 2009.
For Better Or For Worse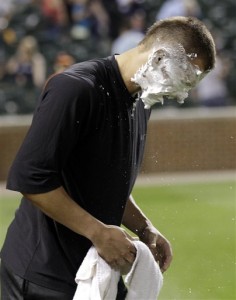 The most damaging out made by a Yankee batter in this game was not Cervelli's in the 7th, but Marcus Thames' strikeout in the 6th. Rookie starter Jake Arrieta (left) was on the ropes with the bases loaded and his pitch count over 100, but Thames took a cut at a slider a foot off the plate to end the inning. He's hitting just .189-.319-.259 since the end of April.
This was the first time in like, forever, that Robbie Cano didn't have a multi-hit game against the Orioles. I think Michael Kay said during the broadcast that he had a ten game multiple hit streak against them, which is ridiculous. And how about Cano tagging up to go from first to second on Jorge Posada's sac fly in the 6th? Super risky, but he pulled it off. The guy can't do anything wrong these days.
Speaking of Posada, he has just three singles in 34 plate appearances since coming off the disabled list.
I'm not sure if Mark Teixeira's bloop shot in the 3rd was fair or foul – it was extremely close – but all that matters is that the ump called it foul. That's just a microcosm of how the season has gone for Tex.
Damaso Marte retired Luke Scott to end the 7th, and lefties are now hitting just .179-.233-.250 with seven strikeouts in 30 plate appearances off him this year. Chan Ho Park has quietly struck out nine of the last 22 men he's faced.
The Melkman Delivers
Sorry, but I had to include this clip from earlier today. It makes you kinda miss the little fella…
WPA Graph & Box Score
Traditional box score comes from MLB.com, nontraditional box score comes from FanGraphs.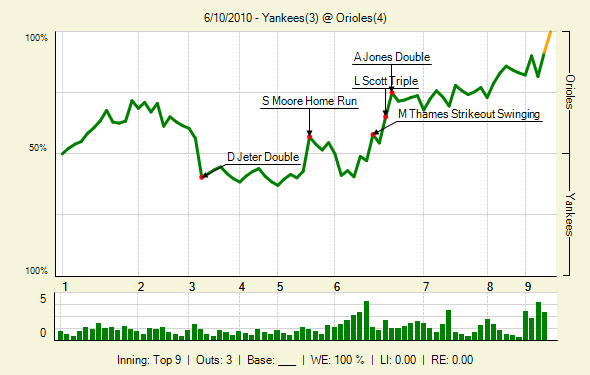 Up Next
The Yankees are flying home after the game to take on the lowly Astros as interleague play starts back up. Andy Pettitte takes on Brett Myers, who is having himself a nice under-the-radar season.