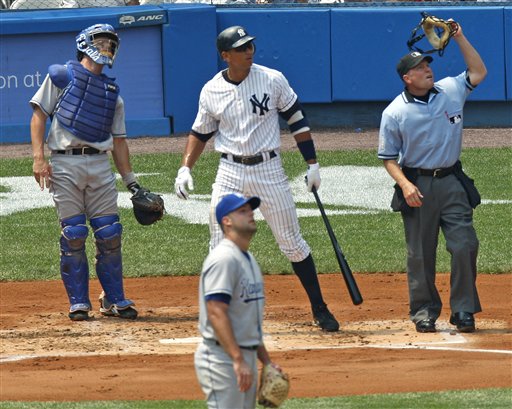 At some point in the not too distant future, Alex Rodriguez is going to connect with a pitch and send it over the fence for the 600th time of his career. We've already seen him do that same thing 253 times in pinstripes, setting the single season franchise record for homers by righthanded batter along the way (twice). He is inarguably the greatest hitter this 28-year-old has ever seen play for the Yankees (some of you older fans are welcome to disagree), someone with a first ballot Hall of Fame resume if he retired today.
And yet, there is almost no buzz, no excitement surrounding his pursuit of this historic milestone, as Ken Rosenthal points out. Alex's 500 HR chase garnered much more attention, both locally and nationally. Maybe it's the PED thing, that's a legitimate question, maybe it's just homerun fatigue. The 500 HR club added ten new members in the last decade or so, nearly doubling in size. Perhaps that once great milestone is losing its luster.
The 600 HR club has experienced the same kind of growth. There are six players in baseball history with that many homeruns to their credit, three of whom (Ken Griffey Jr., Sammy Sosa, and Barry Bonds) joined the club in the last decade. Before that, it had been more than 30 years since Hank Aaron and Willie Mays joined Babe Ruth as 600 HR men, and they did so within three years of each other. So again, this club has doubled in size in the last decade after tripling in size almost four decades ago.
That shouldn't cheapen the accomplishment, though. Tens of thousands of players have worn a Major League uniform at some point, yet just six have hit more homers than the Yankee third baseman. Soon enough, A-Rod will not just join those six great players in the 600 HR club, he might even surpass them all down the road. Consider what he's already accomplished despite not turning 35-years-old until next week. He's already hit the seventh most homeruns in baseball history. He was the youngest player to hit 300 homers, the youngest to hit 400 homers, the youngest to hit 500 homers, and he'll also be the youngest to 600 homers by a not small margin. He'll beat the Bambino to the milestone by a full year.
Alex has accomplished many things on the baseball field, but it doesn't seem like gets as much credit for it as his peers. Consider how much love and adoration Griffey received at a similar point in his career despite being a fraction of the player. Maybe it has to do with expectations. A-Rod was so obviously gifted that greatness was a foregone conclusion. If he didn't succeed, it would have been the biggest bust in baseball history. Greater than Brien Taylor and Mark Prior, greater than Steve Chilcott and Matt Bush. Alex couldn't fail, it wasn't an option.
Of course, there's also public opinion to consider. Alex has long been considered a phony for his off-the-field antics and a choker for failing to become a World Champion, as if that was solely his fault. Now he has his ring, he has his homerun crowns with more to come, maybe everyone is just bored and looking for a new whipping bow. Either way, A-Rod's greatest almost seems to get neglected at times, especially recently.
Consider this: Have you ever seen any mainstream media outlet, including the Yankees' own television network,  give A-Rod credit for hitting more homers than any other infielder (first baseman included!) in baseball history? I certainly don't ever recall it. And yet he accomplished that rather remarkable feat this season, passing Frank Robinson when pulled the old "hit a grand slam after the other team intentionally walks Mark Teixeira to load the bases" trick against the Twins in May. You remember that homer, yet you remember it for every reason other than Alex becoming the all-time leader in homeruns hit by an infielder. Think about that. More homers than any other infielder in baseball history, yet you'd probably never would have realized it if you didn't read this post.
Now he's moving onto bigger and better things. Alex's 600 HR chase might not be the getting the attention the Yankees expected when they included the $30M worth of milestone incentives in his contract (those incentives don't kick in until he hits homer No. 660, though), but that doesn't cheapen the accomplishment. Also, they can point the finger at themselves for that lack of attention as well. They should be promoting this on television and around the ballpark like there's no tomorrow. It's a cash cow going unmilked.
We really should take a step back to realize what we are witnessing here. A-Rod isn't just a great player, he's a historically great player that will be talked about for years to come. We know history has a way of repeating itself; the first game after George Steinbrenner's death played out very much in the same way as the first game after Thurman Munson's death, with a 5-4 walk-off win. Alex hit his 500th career homerun in Yankee Stadium off Kyle Davies of the Royals on a Saturday. The Royals are coming to the Bronx this week. Saturday's scheduled starter? Kyle Davies.
(You can find ticket info for upcoming games after the jump if you want to see Alex hit No. 600 in person.)