Whenever a team as perennially awful as the Royals come to town for a four game set and aren't scheduled to throw their Cy Young Award winning ace, it's easy to start thinking about a sweep. Of course the first step toward that sweep is winning the first game, and the Yankees did exactly that on Thursday night. With Tampa Bay enjoying a scheduled day off, the Yankees picked up a half-game on their division rivals and now lead the AL East by three full games.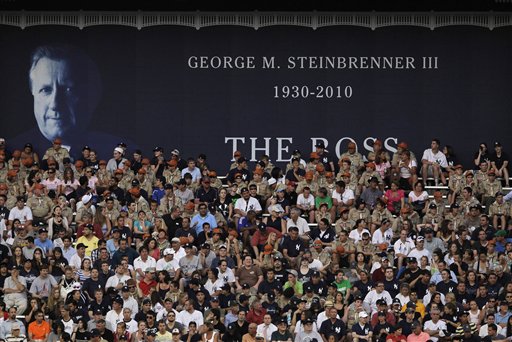 Biggest Hit: Posada Doubles In The Go-Ahead Run
The first few innings of this game went back and forth. The Royals stayed true to form as the game's premier bloop single outfit (lead the majors in batting average, third worst in isolated power), pushing a pair of runs across in the top of the 1st before the Yanks answered back in the bottom half. They scored another run in the 2nd, and the Yanks answered in the 3rd. With the score tied at three in the 5th, Robbie Cano singled with one out to start the rally, and two changeups later the Yankees had the lead for good.
Jorge Posada, who had himself a rather interesting night (more on that later), took the first pitch in the dirt for a ball before unloading on a hanging changeup, sending it deep into the leftfield corner and scoring Cano from first. He later came around to score himself on a Marcus Thames sac fly, though looking back it's hard to believe that these were the two runs that would effectively decide the game. This one had 10-8 or 9-6 written all over it early on.
Biggest Out: Guillen Kills The Rally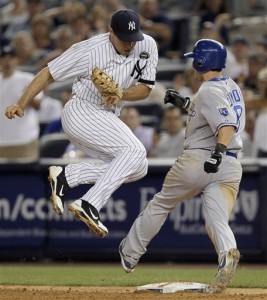 Before the Yankees broke things open in the bottom of the 8th inning, Joba Chamberlain once again found himself in trouble in the top half. In fairness, it wasn't entirely his fault. Scott Podsednik and Jason Kendall beat out a pair of infield singles with one out that traveled a combined 100-ft or so, and the inning should have been over when Posada threw Podsednik out stealing third. Instead third base ump Chad Fairchild called him safe, and the inning continued.
Joba poured a first pitch fastball into the zone that Billy Butler took for a strike. Butler then took a slider out of the zone for a ball before swinging over another slider for strike two. Butler is one of the game's best young hitters (.306/.369/.483 in close to 1,100 plate appearances since the start of last year), and he fought off two more sliders and another fastball for a full count. Joba then challenged him with a fastball, but the pitch rose out of the zone and the bases were loaded with two outs.
It was a two-run game at the time, so the typical uneasiness of a Joba outing was compounded about a million times over. His first pitch to the hacktastic Jose Guillen was wide for a ball (gulp), but Joba got Guillen to roll over on the next heater for an inning-ending ground out. It was a stressful inning, no doubt, and the first two baserunners weren't entirely Joba's fault. Still, would it kill the guy to have a 1-2-3 inning once in a while? I'm not sure how much more I can put up with this, .401 BABIP or not.
599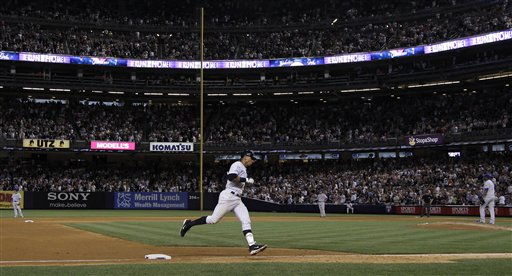 Alex Rodriguez took another step towards history tonight, clubbing career homerun No. 599 in the 7th inning. It was an opposite field job off reliever Robinson Tejeda, and the three pitch at-bat really allowed A-Rod's greatness to shine. Consider the sequence: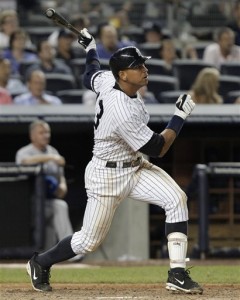 First Pitch: 92 mph fastball, swing and a miss
Second Pitch: 94 mph fastball, fouled off
Third Pitch: 94 mph fastball, gone
If you throw a hitter as smart and physically gifted as A-Rod the same pitch three times in a row, you're asking for trouble. He saw it the first time, adjusted the second time, and locked in on it on the third try. Might as well have put it on a tee.
Although he merely doubled in his final at-bat of the game and first shot at No. 600 in the 9th, Alex is now one swing away from history. My money's on a first inning three run homer off Kyle Davies this Saturday, just like No. 500. Baseball is weird like that sometimes.
A Little Bit Of This, A Little Bit Of That
Posada had what we'll call an adventurous night behind the plate in this game. He lucked out in the 5th when home plate ump Eric Cooper called Butler out on a play at the plate even though Jorge didn't even tag him. Replay showed he wasn't close to tagging him, either. An inning later, he made what might have been the dumbest decision in baseball history. The unparalleled Yuniesky Betancourt struck out on a breaking ball in the dirt, and instead of throwing to first for the sure out, Posada threw to third to try and catch Willie Bloomquist napping. The throw was offline and went into leftfield, Bloomquist scored and the YuniBomber ended up at second. CC Sabathia bailed him out, but goodness. Bloomquist struck out on a ball in the dirt the next inning, and Posada lobbed the ball to first for the out, except he almost chucked it into rightfield. Mark Teixeira bailed him out that time. Definitely not a night they'll relive on Jorge's Yankeeography, go-ahead double or not.
CC Sabathia wasn't especially sharp on Thusday, but he did take the ball into the 7th inning as usual. The 15 combined hits and walks he allowed are a new career high, but he limited the damage thanks to nine strikeouts. The big guy did what aces do, kept his team in the game even without his best stuff or command.
Big ups to David Robertson for another fireman act in the 7th. He entered the game with a one run lead and two men on base with just one out, but a pop-up and a strikeout later the Yankees were out of the inning. I can't imagine either he or Joba will be available tomorrow after pitching in each of the last two games. I guess that makes Boone Logan and Jon Albaladejo the de facto setup men tomorrow. It's better than Chad Ho Moseley.
Brett Gardner had two outfield assists in this one: one on Wilson Betemit at second to end the 1st (before Guillen crossed the plate, saving a run), and another on the Butler play at home. The replay showed that both guys were safe, Butler by a mile, but I'm not complaining. Kinda makes you forget that he's had just one hit in his last 19 at-bats.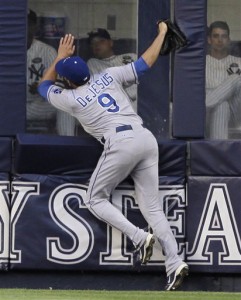 Tex went 3-for-4 with a double off his personal whipping boy Bruce Chen, extending his streak of reaching base safely to 38 consecutive games. They should invite that guy to Spring Training every year just so Tex could face him and hopefully get off to a hot start.
David DeJesus sprained his thumb and will miss the rest of the series, but it could have been a lot worse. It looked like he messed up his wrist crashing into the fence on a Derek Jeter fly ball that turned into an inside-the-park homerun, but apparently the wrist is fine. Hopefully DeJesus gets well soon, he's a good player that deserves to be traded to a contender before next week's deadline.
WPA Graph & Box Score
Not as jumpy as the actual game felt. MLB.com has the box, FanGraphs the other stuff.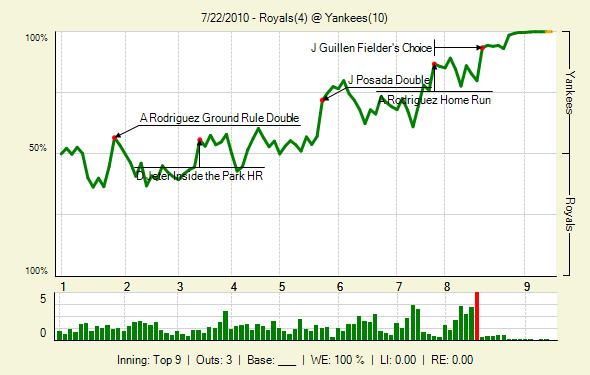 Up Next
Same two teams, same time tomorrow. A.J. Burnett gets his shot at redemption against Brian Bannister.