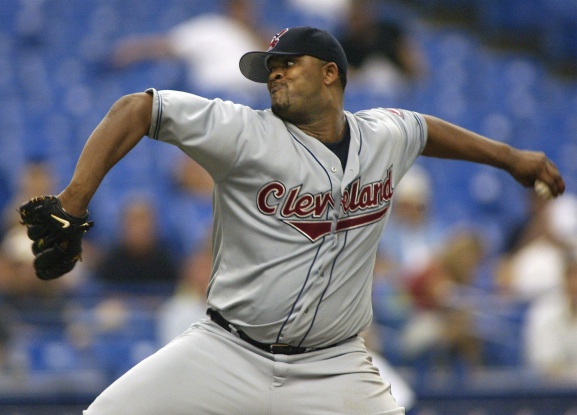 Tonight CC Sabathia will take the mound in Cleveland for only the second time in his career as an opposing pitcher. When he called Progressive/Jacobs Field home he treated it well, pitching 747 innings to a 3.84 ERA. The fans in Cleveland loved him, and it didn't take long for Yankees fans to realize why. He's a big dude with an even bigger smile, and it seems like he's always the nicest guy in the room. His 95 mph fastball doesn't hurt, either.
Sabathia didn't run a typical course for a young pitcher. The 20th pick in the 1998 draft — behind pitchers Mark Mulder, Jeff Austin, Ryan Mills, J.M. Gold, Jeff Weaver, Kip Wells, Brad Lidge, and Seth Etherton — he signed in time to pitch 18 innings in rookie ball before calling it a season. In 1999 he missed two months with a bone bruise in his elbow, but he cam back in 2000 with a reassuring performance. After 56 innings in advanced-A ball Sabathia moved up to AA, where he was named an All-Star. He pitched in the Futures Game that year, as well as the Hall of Fame game in Cooerstown. As we've seen the Yankees do in the past, the Indians brought Sabathia around the big league club in September, though they never activated him. He'd have to wait until 2001 to get his shot.
Despit having just 232.2 innings of minor league work under his belt, the Indians broke camp with Sabathia in 2001, and he made his debut on April 8, pitching 5.2 innings and allowing three runs against the Orioles. It's tough to expect much of a 20-year-old, even if he is the team's top prospect, but Sabathia delivered in a number of ways. He led the league in hit rate (as in, lowest), which helped make up for his 4.7 walks per nine. He ended the year with a 4.39 ERA, which amounted to a 102 ERA+. It's tough to imagine a 20-year-old with minimal minor league experience providing more.
One issue Cleveland knew it would face with Sabathia was affordability. By calling him up at age 20 they put him on pace to reach free agency heading into his age 26 season. The Indians had raised payroll from $76.5 million in 2000 to $93.3 million in 2001, but that budget increase was temporary. It was unlikely that the Indians would be able to afford Sabathia once he became a free agent, made all the worse because that time would come as he entered his prime. Still, they made all necessary attempts, which included signing him to a four-year, $9.5 million extension after 2001 season that covered his first two arbitration years and provided a $7 million option for his final season of team control.
CC pitched very well, especially considering he was age 21 through 23, during the first three years of that contract. It was good enough for him to sign another extension with Cleveland, this one buying out his first two years of free agency. It called for two years and $17.5 million, an enormous bargain in every way. The extension also included Cleveland picking up his 2006 option. So, all told, the Indians ended up paying $13.95 million for Sabathia's three arbitration years, and then $17.5 million for his first two years of free agency.
It came as no surprise, then, that Sabathia wanted to get paid the next time around. He had played for cheap in Cleveland for five years (not counting his three reserve clause years because he had no control over that). It was time to get the dollars he deserved. His price tag jumped after his Cy Young award in 2007, and there was little chance he'd consider signing the four-year deal, worth between $68 and $72 million, that Cleveland had offered. Knowing they didn't have a shot, they traded him to the Brewers mid-season, which turned out to be an excellent move. Instead of getting a first round pick when Sabathia signed with the Yankees, they would have gotten only a second-rounder because the Yanks also signed Mark Teixeira.
While it appears that Sabathia left Cleveland on decent terms, there does seem to be at least a little lingering resentment, at least from one beat reporter. Two weeks ago MLB.com's Anthony Castrovince unloaded on Sabathia. It came after comments CC made when asked about how the Indians broke up their 2007 team that came within a game of the World Series. "That wasn't our fault," Sabathia said. "They trade us. That's on them."
The issue, of course, is a bit more complicated than that. The Indians started off poorly in 2008 and were out of contention by the time Sabathia started pitching well. If he had started out the season well perhaps he and Cliff Lee could have made a difference, but it just didn't work out. The Indians traded him because they had to — because there was no way they could afford to sign him again. It does seem pretty cut and dry. They didn't have the necessary resources, so they had to make a move. That is on them. But that's not an indictment. It's just a reflection of the team's financial situation.
I'd blockquote Castrovince, but there seems little point. His beef lies with CC's, "That's on them" sentiment. He claims that CC should have leveled with people when asked about the 2007 team. "This is a business, and it's difficult for a team in a smaller market like Cleveland to afford to keep its core intact. That's why it's a shame we weren't able to take advantage of the special opportunity we had in '07. And as the ace of that pitching staff, I take the brunt of the blame," was Castrovince's suggested answer to the question. That would have been noble, but it was in no way necessary. And it misses the bigger point.
The Indians treated CC well, as Castrovince says (slipping in a fat joke, hardy har har), but he misses how many chances Sabathia gave the Indians. He knew he could have hit free agency at age 26 and would have gotten a mammoth contract, though perhaps not quite as large as the one the Yankees gave him. Still, that would have lined him up for yet another payday if he had signed, say, a five- or six-year deal. Yet he signed an extension with the Indians, at a rate grossly below the market standard, that covered two years of free agency. He gave the Indians a chance to build a team, and while they came close they fell short.
It was a good run for CC in Cleveland. The fans loved him, watching him grow from 20-year-old rookie to Cy Young award winner in seven years. He apparently liked it enough to give the team a discount. Yes, it's a shame, for many reasons, that the 2007 squad couldn't finish the job. That could have changed the course of Cleveland baseball. But it didn't, so the Indians had to make some necessary moves. Sabathia had no obligation to once again sign below market. After sacrificing money for security for five years he decided to get paid. I find it hard to begrudge him that.