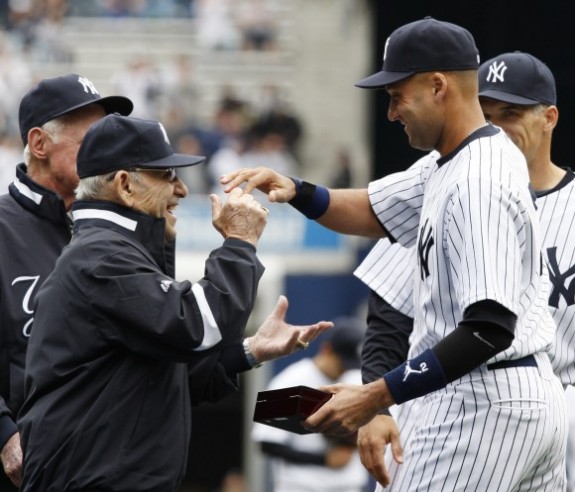 To say that Derek Jeter is popular is akin to proclaiming New York in slight fiscal troubles. Both are understatements of the highest degree. In fact, no other Major Leaguers are, according to a recent Sports Business Journal survey, as popular and as marketable as Derek Jeter, and how the Yankees realize this marketability could impact Jeter's off-season contract negotiations and his Bronx future.
Based upon the results of a survey sent to 49 sports business executives and media personalities, Derek Jeter is tops among baseball in terms of marketability. He appeared on 47 of the 49 ballots and garnered 39 first-place votes en route to 223 total points. Albert Pujols finished behind Jeter with 111 voting points. (The full results are available here.)
Those in media were universal in their praise of Jeter. "You've got the star power. He's playing in the biggest market. He's obviously an All-Star caliber player. And I think more important than anything else, he's one of the few guys that has really just stayed out of all kinds of trouble and controversy," Mark Feinsand, Daily News beat writer, said to SportsBusiness Daily. "He's got a clean-cut image and he's always lived up to it. Any company that would get into business with him wouldn't be worried about waking up and seeing his face flashed across the front page for the wrong reasons."
Jeter, says the business executives, is primed for a very successful post-baseball career as a brand as well. He has become synonymous with Yankee success and class, and marketers love the image he puts forward. "He's just so consistent, and I think people feel that reliability," Brandon Steiner, chair of Steiner Sports, said. "It's just really unusual for a player and a personality like him to be that consistent for that long, all going in the right direction."
While this news is all well and good for Derek Jeter's accountant, for the Yankees, it is just another aspect of Jeter's package to consider when he comes up for free agency in a few months, and it adds to the forces pulling the Jeter issue in various directions. As some coverage focuses on Jeter's image, in today's Times, Joe LaPointe looks at Derek's slump. Through 89 games, Jeter is hitting .271/.335/.384. He has a 97 OPS+, but with an sOPS+ of 110, he's still better than the average AL short stop by a significant amount.
The team though has reason for concern. He's seeing a career low 3.53 pitches per plate appearance, hasn't homered since June 12 and is hitting just .248/.324/.338 over his last 310 plate appearances. He also turned 36 last month and is due to take home $21 million this year. Brian Cashman recognizes that a prolonged slump at this stage in a player's career could be more than just a slump. "We'll find out at some point," Cashman said last month of Jeter's play and his ability to stick at short. "The clock runs out on everybody. Sometime in the future, it will be a real issue to deal with."
As Jeter's struggles continue and the Yanks continue to win despite his lackluster play, the jury is decidedly out on how his season will end. Buster Olney, writing today, thinks Jeter will recover because "his history tells you he'll bounce back." Baseball history, though, says that middle infielders playing in their late 30s aren't too dissimilar from this year's version of Jeter. But Olney also says that if Jeter didn't carry that marketable image around with him, he probably wouldn't get more than $5 million a year after a season such as this one. Fangraphs' WAR valuation pegs Jeter to a three-win season which would be worth closer to $12 million annually. The truth is somewhere in the middle.
NoMaas, in a piece that analyzes Jeter's new-found tendency to swing at too many pitches, ponders the same problem. "In a strange and perverse way," SJK writes, "this could be a blessing in disguise for the front office, since a down year could give them a stronger position in contract negotiations additionally influenced by public relations and legacy."
So with three months left in the baseball season, the Yankees find themselves stuck in the middle with DJ. Chances are good that, because of Jeter's image and marketability, the proper contract length for the right amount of dollars will generate enough revenue to pay for a significant part of the salary. But the Yankees also need a short stop who can man the position and a hitter who isn't a drain on the lineup. How much should Jeter earn? For how many years? As I've said this season, I'm glad I'm not the one making that decision.