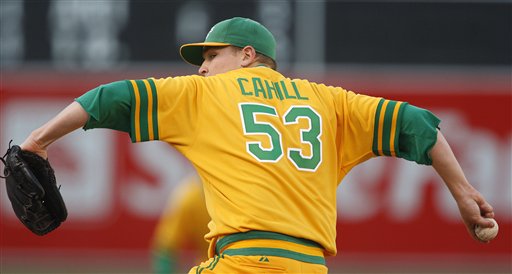 So we've got ourselves an intriguing little pitching matchup tonight. Everyone knows about CC Sabathia and his ridiculous levels of awesomeness, but what about Trevor Cahill? The 22-year-old got rocked in his first start of the season (eight runs in five innings against the Blue Jays), but since then he's pitched to a 2.22 ERA and held opponents to a .201/.269/.294 batting line in 77 IP. He's got a Kevin Brown-esque turbosinker that has generated ground balls 54.3% of the time this season, but if the Yankees are patient, Cahill will work himself into trouble (just 43.6% of his pitches have been in the zone).
Here's the lineup that will face Oakland's lone All Star representative…
Gardner, LF
Jeter, SS
Teixiera, 1B
A-Rod, 3B
Cano, 2B
Swisher, DH – third time he's DH'ing in the last four games, could he be nursing something?
Posada, C
Granderson, CF
Curtis, RF
And on the mound, CC Sabathia.
Another late one, with first pitch scheduled for 10:05pm ET and can be seen on YES.