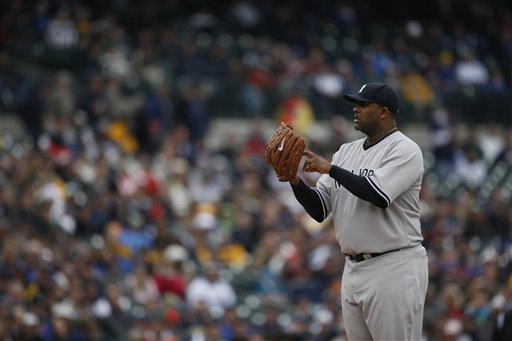 For the second straight year, the Yankees get to enjoy an extra day off during the break, not having to come back until Friday. The extra day will be hell on fans, but for a team sending nine players to the All Star Game with a few 30-something's in the rotation and some nagging injuries, the extra time off is more than welcome.
CC Sabathia has a chance to send them into the break on a high note, hopefully erasing yesterday's frustrating loss and giving the team eight wins in their last nine games. Sabathia is a cool 7-0 in his last seven starts, holding opponents to a .199/.273/.253 batting line against. He's completed at least seven innings in each of those starts. With any luck, he'll hand the ball right off the Mariano Rivera today.
Here's the lineup that'll face Ryan Rowland-Smith…
Jeter, SS
Swisher, RF
Teixeira, 1B
A-Rod, 3B
Cano, 2B
Posada, C
Thames, DH
Granderson, CF
Gardner, LF
And on the mound, Big Stoppa, CC Sabathia.
Hooray for no more 10pm ET starts. This one will get underway at 4:10pm ET and can be seen on YES. There's also a 3-D broadcast available if you have the proper setup. Enjoy the game.