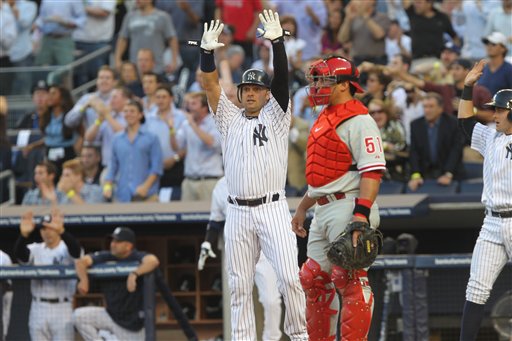 There was a little bit of bad news not too long ago, as Nick Swisher had be scratched from the lineup with a sore achillies. Swish missed time earlier this year with a sore biceps, and hopefully this is just another minor ailment that'll keep him out for no more than a few days.
One guy who will be in tonight's game is A.J. Burnett, who has some work to do to get back on everyone's good side. He slammed his pitching (his pitching hand!!!) against a clubhouse door in frustration last time out, removing any shred of effectiveness he had left against the Rays. Pitching well against a pushover team like the Royals tonight is a good first step back. Since they've pitched in each of the last two games, I'm guessing A.J. won't enjoy the benefit of having David Robertson and Joba Chamberlain in the bullpen behind him.
Here's the rest of the starters…
Gardner, LF
Jeter, SS
Teixeira, 1B
A-Rod, 3B
Cano, 2B
Posada, DH
Granderson, CF
Cervelli, C
Curtis, RF
And on the bump, it's A.J. Burnett. Hopefully he won't be slamming any doors after this one. First pitch is scheduled for 7:05pm and can be seen on YES.