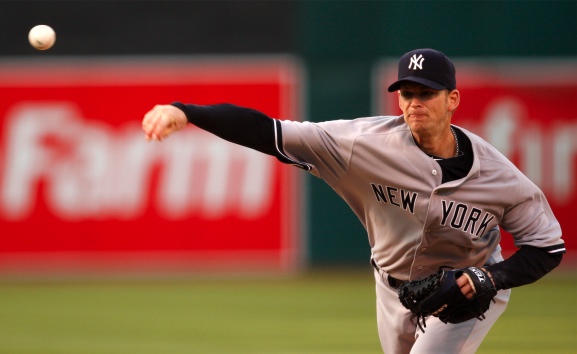 It's hard to argue with a scoreless performance. Sure, the Indians have the third-worst offense in the AL. That doesn't mean it's easy to hold them scoreless. In fact, neither of the Yankees' pitchers who went before Burnett accomplished that feat. He allowed 10 baserunners along the way, which is a rough number when you pitch just 6.1 innings. But Burnett's performance allowed for a few extra baserunners. He was that good.
When a pitcher allows runners to reach base he can help himself out in two ways. First, he can strike out the subsequent hitters and leave the baserunners stranded. Second, he can get groundballs, which 1) can lead to groundouts, 2) prevents the runners from advancing too far, and 3) can produce a double play. While Burnett did allow 10 men to reach base, including five to lead off an inning, he mitigated this by striking out seven and keeping nine of 16 balls in play on the ground. That prevented the Indians from doing much after reaching base.
There were more good signs from A.J., too. For the year his four-seamer had been averaging 93.1 MPH, as had his two-seamer. In last night's game he averaged 94 with each. It's tough to make much of one start — there are enough PitchFX issues that comparing one start to an entire season's worth of data might produce misleading results. The gun in Cleveland, however, appears to be in working order. It had Javy and CC right around where they'd been all season. It's encouraging, then, to see Burnett dialing it up with the fastball.
As his strikeouts indicate, Burnett was also getting plenty of swings and misses. For the year his swinging strike rate is down to 7.3 percent from 8.2 percent last year and 10.3 percent in 2008. Last night he got 12 whiffs on his 114 pitches, or 10.5 percent. That's more like it. Most of them came on his curveball (6) and his two-seamer (5). He got just one whiff on his four-seamer, and didn't get any swings and misses on either of the two changeups he threw. It's not like he needed that fourth pitch last night.
It was, in almost every way, a good night for Burnett. He got into some trouble by allowing leadoff runners to hit, but then he went to work, inducing grounders and striking out Indians to prevent them from scoring. It was the work of a true No. 2 pitcher, the guy the Yanks are paying $17.5 million per year. More starts like this would be appreciated.