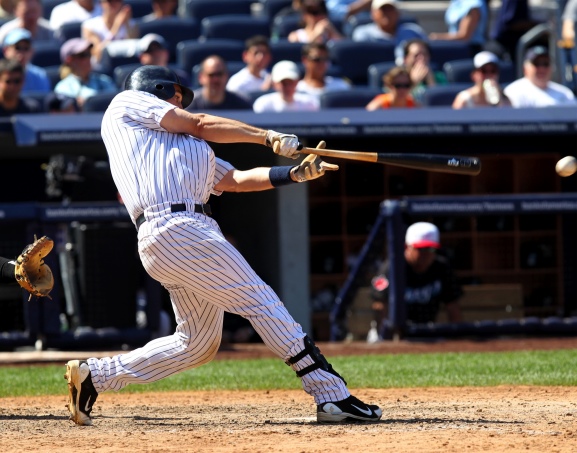 Sure, it's the year of the grand slam, but that's not the only thing powering the Yankees offense. They're getting huge contributions from players who, while good, weren't expected to hit quite this well. Brett Gardner, Robinson Cano, and Nick Swisher have put together superb first half and have been key components of the Yankees' offense. In fact, they represent the Yankees top three offensive performers in terms of wOBA, beating out the two guys who inhabit the middle of the order, Mark Teixeira and Alex Rodriguez.
If, before the season, you said that Cano, Swisher, and Gardner were hitting better than Tex and A-Rod, I'd have thought that both had hit poorly before going on the DL. That would have been one of the only plausible explanations. Instead it has been a matter of both hitters, while excellent at times, simply hitting poorly for stretches. Both have had hot streaks, but they've counterbalanced those with some cold streaks that have played a big part in run-scoring droughts. Even so, with the contributions of Cano, Swish, and Gardner, the Yankees have scored the second most runs per game in the AL. If they score eight tonight they'll be tied for the league lead with Boston.
For Tex in particular it has been a rough season. His current wOBA, .348, is nearly 40 points lower than his career average of .387. His power is the most noticeably missing component of his game, as his .198 ISO sits far below his career average of .250. Yet his peripherals seem fine. His walk rate is actually above where it was last year, and his strikeout rate is right in line with the norms. He's not hitting any fewer line drives, and even his plate discipline numbers are decently in line. In fact, he's actually making more contact on pitches within the strike zone, both compared to his career and compared to the league average. I would think that he'd get more hits because of it, but his BABIIP is about 50 points below his career rate.
Teixeira's season started in frustrating fashion for the second straight year, as he hit .136/.300/.259 through the end of April. He destroyed the White Sox to start off May, and then even hit three homers in a game against Boston a few days later. All in all it wasn't a bad month, .280/.366/.475, but Tex did struggle at times, slumping mid-month. But then June started off slow again. He went 3 for 24 with one double to start the month, bringing his season totals to .211/.326/.363. Worse, his struggles culminated on June 5 with a five-strikeout game. Everything seemed to be working against Teixeira.
That five-strikeout game, however, might have been the turning point for Tex. He did go 0 for 4 the next day, but even counting that Tex has hit .295/.400/.581 in his last 125 PA, rates far more in line with the performance he posted last season. Teixeira, 30, is also at an age where we it's not out of the ordinary for him to hit better than his career numbers. If he continues hitting like he is now — that is, to the level he hit during the course of 2009 — his numbers should look just fine by the end of the year.
Right now Teixeira has 381 PA. If he reaches the 707 he had last year he'll get another 326 PA this season. If he continued at the pace he's been at since the five-strikeout game, he'd pick up 81 more hits, 159 more total bases, 42 more walks, eight more HBP (probably out of line), and 2 more sac flies. Add them to his current totals, and here's how Tex's season would look at the end, given 707 PA and 598 AB:
.266/.374/.503
While that's not the Teixeira we saw tear up the American League last year, it's certainly acceptable given his first half struggles. At that point the focus will be on his torrid second half production, rather than the peaks and valleys of his first half.
The best part is that it's safely within the realm of possibility that Tex continues this pace. The numbers are only slightly better than the ones he produced last season, and actually right in line with the .313/.390/.601 line Tex hit in the second half of last season. He is, as they say, a second half hitter. In his career he has a .870 OPS in the first half and a .968 mark in the second.
If it feels like we've waited forever for Teixeira to turn it around, it's because we have. We know he starts slow, but this year he just couldn't get into a rhythm. In the path month it appears he's found that. He has hit in 24 of the 28 games since the five-strikeout affair, and while the majority of them are one-hit games, he's made up for that by hitting the ball hard. His season numbers won't approach the bar he set last season, even the bar he set for his career, but given his first half struggles, I think that if he continues producing we can safely say that all is forgiven.