There will be no introduction tonight. This game was no fun after the first inning, none at all.
Biggest Hit: Swish gives 'em the lead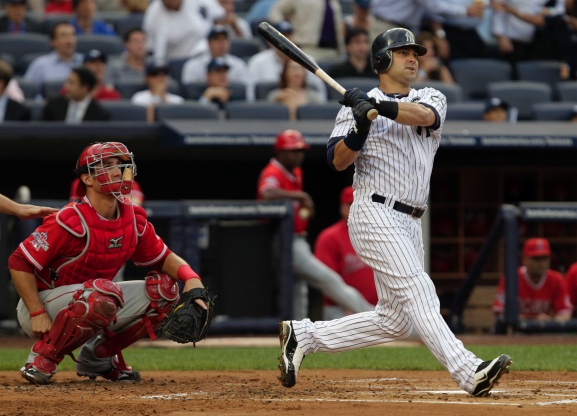 Despite the final score, this game actually felt good at the beginning. Phil Hughes retired the side in order in the top of the first, and the Yanks got right to work in the bottom half. Jeter saw a fastball he liked on the first pitch and hit it on the screws, but it went in Erick Aybar's general direction and was caught four the first out. Apparently Nick Swisher was taking notes. He got a similarly fat fastball and he turned on it, sending it over the right field wall for a quick 1-0 lead.
The Yanks then loaded the bases with just one out, but could only manage one run, a chopper by Jorge Posada that was slow enough to preclude the double play. Which, considering Posada's speed, is a pretty slow chopper. But Curtis Granderson couldn't keep the rally going, as he swung and missed on a Sean O'Sullivan changeup. Still, the Yanks had to feel pretty good at that point. It wouldn't last. The Yanks wouldn't get a hit off O'Sullivan for the rest of the evening.
Biggest Pitch: Maicer Izturis clears the porch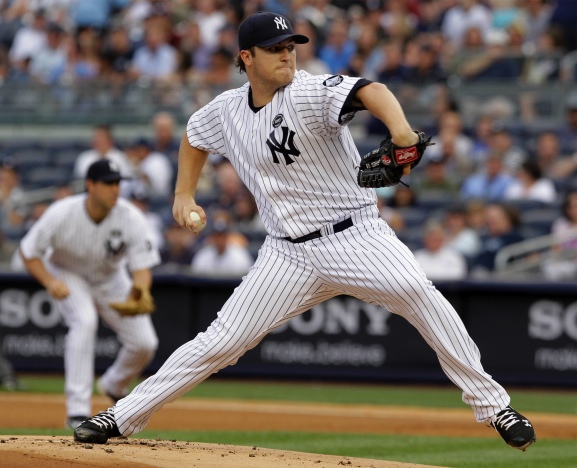 By pushing across a run in the second and a run in the third, the Angels tied the game. They didn't kill the ball off Hughes, so there didn't seem reason for pessimism at that point. After all, the Yanks were facing a guy they clearly could hit. But the game took a turn for the worse in the fourth. Hughes got Mike Napoli to ground out, but then gave up a single to Juan Rivera, his second of three in the game. That brought up Maicer Izturis.
Hughes paid a bit too much attention to a runner as slow as Rivera, throwing over three times before throwing his third pitch. He missed with that third pitch, running the count 2-1. He then tried to sneak a fastball inside, but it wasn't his best one, clocked at just 90 mph. In just the previous at-bat he was throwing 92-93 mph fastballs with similar movement. Izturis lined it to right, and it cleared at one of the shortest parts of the park. It gave the Angels a two-run lead, but I found it hard to complain. The Yanks benefit so much from homers like that. It wasn't a crushed baseball. It just snuck over the short porch. It will happen, and again, the Yankees were facing a guy off of whom they should have scored more than two runs.
Alas, this is baseball.
Honorable mention: Napoli's single
It won't show up on a WPA chart, but the top of the second really got my goat. Torii Hunter led off the inning by pulling a 3-1 cutter for a base hit. Hughes then battled a bit with Hideki Matsui, and got a gift when Matsui popped one up with Hunter straying way off first base. Cano threw to Teixeira to complete the double play and empty the bases with two outs.
Hughes then got ahead of Napoli 0-2 with two good fastballs, but then threw three more. The last was high and caught plenty of the plate, and Napoli pulled it into left for a single. Rivera and Izturis followed with singles, cutting the lead in half. Hughes left it at that, thankfully.
Nothing bugs me more than runs after having a bases empty, two outs situation — especially with an 0-2 count on the hitter. It was just one of those nights, though. Hughes having no command didn't help matters.
Miscellany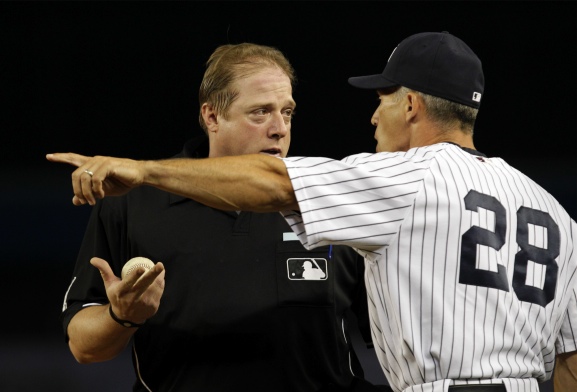 According to PitchFX data Hughes threw 12 changeups. That's good. He also got a swinging strike. The bad news: he threw just three for strikes total. Hey, it's not like the pitch will be there whenever he needs it. He'll need to throw it, so I'll take it as a positive, for now, that he's actually using it. He didn't get beat on it, and actually recorded two outs using it.
That said, he also threw only 15 curveballs. It seems like he's not going to that pitch nearly enough.
Chan Ho Park allowed no home runs in 50 relief innings last year. He has allowed seven in 30.1 innings this year.
Speaking of Park, he and Gaudin are apparently in a heated battle for who gets DFA'd on Saturday when the Yanks activate Sergio Mitre. I say DFA 'em both and bring up Romulo, too.
Graph and box
Let's pretend this one never happened, shall we?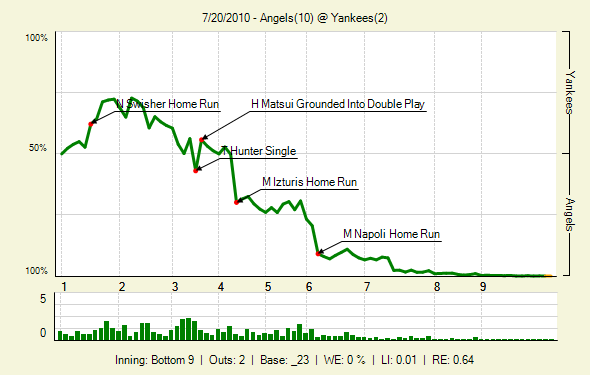 More at FanGraphs. If green lines aren't your thing, you can check out the traditional box.
Up Next
The Yanks have one more against Anaheim, Javy Vazquez vs. Joel Piniero. It's a day game, too.