While the strange saga of the Cliff Lee non-trade dominated the baseball news throughout the afternoon, Phil Hughes and Mark Teixeira made the headlines on Friday night. The Yanks' young All Star threw seven strong innings to win his 11th game of the season as two Mark Teixeira home runs help power the Yanks to a 6-1 win over the Lee-less Mariners. The Yanks caught half a break as they didn't have to face the dominant Lee tonight, and with their season-high seventh straight victory, the team improved to 55-31. They are now assured to go into the All Star break in sole possession of first place.
The Good: Phil Hughes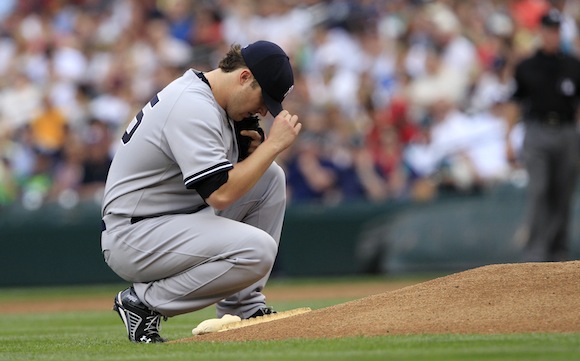 Despite entering the game with a 10-2 record, Phil Hughes had not looked solid of late. He entered the game riding a 24.1-inning stretch of 7.03 ERA pitching, and the Yankees wanted to get him back on track before Tuesday appearance at the All Star Game. Facing the weak-hitting Mariners, Hughes did exactly what the Yankees wanted him to do: He dominated them, throwing 7 innings of one-run ball while striking out five and walking no one. He enters the break 11-2 with a 3.65 ERA.
It's tough to nitpick this Hughes start. He threw 109 pitches and escaped trouble in the 6th. He fired 79 strikes, 10 of them of the swing-and-miss variety, and threw first-pitch strikes to 20 of 27 batters. With a poor offensive club, he did exactly what he needed to do.
Yet, he didn't mix his pitches much. All but 17 of his pitches were fastballs, and those 17 were curves. Staked to a comfortable lead, he didn't try a single change-up, and he seemed hesitant to throw the devastating curve all that often. Against the Mariners, who entered the game hitting .238/.308/.346 as a team, Hughes could get away with it, but to reach the elite levels of his potential, Hughes should begin to find those secondary pitches. All in all, it's small beans after a great win.
The Good: Mark Teixeira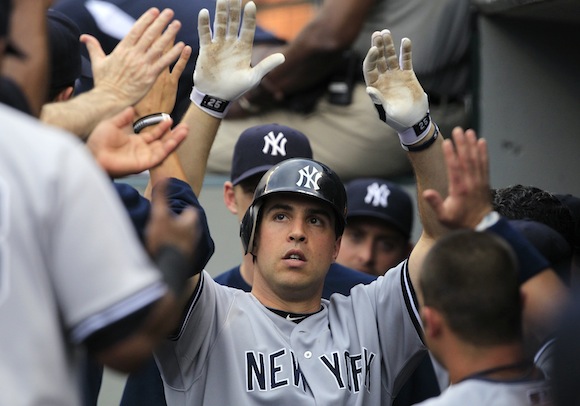 In the first inning, facing a pitcher Yankee beat writer Marc Carig had termed Not Cliff Lee earlier this evening, Mark Teixeira staked the Yanks to an early lead with a booming solo home run. In the 9th, with the Yanks up 5-1, Teixeira hit a laser into the left field seats for his second dinger of the night. He now has 17 home runs and 59 RBI on the season.
For Teixeira, finishing the first half on a strong note is a positive sign indeed. His spring slump garnered more than a few worried discussions about the Yankee cognoscenti, but Joe Girardi stuck with him through thick and thin. Since June 3 in a span of 150 plate appearances, Teixeira is hitting .289/.393/.578 with 9 home runs and 25 RBI. Over the course of 162 games, that's MVP-worth. It's good to have Teixeira back.
For no reason whatsoever, I'd love to see Teixeira get to .250 before the All Star Break. To do that, he'll have to knock out 4 hits in 9 at-bats or better. It's not impossible, and it would be a real boost to Teixeira's lackluster spring to reach that milestone.
The Ugly: Chan Ho Park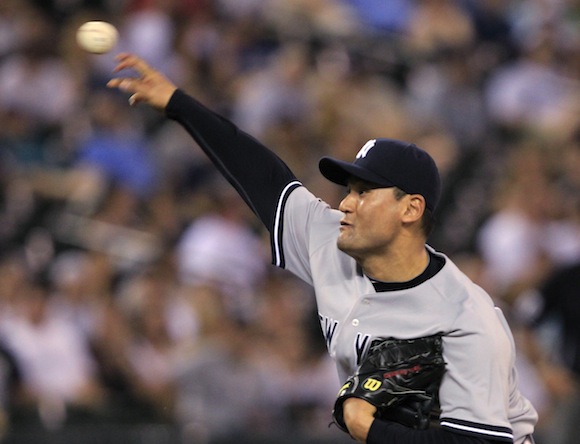 I'm not going to spend too much time ranting about Chan Ho Park because I want to go to bed the Yankees still won, but the 9th inning had the makings of a debacle. Facing the Mariners' 5-6-7-8-9 hitters, Park almost couldn't get the job done. It took him 32 pitches to get three outs, and three of the hitters he ended up facing had OBPs under .295. With the game in hand, Park almost pitched his way into a save situation.
I don't totally get Park at this point. The Yanks loved his stuff last year, and they signed him to a $1.2 million deal with the understanding that, if he wasn't up to par, they could just eat the contract. He's allowing 1.5 base runners per inning and has an ERA north of 6.00. He shows flashes of brilliance — such as tonight when he hit 95 and was sitting 94 with his fastballl — and flashes of nothing — such as tonight as well when he went to 3-2 on two guys with awful offensive numbers. The Yanks don't trust him in a tight spot, and Jonathan Albaladejo can't be worse.
Anyway, if I'm complaining about the mop-up man, it was a good night.
The State of Things
The 2010 Yankees are now the first team since the 1999 Astros to have three pitchers with 11 or more wins at the All Star Break. They're also the first Yankee club since the 2004 edition to enter the break with sole possession of first place, and over their last five games, the club's pitchers have given up six runs. At 55-31, they have the best record in baseball, and Brian Cashman figures to upgrade the bench and bullpen before the trade deadline. Sounds good to me.
Goin' down
By the end, this game was as close and as boring as the WPA graph indicates. It's my favorite kind of win.
Up Next
While Cliff Lee may be gone, King Felix is not. The Mariners will send Felix Hernandez to the hill for a rematch with Javier Vazquez. The last time these two faced off, Felix fanned 10 Yankees and threw a two-hitter. The game starts at 10:10 p.m., and it is the final late-night start for the Yankees of 2010.