With a nice three game cushion in the AL East and seven consecutive wins in their rear view mirror, the Yankees started Saturday's game with every reason to feel good about themselves. Through seven innings, they still had every reason to feel good about themselves, but a meltdown 8th inning ended the winning streak, shrunk the division lead to two, and once again led to the question: Who, exactly, can be counted on in the bullpen behind Mariano Rivera?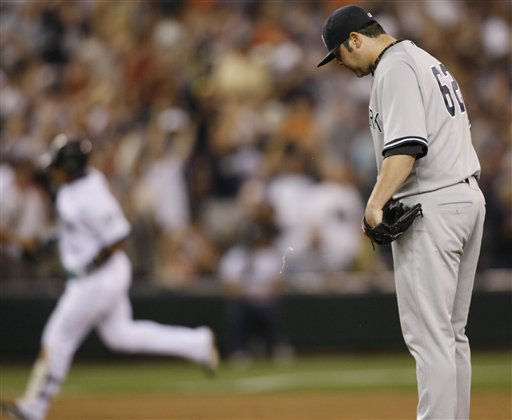 The Definition Of Insanity
Do you know what the definition of insanity is? It's doing the same thing over and over again and expecting different results. That's where the Yankees and Joe Girardi are with Joba Chamberlain now. They just keep running him out of there in high leverage spots and expect him to all of a sudden stop sucking. Joba blew the game with an 8th inning appearance I don't particularly care to recap (single, ground out, single, walk, grand slam), but it's just the latest example of a guy keeping his job on three-year-old credentials.
I don't know where the Yankees go from here, but any normal reliever with an 8.71 ERA and a -0.686 WPA since mid-May gets a bus ticket to Scranton. At the very least, he gets moved into a lesser role. The insanity must end.
What Does He Jav To Do To Get Some Run Support?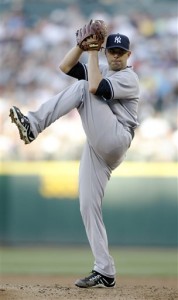 In what has become an all to familiar theme, the Yanks scored basically no runs for Javy Vazquez. Yes, they were facing a great starter in Felix Hernandez, but the guy came into the game with a 3.01 ERA. Even if he threw a complete game, they were entitled to three runs. Yes, I'm kidding. Or am I…
It looked like they'd push some runs across early, with three of the first five batters reaching base, but the only run the Yanks would score came on a Nick Swisher solo shot in the 3rd. Javy has a 2.88 ERA in his last 11 starts, but the Yanks have lost five of those games. In the five losses, including tonight, they've scored a total of three runs. In three of the six wins, they scored three runs or fewer. The man should sue for unpaid run support.
In all seriousness though, Javy was pretty damn fantastic tonight. He took a no-hitter into the 6th, worked out of a big-time jam in the 7th, and gave the team every opportunity to win. I know it's not easy to score runs off Felix, but the Yanks went one-for-eight with men in scoring position, and the one didn't even score a run. As crazy as this would have sounded in April, Vazquez is the team's second best starter at this point in time. Sorry, Andy Pettitte lovers.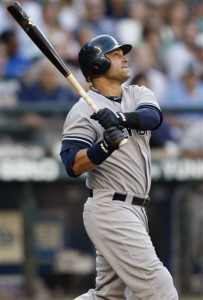 Random Points
Brett Gardner was caught stealing in the 1st for the  fifth time in his last 13 attempts dating back to May 19th. A 61.5% success rate just isn't good enough for a guy who's primary role on the team is to cause chaos on the bases.
Robbie Cano foul tipped a pitch into the dirt in the 8th inning, but home plate ump Lance Barksdale instead said he whiffed completely and called it strike three. That was an inning after Barksdale lost track of the count and gave Vazquez an extra ball to work with. Robot umps, they can't come soon enough.
Unsurprisingly, the bottom third of the order (before Derek Jeter and Jorge Posada pinch hit in the 9th) combined to reach base zero times in ten plate appearances. They also left seven men on base. Throwing Colin Curtis, Frankie Cervelli, and Ramiro Pena out there against Felix Hernandez is like tying someone to a tree in the woods and pouring honey on their chest. The bear ate them alive.
Also, there needs to be less Cervelli in the team's future. He's flirting with a .500 OPS over the last two months and he's clearly not all he's made out to be on defense. I miss Jose Molina. Seriously.
And sheesh, could Gardner take the bat off his shoulders in the 9th? It's his fifth time up against Felix, you'd think he'd know the strike zone and his stuff by then. If you're going to strike out to end the game, at least swing the damn bat.
WPA Graph & Box Score
Here's the box, here's the rest.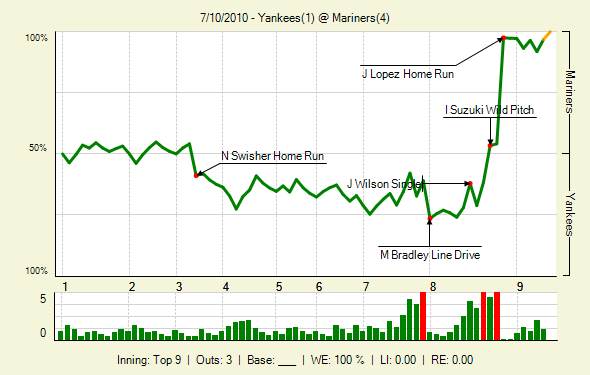 Up Next
As infuriating as Saturday's loss was, the Yanks still have a chance to take three of four from Seattle tomorrow. They'll throw ace CC Sabathia against Ryan-Rowland Smith, who they beat just two weeks ago.