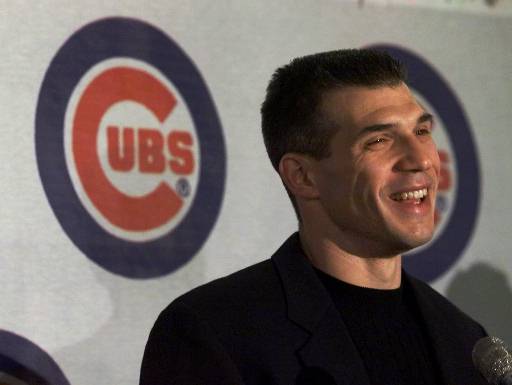 Two days ago, former Yankees' player and manager Lou Piniella announced his retirement from baseball, effective at the end of the season. It wasn't exactly a surprising announcement, and the popular belief was that he was not going to return to the Cubs as their manager next year one way or the other. His contract is up, the team is underperforming, and new ownership just took over. The entire front office regime could change as well.
Sure enough, there has since been plenty of speculation that Piniella's successor could be none other than current Yanks' manager Joe Girardi. And why not? It makes plenty of sense on the surface. Girardi (and, I believe, his wife, but don't quote me on that) grew up not far from the Windy City in Peoria. He went to school at Northwestern in Chicago, was drafted by the Cubs and broke into the majors with them before returning for a second stint later in his career. His roots in Chicago obviously run very deep. It's a match made in baseball heaven: a manager with success in a large market coming back to manage his hometown team. They make movies out of this stuff.
Clearly, Girardi is a favorite of GM Brian Cashman and the Steinbrenner family. They basically handpicked him for his current job after the 2007 season, stuck by him during the disappointment of 2008, and heaped loads of praise on him for last year's World Championship. Even though the organization does not negotiate new contracts with its members until their current deals expire, it was a foregone conclusion that the Yankees would re-sign Girardi to a very lucrative deal after his contract ended this winter. There was no reason to suspect otherwise, at least not until all this Piniella stuff happened.
If nothing else, the Cubs' opening gives Girardi some serious leverage when the time comes for his new deal. His current contract has an average annual value of $2.5M, which is above the league average but not insane. It also includes incentives based on how far the team advances in the playoffs. For comparison's sake, Terry Francona makes $4M annually, Ron Gardenhire about $3M. Even though the 2010 season is a long way from over, Girardi will certainly command a raise based on what he did last year alone, perhaps something along the lines of what Boston is paying Francona. That shouldn't be a problem for the Yankees, who paid Joe Torre more than $6M a year from 2005 through 2007.
Talking strictly from a baseball perspective, there's almost nothing the Cubs could offer Girardi that the Yanks' couldn't match, if not exceed. The North Siders have bad contract after bad contract, an okay but not great farm system,  and a shaky front office situation (though that may change over the next three or four months). The young core of the next great Cubs' team is not in place and needs time to develop. You've got Geovany Soto, Starlin Castro, Sean Marshall, Andrew Cashner, and…Marlon Byrd? The Ricketts Family can talk all they want about spending big and fielding a competitive team, but the Cubbies are not one or two or five moves away from contention. The Yankees give Girardi everything he could possibly want from a competitive standpoint. They know it, he knows it, and the Cubs know it.
What the Yankees can't offer Girardi is home. Sure, he's settled down in the area, but I'm sure the Chicago area is still home to him. I lived on the West Coast for a few years after school and I ended up moved back to New York simply because I missed being home, and I'm a whole lot younger than Girardi. Can you imagine how much a career journeyman backup catcher misses being settled and at home?
I can't speak for Girardi and his preferences. Not many people get to play or manage or coach or whatever close to their hometown in this game, so I would certainly understand if he wanted the job. Maybe he wants a new challenge. Maybe he relishes the chance to manage the team that breaks the Cubs' more than a century-old World Series drought. Maybe he just wants to go back to the National League so he can bunt and double switch and wheel play until he turns blue in the face. Whatever the reason, it won't be because the Cubs give him a better chance to win.
I hope he stays, but I'd understand if he didn't.