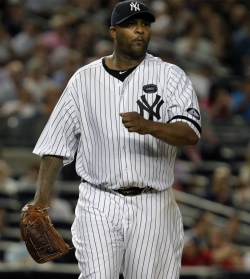 Looking at the scoreboard and nothing else, it would appear that CC had a so-so night against the Royals. He allowed four runs, three earned through just 6.1 innings, which is a few outs short of a typical Sabathia start. He did strike out nine, nice because his strikeout rate is down a bit at this point and we know he started heating up during the summer months last year. But those 11 hits stand out. So do the 120 pitches he threw to record those 19 outs.
Really, though, it wasn't that bad a game for Sabathia. Of the 19 balls he allowed in play, eight were hit on the ground. That's a good thing. While the AL hits to a slightly better batting average on ground balls, .231, than fly balls, .222, those ground balls rarely go for extra bases. AL hitters have produced a .248 SLG on grounders and a .577 SLG on fly balls. So while grounders might result in a few extra men on base, they hurt a lot less than balls hit in the air.
This plays right to the Royals' game. As Joe Posnanski chronicled earlier in the week, the Royals pick up base hits and little else. They're first in the majors in batting average, but they're just seventh in OBP and 10th in SLG. They hit, sure. But they also make plenty of outs and they have a hard time advancing runners multiple bases. It's no surprise that the team has a .325 wOBA that ranks ninth in the AL.
Despite the high hit and undesirable run totals, we can take plenty of positives from this outing. For instance, CC's strikeout rate is slightly down this year, 7.4 per nine. Last night he struck out nine Royals. His average velocity this season, according to PitchFX, has been 93.4 mph. Last night he averaged almost a mile per hour faster, 94.25 mph, and topped out at 96.5. He hit 96 plenty of times in the sixth inning, even though he had lost his control by that point.
Sometimes those ground balls will find holes. Thankfully, they don't do much damage if you can keep inducing those grounders. That's the beauty of the situation. While hitters reach base more often when hitting the ball on the ground, they're also vulnerable to the double play with a man on and less than two outs. So if one guy hits one on the ground through a hole, the next guy might do the same thing and erase both runners. CC has an added weapon in that he can strike out hitters and therefore leave more of them stranded. Again, that's what we saw a lot of last night.
Remember, too, that there were other little things for which we can't blame Sabathia. In the first inning, for instance, Billy Butler would have grounded into an inning-ending force out, but the runner was moving. That forced Robinson Cano to move from exactly the spot where Butler hit the grounder. And then there's Jorge Posada's head-scratching throw to third. But that's for another day. All of this hurt Sabathia even further.
One thing we can be sure of: his early season trouble are over. He did have some, for sure, but lately all we've seen is vintage CC. In his last 13 starts he has pitched 91 innings while striking out 81 and walking 33. He has allowed 83 hits in that span on a .306 BABIP. And, after struggling with the homer earlier in the season he hasn't allowed a single on in his last nine starts.
Some of the numbers make last night's outing look like middling, but looking it a bit deeper it was actually pretty good. The nine strikeouts are encouraging, as are the ground balls. It's just that some of them found holes last night. If CC pitches similarly next time out I suspect that his line will look a lot more attractive.