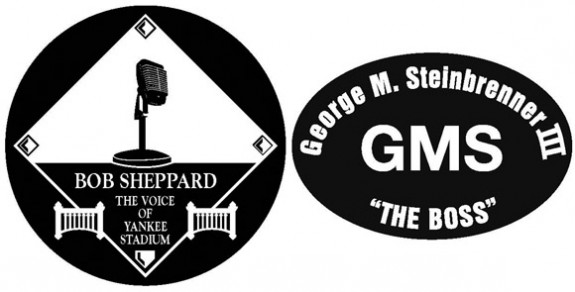 When the Yankees and the Tampa Bay Rays resume play for the second half tomorrow night, the Bombers and their fans will turn out to the stadium with heavy hearts. Both Bob Sheppard and George Steinbrenner have passed away since the team's last home stand, and the the Yankees announced this afternoon their pre-game plans to honor these two Yankee icons.
While the team is still firming up all of the details, the club is asking ticket holders to be in their seats by 6:45 for the ceremony. Currently plans include a video tribute to George Steinbrenner and a moment of silence for both men prior to the game. "Further tributes," the Yankees said, "to Mr. Steinbrenner and Mr. Sheppard will be revealed during Friday's ceremony, and additional ceremonies will be held during Old-Timers' Day events on Saturday, July 17." I hope they can produce a video tribute for Bob Sheppard as well. He deserves one.
In addition to these memorials, the Yankees will place a wreath in front of the Boss' statue in the Gate 2 Executive Lobby and in front of Bob Sheppard's plaque in Monument Park. United States Army Sergeant First Class MaryKay Messenger will perform the National Anthem.
Under George Steinbrenner, the Yankees have always honored their history and remembered the players lost to the passage of time. Friday's events will be emotionally charged as a fanbase begins to say good bye to two beloved Bronx figures.
* * *
This thread can serve as the open thread for the evening. It's the last night of the All Star Break without Yankee baseball, but a handful of other teams are in action. The Red Sox play the Rangers at 7:10 p.m., and the Mets face the Giants at 10:10 p.m.