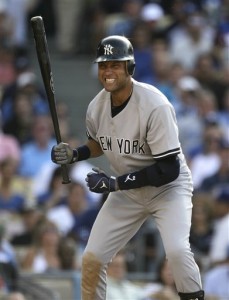 With the season no longer young, it's not uncommon to run back and see where this team stands compared to last year's club, and why not? A World Championship team is the gold standard, and if the Yankees can replicate that success in any way this season, it makes us feel all warm and fuzzy inside.
As I'm sure you remember, the 2009 club really didn't hit it's stride until the second half, and quite honestly until August. They went to bed on night of August 1st having just lost three to the White Sox, losers of three of their last four, and just half a game up in the AL East. They then went out and won 12 of their next 13 games, and finished the season on a 41-17 tear that carried right into October.
Much like last season's team at this time, the 2010 squad has yet to really hit it's stride. Despite owning the best record and best run differential in the game, we haven't seen this team fire on all cylinders just yet. At times the pitching has carried them, at times it's been the hitting, at other times it's been plain old luck. They're a full game in up the division compared to last season's two-and-a-half run deficit on July 1st, and even though they've scored 13 fewer runs, they'll allowed 44 fewer as well.
At 47-30, the Yanks need to go 4-7 over the next week and a half to finish the first half with the same 51-37 record as last year. Of course, the 2009 squad went into the break with the sourest of tastes in their mouths, having just been swept at the hands of the Angels in Anaheim in a particularly frustrating fashion. After today's series wrap up against the surging Mariners (they've won nine of 12), the Yanks will welcome the free-falling Blue Jays (9-17 in their last 28, so once again that early season talk about them being a contender has proven to be premature) to the Bronx for a weekend series before heading out on their final West Coast trip of the season. A three game set in Oakland (they've lost eight of ten) precedes a rematch with the Mariners in Seattle.
Both Cliff Lee and Felix Hernandez will pitch in that four game set that closes out the first half, but I would assume playing in Safeco will keep guys like Michael Saunders from hitting the ball out of the park. Winning four of the next 11 games shouldn't be tough considering the relatively light competition, and really the goal should be greater than that. The Yanks haven't been in first place at the All Star break since 2004, so that's the plan right now. Finish up strong, and start the second half in control of your own destiny with eight of their first 12 games against the Indians and Royals.
Yes, the Yanks do have some needs to address before the trade deadline. It's painfully obvious that they need a designated hitter, or at the very least a platoon partner for the soon-to-return Marcus Thames because extended playing time has unsurprisingly exposed Frankie Cervelli as anything but a starting big leaguer. They need to shore up the bullpen, get A.J. Burnett straightened out (woo Dave Eiland!), manage Phil Hughes' workload, and figure out a way to get Derek Jeter and Mark Teixeira performing up their lofty standards. And yet despite all of that, the Yankees are ahead of last year's World Series winning pace.
It hasn't been as easy as it was in the second half of 2009, but that's okay. There's no reason to expect this team to not improve in the second half, and that should scare the crap out of the rest of baseball.