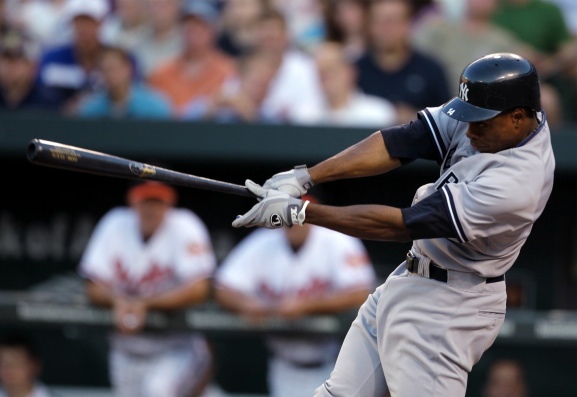 Despite crushing a ball in his final at-bat, Curtis Granderson finished the night 0 for 4 with two strikeouts. That happens to the best of 'em, but for Granderson it has become an all too common occurrence. In 19 of his 68 games played he has failed to reach base, and in 31 he has failed to pick up a base hit. This has left him with a lowly .309 wOBA.
Last month I noted the similarities between Granderson and Nick Swisher. Both came to the Yankees in trades and both had their sets of troubles with their new teams. Swisher, however, ended up with quite the year, probably the best of his career to that point. For Granderson, such a recovery doesn't appear imminent. He's hitting worse than ever right now.
Now that his batting line is down to .233/.302/.394, Granderson has started to remind me of yet another struggling Yankee from years past. In 2008 Robinson Cano got off to one of the worst starts of any Yankees starter in recent memory. Through 269 PA he was hitting .217/.260/.316, which is far worse than Granderson's production through 266 PA this year. Cano, of course, didn't miss almost all of May that year, but even so he was hitting .250/.286/.363 through team game 92.
There are plenty of differences between Cano and Granderson, most notably their strikeout rates. Even when Cano was going bad at the beginning of 2008 he struck out in just 7.8 percent of his PA through the team's first 92 games. Granderson has struck out in 21.4 percent of his. Granderson, on the other hand, will actually take a base on balls. He has walked in 8.6 percent of his PA this year, while Cano's walk rate was less than half that during his woeful period.
The one major similarity I've noticed between Granderson and Cano is how they stand at the plate. In the past Cano featured an open stance and kept his bat moving as he waited for the pitcher to deliver. We can see much of the same when Granderson is at the plate. In the past two years Cano has cut out much of that movement and has closed his stance to a degree. I wonder if such a transformation will be necessary in order for Granderson to again become a productive hitter.
There is some good news here. From Game 93 through the end of the 2008 season Cano hit .299/.330/.471. That's not a stellar line by any means, but if Granderson could pull off something like that I'm sure that no one would complain. Of course, his AVG would probably be a bit lower and his OBP would probably be a bit higher, but even if Granderson hit, say, .280/.345/.471 from now through October, I'd say it was a season salvaged.
Even as he struggles, I have a hard time not liking Granderson. I always liked him as a Tiger, and was hopeful that he's put his ugly 2009 behind him after becoming a Yankee. As I said in a previous article, I've given up on that hope. Even if he does hit that hypothetical .280/.345/.471 the rest of the way he'd finish the season at .258/.321/.433, hardly impressive and still worse than his 2009 season. Hopefully, like Cano, he can recover for next year. But for now it looks like the Yanks will have to live with his quality defense, bloops in front of him notwithstanding, and sub-par bat.