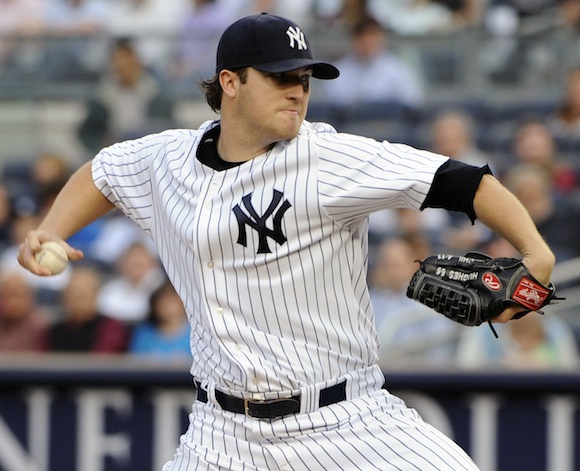 Lost in the eighth inning implosion of Joba Chamberlain in Saturday's Yankees-Mariners affair was the change-up clinic but Javier Vazquez and Felix Hernandez put on. The two both throw devastating changes but with different approaches to the pitch. As the game wore on, the importance of the change, something plaguing Yanks' youngster Phil Hughes, came into focus.
Javy's pitch is a classic change. With his fastball sitting at 89 miles per hour, he throws the change ten miles per hours slower. Doing so allows his fastball to sneak up on hitters, and on Saturday night, as Javy no-hit the Mariners for the first five innings, the change shined. He threw 23 of them. Fifteen of those went for strikes with seven of the swing-and-miss and variety. As his four-seamer averaged 89.65 mph, the change at 79.55 mph worked wonders.
Opposing Javy was King Felix with a different approach to the change. Hernandez's off-speed pitch isn't nearly as off speed as Javy's. On Saturday, for instance, his four-seamer sat at 94.5 miles per hour while the change clocked in at 89.96. The 4.5-mph difference makes an impact, but it doesn't lend the pitch the same effect as Javy's. Rather, Hernandez throws a change that moves. The vertical break on his change was over five inches, enough to watch batters swing well over the top of it. He threw 15 changes, 11 went for strikes and three were swings and misses.
We don't need a clinic in pitching from Felix Hernandez to see what a sinking change up can do though because the Yanks have their own specialist in that field. On the season, CC Sabathia's change-up averages seven miles per hour slower than his fastball and has been sinking on average 6.9 inches. Sabathia's change has always been a part of his success, and already this the pitch has been 7.1 runsabove average for the big man.
Enter Phil Hughes. A big part of the Yankees' narrative coming out of Spring Training this year concerned Hughes' change-up. Because, the motif went, Hughes had developed a third Major League quality pitch, the Yankees felt confident putting him into the starting rotation on the basis of a strong spring. Yet, Hughes' change hasn't made much of an appearance this year. The Fangraphs' data isn't entirely accurate, but Hughes has thrown only around two percent changes, and the pitch has been a below average one for the Yanks' right-hander. For the pitches Pitch f/x counts as changes, the velocity separate has been around eight miles per hour, and the downward movement at 6.6 inches, both very good numbers.
By and large, though, Hughes' change-up has been one of the major questions hovering around the Yanks' pitching staff this season. Where has this pitch been? Brian Costa of the Wall Street Journal asked just that question last week, and the Yankees insist they're still working on it with Hughes. Jorge Posada spoke about their reasons for avoiding the pitch. "It's only going to get better if we call it, but as a catcher, you don't want to get beat on a fourth pitch, so you have to pick the spot to do it," the Yanks' cathcer said. "We know it's there. It's mainly my fault and probably Cervelli's fault. We need to not forget about it and call it at times."
Costa discusses how Hughes' success with his fastball has led to his eschewing the change. Phil knows the heat can blow away most hitters, and as he dominates hitters during the first time through the lineup, there's no place for the change. This pitch should come to play later, and as Costa notes, in admittedly small samples, Hughes' ERA goes from 2.40 in the first three innings of the game to 5.14 after as hitters adjust to the four-seamer.
Still, Hughes maintains that this pitch will be a part of his arsenal this season, and he says he hasn't shied away from throwing it during his bullpen sessions. "I really feel like it's there," he said. "Sometimes I just get away from it. One hundred pitches goes by quick. Before you know it, you haven't thrown many…"I'd like to say that down the line, you probably will see more of it."
I too would like to see more of it. Despite an All Star Game appearance in which he got dinked to death by a seeing-eye single, Hughes is on the brink of stardom. He should be a mainstay at the front of the Yankee rotation for years to come, but he and the team's future need that change up. As the Yanks move into the heat of a pennant race and teams get their second or third looks at Phil this year, Hughes will have to throw that pitch to stay ahead of the game.