There is no shame in losing to Cliff Lee and Felix Hernandez. They're good. It happens. The consolation prize was Ryan Rowland-Smith, the weakest cog in the Mariners' strong starting rotation. But still, the offense didn't come. The Yanks drove him from the game by working him for 109 pitches through six innings, but they couldn't bring home the runners they put in scoring position — the whole four they had. Thankfully Sabathia did that Sabathia thing, and the Yanks took the finale from the Mariners 4-2.
Biggest Hit: A-Rod ::clap clap:: A-Rod ::clap clap::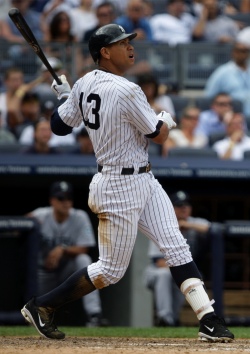 The way things were going, the Yankees didn't need much out of their lineup. CC Sabathia was going strong, on pace for another eight-inning outing. Through seven he had allowed just three hits and one walk. He added another walk to that tally right off, and then got into just a little trouble. But just a little.
An Ichiro singly put the tying run on base, but not in scoring position. But on the 2-1 pitch CC dropped a slider right over the middle of the plate. Jorge missed it and it rolled to the backstop, moving Ichiro into scoring position. Worse, the umpire didn't even call it a strike, even though it clearly was. Branyan ended up taking the 3-1 pitch to right, scoring both runners. He got caught between first and second to end the inning.
That's why the Yankees needed A-Rod in the eighth. David Aardsma was out there, whipping fastball after fastball. He struck out Swisher with five of them and then got a called strike one on Teixeira. He went back to the same spot with the same pitch, and Tex lined that to center to put the go-ahead run on base. That didn't stop Aardsma from continuing to throw the same pitch. A-Rod fouled off a high fastball for strike one, and then hit an even higher fastball to right.
In all Aardsma threw 14 pitches that inning and, according to PitchFX, didn't use anything but his fastball until the 12th, when he threw a splitter. That seems to be what he's done since coming to Seattle. It's worked better than whatever he did earlier in his career.
Biggest Pitch: Close, but not quite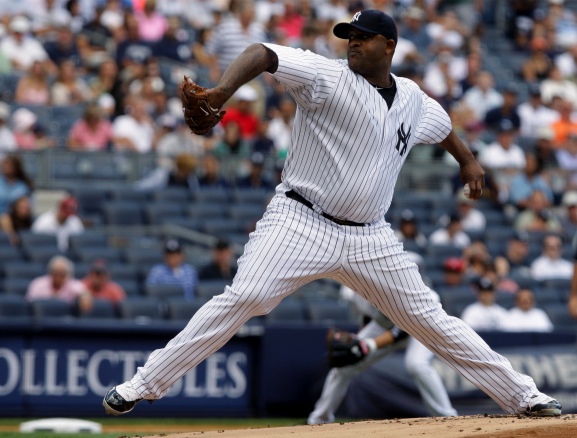 CC got into that jam in the eighth by putting two on with one out. It was the only time the entire day he'd face a situation with two runners on. In other words, the rest of the game was pretty unremarkable in terms of big situations. The only time a runner even reached third was Milton Bradley after a leadoff double and a ground out. But Josh Wilson popped up and Ryan Langerhans struck out to quell that mini threat.
With those two runners on and one out CC faced Chone Figgins, who he started with three fastballs high. Figgins took the first for a ball and swung at the next two, missing one and fouling off the other. Then it was a high changeup, another foul. Again CC went with the change, but this time put it low in the zone. Figgins hit a little fly that Cano caught. They were just one out away, with a lefty-lefty match-up. It all seemed so good.
Damn.
So, do you like…stuff?
Granderson goes 2 for 4 against Cliff Lee but 0 for 3 against Rowland-Smith? Y'know, Suzyn…
Tex and A-Rod were the only players to get two hits. More of the two hits part, less of the only players part.
Coming into this season Robinson Cano hit a home run once every 34.94 PA. Last year he hit one every 26.96 PA. He's hitting one every 21.06 PA this year.
Mo's ERA: 0.88. Mo's WHIP: 0.593. He even has a 2.16 FIP (though Mo always outpaces his FIP). Mo's ERA+ heading into the game: 446.
Also, no celebration pic. All the good pics were of the Mariners.
Graph and box and highlights
Oh, this little guy? I wouldn't worry about this little guy.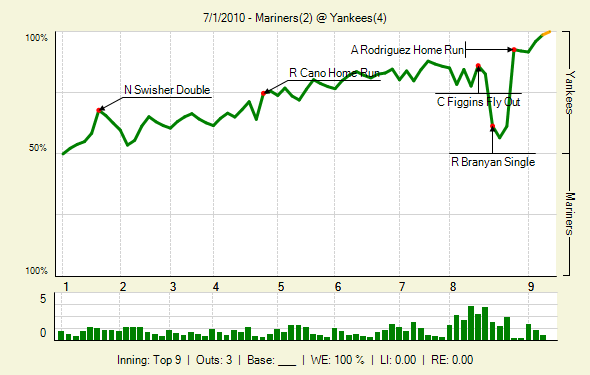 Green lines, numbers in a box, and highlights.
Up Next
1:00 Starts, Game 2 features the Blue Jays coming into town. It's the second straight year in which MLB has scheduled the Blue Jays, a Canadian team, to play at Yankee Stadium on Fourth of July weekend. This amuses me probably more than it should. We cannot let the Canadians come onto 'Merican soil and beat us during our celebration of independence!
Oh, and the Blue Jays are now .500, so all is right with the world again.