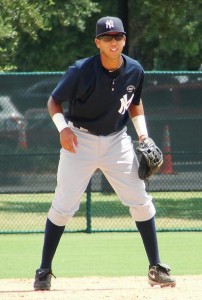 With the August 16th signing deadline now a thing of the past, we can begin to assess how the most recent amateur draft has impacted the Yankees' farm system. Although they didn't land a consensus elite talent, they more than made up for it in volume, signing basically all of their mid-to-late round gambles while filling out with polished college players to strike a nice balance. The Yanks were in a position to gamble some on long-term projects, which is exactly with they did. They could end up with nothing, or they could end up with something really special.
In addition to the new influx of talent, the Yanks have also benefited from a staggering number of breakout performances and strong returns from injury this year, transforming the system from one short on the "wow factor" before the season to one with waves with talent right now. The talent on the mound is both plentiful and diverse, with a mix of high-upside arms and safer, higher probability pitchers starting in Triple-A Scranton and going all the way down to High-A Tampa. And yet the Yanks' top three prospects (four of the top five) are position players, showing the depth of the system.
Here are my preseason and pre-draft lists, for comparison's sake. The only player on the pre-draft list that is ineligible for this one is Mark Melancon, who was shipped to the Astros in the Lance Berkman deal. Everyone else is fair game, and several players have dropped out as you can see. Some didn't perform, others just got leapfrogged by other players. It's not a bad thing when a live arm like Dan Burawa, a MLB-ready reserve outfielder like Colin Curtis, and a tooled up teenager with supreme plate discipline like Ramon Flores don't make your top 30. It's definitely an upgrade over where they were just twelve months ago.
Anyway, on to the list. The level listed is where the player is currently playing, but the new draftees get a "none" because I'm not sure exactly where they've been assigned, although I do have a pretty good idea. Let's start with a completely unsurprising name at the top…
Jesus Montero, C, AAA: took some time to adjust to AAA (.293 wOBA on the day on my pre-draft list), but he's been on an absolute tear for about two months now (.368 wOBA at the moment) that has reaffirmed his position as one of the very best hitters in all of minor league baseball
Austin Romine, C, AA: he's certainly slowed down after a hot start (wOBA by month: .395, .365, .318, .276, .199), but that's not unsurprising for a guy in his first season as a full-time catcher
Slade Heathcott, CF, A-: the power component of his power-speed combination isn't there yet (.071 ISO), but he's shown a tremendous eye at the plate (12.4 BB%) and the strikeouts should come down as he continues to refine his swing and make more contact
Andrew Brackman, RHSP, AA: he's cut his walk rate from 6.28 BB/9 last year to 2.61 this year while maintaining a strong strikeout rate (8.47 K/9) and better than a 50% ground ball rate, plus the scouting reports have been very good
Gary Sanchez, C, Rk: the 17-year-old is annihilating rookie ball (.459 wOBA), but he's got a long way to go defensively behind the plate, more than Montero did
Manny Banuelos, LHSP, A+: an appendectomy delayed the start of his season, but he's been simply fantastic since returning (1.79 FIP) and reports indicate a welcome uptick in velocity
Hector Noesi, RHSP, AA: aggressive in the zone with four pitches that are good enough to get swings and misses … he won't be a star, but he'll be a very nice fill-in option by this time next year
Dellin Betances, RHSP, A+: I don't think anyone expected him to be this good (1.84 FIP), this fast after elbow surgery, and the even better news is that reports indicate his stuff is all the way back as well … now it's just a matter of staying healthy (believe it or not, but his 67 IP this season are the second most he's ever thrown in a single year)
J.R. Murphy, C, A-: he's gotten better as the season has gone on (wOBA by month: .253, .293, .323, .389) while showing power and he ability to make hard, consistent contact … seems somewhat underappreciated to me
Ivan Nova, RHSP, AAA: it's not the highest ceiling in the world, but there's something to be said for MLB-ready back-end arms that can miss some bats and keep the ball in the park
Graham Stoneburner, RHSP, A+: his .212 AVG against is one of the very best in the minors, and he's demonstrated the ability to miss a ton of bats and limit walks … won't be challenged until he gets to AA
Jose Ramirez, RHSP, A-: almost a forgotten man with all the pitching talent ahead of him, but Ramirez has put up a very strong year (3.04 FIP) as a 20-year-old in his first taste of a full season league

David Adams, 2B, injured:

crushed AA with a .403 wOBA before a broken ankle ended his season in May … you're looking at a rock solid everyday second baseman in the bigs
Cito Culver, SS, Rk: holding his own after stepping out of his graduation ceremony and into the batter's box against the best pitching he's ever faced in his life … the power has started to come as the season has progressed (ISO by month: .050, .094, .106)
Brandon Laird, 3B/1B, AAA: breakout performer of the year (.384 wOBA in AA) has enough power and just enough defense to fake it as an every day third baseman in the show, but it's unlikely to be his long-term position
David Phelps, RHSP, AAA: arguably the best pure performance among Yankee pitching farmhands this year, but his lack of a bonafide put-away pitch is what limits his ceiling … doesn't mean he can't be an effective big leaguer
Corban Joseph, 2B, AA: hitting machine wOBA'd .352 as a 21-year-old in pitcher friendly Florida State League, now he's just got to improve on the defensive side of the ball
Zach McAllister, RHSP, AAA: advanced hitters have not been kind of Z-Mac, who has seemingly lost the ability to miss bats, generate ground balls, and avoid the long-ball … very disappointing year
Rob Segedin, 3B/OF, Rk: big time on-base ability with a great swing and moderate power potential, just need to figure out his long-term position
Angelo Gumbs, CF, none: true five tool potential here, but he's extremely raw … going to be a project
Adam Warren, RHSP, AA: cruised right through A-ball with 7.44 K/9, 1.89 BB/9, and 57% ground balls before moving up, and he's got enough stuff and command to be a back-end starter or valuable middle reliever
Bryan Mitchell, RHSP, Rk: arguably the best pure arm in the system with a knockout curveball, Mitchell has only been so-so in 33.1 IP this year, but the upside is exciting
Mason Williams, CF, none: received more money than another other Yankee draftee this year despite being the fourth best prospect they drafted … exciting tools, but raw and with questionable long-term power potential
Brett Marshall, RHSP, A-: electric arm just back from Tommy John surgery, his ranking is based on pure stuff and potential because the performance (understandably) hasn't been there yet
Gabe Encinas, RHSP, none: very diverse arsenal and a whole lot of pitching know-how, he should carve up the low minors thanks to his ability to setup hitters and mix pitches alone
Taylor Morton, RHSP, none: inconsistent spring hurt his draft stock, but he's been up to 96 in the past with both a changeup and a curve
Melky Mesa, OF, A+: old for his level but he finally seems to be putting it together … the other Melky is a tool shed, with the only knock being his ability to make consistent contact, something he's done this year
Eduardo Sosa, CF, SS: big time defensive outfielder with great speed and surprisingly good plate discipline, he's a pretty exciting player to watch live
Kelvin DeLeon, RF, SS: the 2007 bonus baby has two standout tools in his power and throwing arm, but his utter lack of plate discipline will keep from being elite
Evan Rutckyj, LHSP, none: a surprise signing, the big (6-foot-5, 210 lb.) lefty has flashed promising stuff with a surprising good feel for his craft … he's a long-term project, but there's a lot to work with here.
Kevin Russo and Burawa were squeezed out last night when Williams and Rutckyj signed. One thing to keep in mind is that I (and we) don't know nearly as much about this year's draftees as we do about the guys who have been in the system for years, so it's tough to pinpoint exactly where they belong. Don't like having Culver below Adams? Fine, I could easily be convinced otherwise.
Also, remember the fudge factor. There's so little difference between say, the fourth best prospect and the ninth best prospect, or the 22nd best prospect and the 30th best prospect that it's a waste of time to get worked up over individual rankings. Think Betances should rank higher than Noesi? Fine, who cares. They're basically on par with each other. Think of it as tiers. Jesus Montero is all by himself. Romine and Heathcott are behind him. Brackman through Betances is the next tier, and so on. The important thing is the cache of talent, which is the deepest it's been in at least two years.