Losers of their last three games and four of their last five, the Yankees came to park on Wednesday with what felt like a 800 lb. gorilla on their backs. It was even worse for us fans because we couldn't do anything about it, the players were the only ones capable of turning things around. Thankfully they did just that in this game, all thanks to a historic blast from one of the game's all-time greats.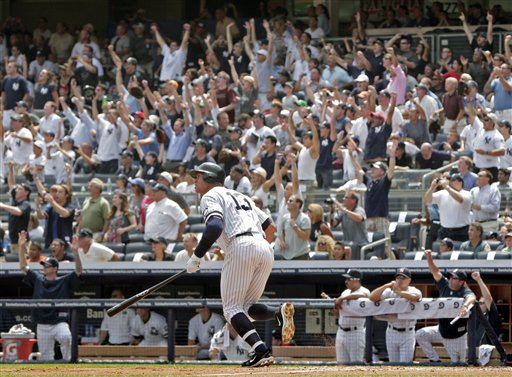 Biggest Hit: No. 600
It felt like an eternity, but in reality it was only a 12 day wait for Alex Rodriguez to become the seventh member of the 600 homerun club. Some felt that Alex's pursuit of No. 600 was a drain on the team, basically sucking the life out of the club and driving them into this recent tailspin. It's an excitable narrative for the mainstream media types, but it doesn't matter now. All that talk can be put to rest and now we can all talk about just baseball.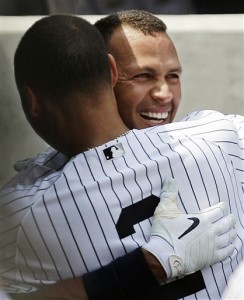 The history shot came nice and early, in the 1st inning with Derek Jeter on base following a leadoff single. Jay's starter Shaun Marcum challenged A-Rod right from the get go, pumping two mid-80's fastballs inside for balls. Sitting 2-0, the best hitter's count in the book, Marcum threw another 85 mph fastball to Alex (I'm not exaggerating, PitchFX picked it up at 85), but this one was away on the outer third. The Yanks' third baseman was out in front of the pitch ever so slightly, be he's so strong that he managed to hit the ball out anyway. It wasn't a New Stadium cheapie either, it was a legit blast into Monument Park. Here's the video if you want to re-live the magic again.
The gorilla was lifted off everyone's back instantly, the Yankees had the lead, and Alex was in the history books yet again. I don't know about you, but it was one of my favorite moments of the season so far. The waiting sucked though, don't get me wrong.
Biggest Pitch: Encarnacion Goes Down Swinging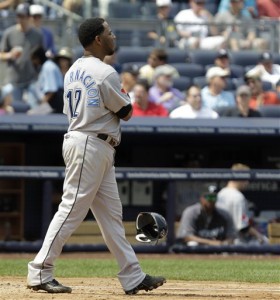 Nursing a 3-1 lead in the 4th inning, the Yanks were in danger of blowing an early lead yet again. Toronto already pushed one run across when Lyle Overbay doubled to right-center, scoring Jose Bautista and pushing Adam Lind to third. Overbay stood at second representing the tying run when Edwin Encarnacion stepped in, one day after crushing a crushed a mammoth two run homer off Dustin Moseley.
Knowing that Encarnacion is a Grade-A hacker (he's swung at over 30% of the pitches he's seen out of the strike zone), Phil Hughes attacked his weakness and fed him pitches just off the plate. His first offering, an 89 mph cutter, just missed down and away for ball one, but the next cutter just caught the top of the zone for strike one. After another cutter down and away for a ball, Hughes challenged Encarnacion up and in, getting him to swing through a 93 mph fastball for strike two before doing the same one pitch later for strike three. The last pitch was about eye level, definitely not a strike.
The threat the was ended, and the one run Overbay drove in would be all Toronto got in this one.
Honorable Mention: Travis Snider's Pop Up
An inning prior to EE's strikeout, the Jays had runners on the corners with one out, so all they needed was a moderately deep fly ball to trim their deficit to one. Instead, Hughes got Travis Snider to pop a high fastball up on the infield for out number two. Seven pitches later Aaron Hill grounded out to third and the inning was over with the two run lead still intact.
Swing And A Miss
It's no secret that Hughes hit a bit of a rough patch following his tremendous start, posting a 5.51 ERA with a .291/.333/.494 batting line against from mid-May through mid-July. He started to correct that last time out against Tampa, but one bad pitch to Matt Joyce cost him and the team a win. Thankfully his rebound continued today, even though Hughes wasn't exactly efficient with his pitches.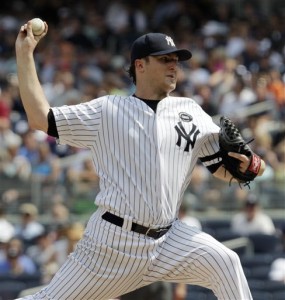 Phil started the game off by retiring the first six men he faced, three via strikeouts, before running into the trouble you read about above in the 3rd and 4th innings. Those were his only hiccups, as he retired the side in order in the 5th and gave way to Boone Logan in the 6th after allowing a single and coaxing a fly out out of Vernon Wells.
Hughes threw a total of 99 pitches, not great for five and third innings of work, but being efficient is something that's learned over time. Sixty of those 99 pitches were strikes, and 18 of those 60 strikes were on swings-and-misses. That's a ridiculous total. For comparison's sake, CC Sabathia pitched a game last year in which he generated 25 swings-and-misses, the most by any pitcher all season. Hughes definitely had the good stuff today, which is great to see as he approaches a career high workload.
Oh, You Mean Something Else Happened Besides No. 600?
Once again, great job by the bullpen. Logan, Joba Chamberlain, David Robertson, and Mariano Rivera combined to retire 11 of the 15 men they faced. The only blemishes were a seeing-eye single off Joba (Robbie Cano actually made a play on it, but the runner beat the throw), a D-Rob walk, and a hit batter each by Logan and Mo. They struck out three as a group, and threw a first pitch strike to all but one of those 15 batters. Great job by a relief corps that's getting stronger and stronger as the season progresses.
Joba didn't throw a fastball under 95 mph, and he topped out at 98 according to PitchFX. He's slowly but surely regaining that lost velocity, a great, great sign.
It was turn back the clock day for Jeter, who went 4-for-4 with a pair of doubles (one down each line) and three runs scored. As much as we get on the Cap'n for his subpar season, we have to give him props for hitting .333/.377/.444 over his last 17 games. Let's hope he keeps it up, it would be a huge help down the stretch.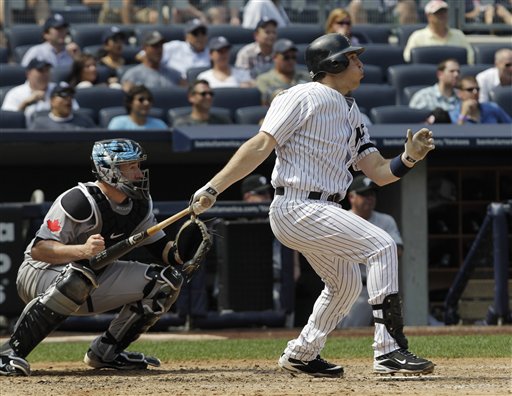 Mark Teixeira went 2-for-3 with a double, driving in every run the team scored sans the two that came home on No. 600. Meanwhile, Jorge Posada was on the opposite end of the offensive spectrum, going 0-for-4 and seeing … wait for it … five total pitches. That's not the Georgie we all know and love, but everyone has days like that.
The box score will show an 0-for-4 for Lance Berkman, but he saw 24 pitches on the day and squared up the final pitch in each of his last two at-bats. Both were hit right on the screws and ticketed for the rightfield corner, but Lyle Overbay had to go and get in the way. Hard contact is a good sign.
Curtis Granderson flared a single to left, just his seventh hit of the season to that side of the field. His 63 other hits either went to right (30) or center (33). I'm surprised more teams don't play the shift on him.
With the Twins managing to eke out a win in extras against the Rays, the Yanks are once again tied for first in the AL East. Boston is six and a half back in third place.
WPA Graph & Box Score
Wait, you mean the green line is allowed to go on the Yankees' side? ESPN has the box, FanGraphs all that other cool stuff.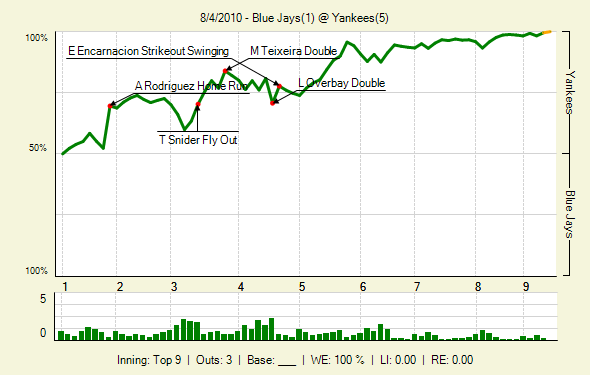 Up Next
The Yankees are off tomorrow, and will come to the park Friday night ready to kick off a four game set against the Red Sox. That game will feature Javy Vazquez vs. Clay Buchholz. The Rays play tomorrow, so the Yanks could conceiveable drop out of first place by half-a-game through no fault of their own. Meh, what can you do.