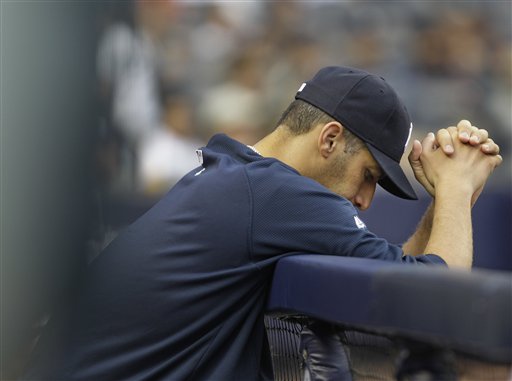 The Yankees, with the American League's fourth oldest roster at an average age of 29.1 years, enjoy their first day off since August 5th today. Their just completed stretch of 20 games in 20 days took them from home in the Bronx to the sweltering heat in Texas and Kansas City then back to the Bronx before a trip through customs to Toronto. They went just 11-9 during that stretch, though they did outscore their opponents 103 to 73, which says they should have actually gone 13-7. Blowouts against the Tigers, Mariners, and Blue Jays skew the run differential a bit.
Usually off days are hell on fans, and it's not that this one isn't, but I'm actually looking forward to no Yankee baseball tonight. Derek Jeter gets another day to rest his sore leg as does Nick Swisher. Al Aceves, Andy Pettitte, Damaso Marte, Lance Berkman, and Alex Rodriguez come another day closer to returning from the disabled list without a game getting crossed off the schedule. The bullpen, overworked for the last week or so, gets a bit of a breather and Joe Girardi can go into this weekend's series against the White Sox capable of using the relievers he wants to use rather the guys he can use because of their recent workload.
Robbie Cano, who's started 124 of the team's 127 games (all in the field, too), gets some time to rest his legs. Yeah, he's in his physical prime at 27-years-old, but that doesn't mean he's free of fatigue. The same goes for 30-year-old Mark Teixiera, who's started 118 of those 127 games at first base and another seven as designated hitter. Brett Gardner has already spoken about tiring himself out in the early going, so this gives him time to recoup. Jorge Posada is in perpetual need of days off. This day gives everyone on the roster, young or old, a day away from the physical grind that is being a Major League Baseball player and playing 20 games in 20 days.
More than just physically, this day off also affords the team a bit of a mental break. I can't speak for the players themselves, but just watching a fan I can feel the stress of these games, the highs and lows and more often than not the mind-numbing monotony. I'm sure whatever the players deal with is about a million times worse. No matter how good or bad, how hot or cold, every team needs time away from the game everyone once in a while just to clear their heads.
I usually hate days off because I tend to find my loser self looking for something to do whenever the Yanks don't play, but this 24 hour break is more than welcome. It's not quite as refreshing as the All Star break, but having a day to recharge the batteries after such a long stretch of games is always appreciated. Hopefully the Yanks take advantage and come out swinging tomorrow. Their next three series are against non-contenders before the September schedule is full of tough games, so this day off couldn't be coming at more perfect time.