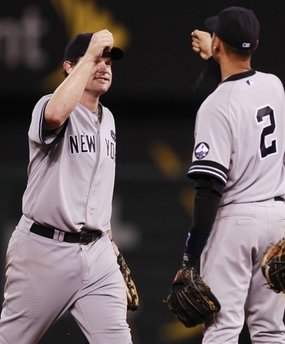 I know I'm getting ahead of myself this year, but should the Yankees try to resign Austin Kearns in the offseason?  Assuming  they are sold on Brett Gardner and will not be signing Carl Crawford, I think Kearns might have a role for this team beyond 2010.
Kearns has had a solid year after signing for 1 year/$750k with the Indians in the offseason, but has he done enough to either make significantly more money and get signed to be a full time player?  On point #1, I'd say the answer is no.  I don't see him getting a multi-year deal in the offseason for very much money.  On point #2, I can see him getting a chance to start full time, but likely on a bottom feeding team.  Maybe he'd rather do that than sign on as a 4th outfielder, but if he's willing to become a part time player next year at the age of 31, I think he's a great fit for the Yankees.
Kearns would become a great 4th OF for this team, filling the role many had hoped of Randy Winn.  He can play the corners well defensively, and could probably still handle in CF in a pinch(though Mo forbid it ever got to that).  He also shows no drastic splits vs. lefties or righties, which can be viewed as both a positive and a negative for a bench player.  The negative is that he doesn't provide any great skills(like Marcus Thames vs. LHP) but I think the positive that he isn't completely inept against either RHP or LHP outweighs the lack of a great skill.  And anyway, if Kearns was great against either hand while being adequate against the other he would certainly be a starter elsewhere.
I have no idea what Kearns has in mind for 2011 and at this point maybe he doesn't either. He's played in almost 1000 games without ever reaching the playoffs.  Maybe a deep run this season and he realizes he'd rather get 300 AB's for a contender than 600 for a bottom feeder.  Maybe he knows that next huge contract isn't coming and is content with the $20+ million he's made so far (assuming he hasn't gone Antoine Walker or Mark Brunell on us).  It truly comes down to Kearns' desires, but I would love to see him back in the pinstripes in 2011.