With a successful homestand behind them, the Yankees headed north of the border to take on the Blue Jays with the idea of keeping the good times rolling. Rookie righthander Ivan Nova made his first career start and was solid if not spectacular, but a pair of poorly located pitches to Jose Bautista sent the Bombers home with a disappointing loss.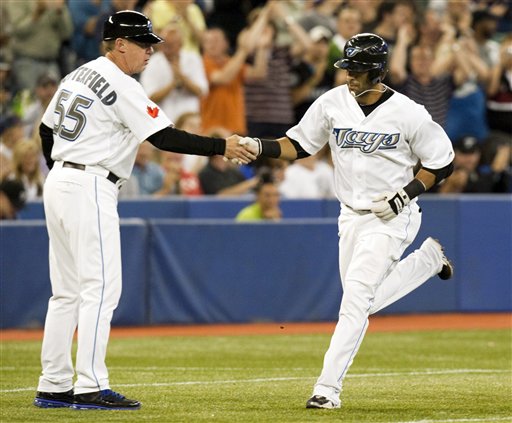 Biggest Blunder: Robertson Misses His Spot
Going into the late innings of a game with the score tied against a team like the Jays is risky business because they can change the score with one swing of the bat. Of course, the Yankees can do that too, but having home field advantage tipped the scales in Toronto's favor.
David Robertson took the mound in the 8th inning as usual, scheduled to face the Jays' 2-3-4 hitters. He made quick work of John McDonald (who took over at short after Yunel Escobar was ejected), and jumped out to a 0-1 count on homer king Jose Bautista by dotting the outside corner with a 92 mph fastball. Bautista already had one homer on the night (more on that later), and the Yanks' plan since then was to work him away, away, and away some more. Frankie Cervelli called for the same exact pitch, set up outside again, but Robertson completely missed his spot. The pitch sailed back in on the inner half, right into Bautista's wheelhouse and he did what he's been doing all season: launching moonshots.
The solo homer gave the Jays the lead with just three Yankee outs remaining, and he made sure to rub it with a bat flip and a slow, David Ortiz-esque trot around the bases. There's a bit of a story to that, but we'll get to it in a bit.
Two Out Runs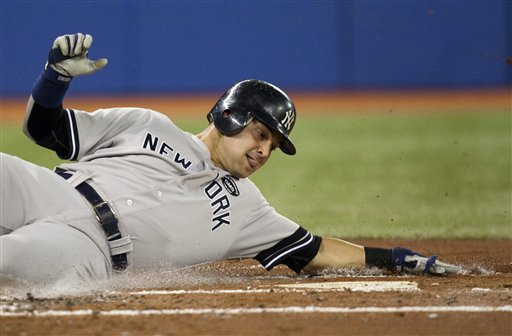 The Yanks didn't mount too many threats in this one, instead opting for quick, almost instantaneous strikes. Their first run came after Nick Swisher coaxed a walk out of Brandon Morrow in the 1st inning before Robbie Cano doubled him in two batters later. Their other run came in a very similar fashion, with Cano walking in front of Jorge Posada's double in the 6th. There were two outs in the inning at the time of both doubles, so the runner on first was able to just put his head down and run blindly around the bases. I'm not sure if Cano would have been able to score on Posada's double without that head start.
Ivan The Pretty Good
Making his first career start, Ivan Nova's night didn't exactly get off to the banging start. Fred Lewis sent his second pitch of the game back through the box for a single, and Escobar followed that up one pitch later with a line drive double into the right-centerfield gap. Bautista drew a four pitch walk, and after the Yanks took an early 1-0 lead, Nova looked ready to give it back (and then some) in the bottom of the 1st. Much to everyone's surprise, the neophyte righty managed to escape the inning without a single run crossing the plate. He had plenty of help, of course.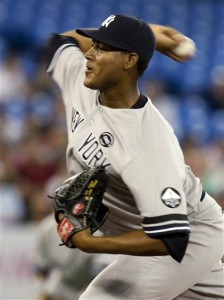 Vernon Wells, Toronto's cleanup hitter, hit a mid-range fly ball to left. Brett Gardner lined it up perfectly, caught the ball with his momentum going towards the plate, and uncorked a throw home that beat Lewis by about two steps. Cervelli received the well and applied the tag (with his ball actually in his glove) before Lewis came close to touching home. It was Gardner's tenth outfield assist of the season, second only to Shin-Shoo Choo's twelve. Nova had new life, and he took advantage of it by striking out Adam Lind on a 97 mph fastball at his eyes to end the inning.
Considering how rocky the 1st inning was, Nova settled down very nicely. The only other trouble he ran into wasn't even a prolonged rally; Bautista hit a two run homer after Escobar reached first with some help from the umpiring crew. It was a hanging curveball, a pitch that should have been crushed. Other than that, he retired nine of the last ten men he faced, giving up just an infield single after Bautista's homer. PitchFX clocked him as high as 97.5 mph with the fastball, far beyond any scouting report we've ever seen. That didn't last long though, Nova settled into the 92-95 mph range after that opening frame. He was probably just a little geeked up. I was particularly impressed with a pair of changeups he threw to Lyle Overbay in the 4th, getting him to swing over the pitch on 3-1 and again on 3-2. Great stuff.
Overall, Nova certainly did enough to earn himself another start, it's just a matter of where the Yanks decide to squeeze his turn in. With the light hitting White Sox and even lighter hitting Athletics coming up on the schedule, he should have a better go of it next time around.
Tempers Flare
Exciting little moment in the 6th inning of this one. A few innings after Bautista did his little bat flip after his first homerun, Nova threw a fastball up and kinda sorta in, which Bautista of course took exception to. He walked towards the mound and barked some, Nova barked back, both benches and bullpens emptied, but ultimately nothing came of it. No punches, nothing like that. It's still something to keep an eye on the rest of the series, especially after Bautista's exaggerated homer trot in the 8th.
These two clubs still have eight more games left against each other. I suspect this won't be the last of it (especially not if A.J. Burnett gets another start against his former team), but I'd rather have the Yanks win the games instead of stooping down to their level. Let the fourth place team practice their dance routines for the October homecoming dance.
Leftovers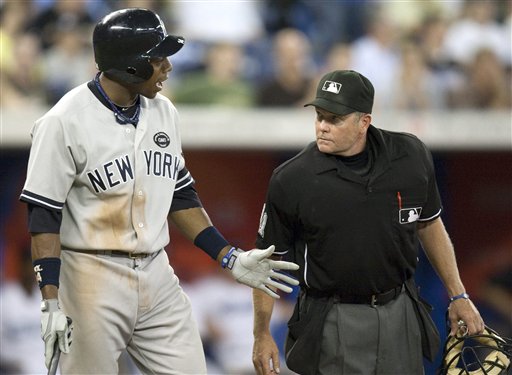 Seemed to me like Joe Girardi was a little quick with the hook when he pulled Nova at just 73 pitches with one out in the 6th, but it's not the end of the world. The benches had just cleared and the Jays put a man on with an infield single, so maybe he wanted to get the rookie out of there before the emotions ran a little too high. I guess my biggest concern is that the bullpen has been taxed of late, and it seemed like an unnecessary move. Hopefully it doesn't bite them in the ass at some point during the next two games.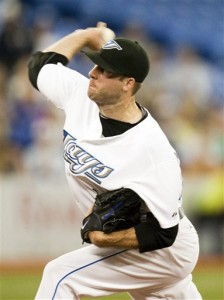 Morrow was rather filthy, striking out a dozen in six innings of work. That slider inside and under the hands of lefties is just devastating. It's almost impossible to get a bat on that, and the damn thing is on the corner of the plate, so it's strike three either way. Just tip your cap, he was big time in this one. That said, I will link to this and mention that Ken Singleton and John Flaherty said home plate ump Jerry Meals' name an awful lot during the broadcast.
Bad call by first base Mark Wegner ump in the 3rd inning, calling Escobar safe at first when Mark Teixeira allegedly came off the bag to field Eduardo Nunez's throw. Tex argued emphatically and the replay showed that he did in fact keep his foot on bag, but of course Wegner's call stood. Sure enough, Bautista homered three pitches later. Such is life.
Ugly night for Curtis Granderson, who struck out struck out in each of his three official at-bats (with a hit by pitch mixed in). Of course, the final strikeout was a load of crap call (Grandy never argues, but he did after that strike three call), but it is what it is. Nunez and Frankie Cervelli saw a total of 21 pitches in their six trips to the plate, but Ramiro Pena salvaged the bottom third of the lineup with a pair of singles.
It was a frustrating loss, but let's keep things in perspective. Nova was making his first career start, Murder's Row Replacement Level Row (h/t Carig) was camped at the bottom of the lineup, and the umpiring sucked. They weren't exactly set up for success. The Red Sox beat the lowly Mariners, so the Yanks' lead on a playoff spot shrunk to five-and-a-half games.
WPA Graph & Box Score
It kinda looks like a 2-D Mario level, no? MLB.com has the box, FanGraphs the other stuff.
The Yanks will try to extract revenge Tuesday night when they send Dustin Moseley to the mound against Marc Rzepczynski. I was concerned that the Yanks had never seen him before, but don't worry, they knocked him around the two times they faced him last season. Crisis averted.