When the season started some four months ago, basically everyone in the lineup had a defined role. Derek Jeter and Nick Johnson had to get on base in front of the big bats. Mark Teixeira and Alex Rodriguez had to drive them in. Robbie Cano, Jorge Posada, Nick Swisher, and Curtis Granderson were supposed to tack on as much as possible. And then there was the other guy, Brett Gardner.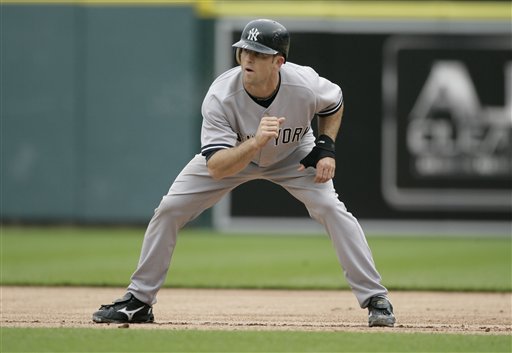 Gardner stood out from the pack because he wasn't a power hitter and hadn't already established himself in the big leagues. Not technically a rookie but basically still new to playing every day in the show, his job was pretty simple: catch everything within shouting distance and try to get on base as much as humanly possible. We spoke amongst ourselves about how thrilled we would be if he got on base 35-36% of the time, because that would mean something like 30 or 40 steals. Well, it's now August 3rd and the Yankee leftfielder has a .391 on-base percentage to his credit through 376 plate appearances. The only other outfielder in baseball to reach base at a higher clip is Josh Hamilton, who sports a .409 OBP.
As fantastic as he's been at getting on base this year, there is one thing Gardner's not doing as well as he has earlier this season: he's not stealing as many bases. Gardner attempted 11 steals in April out of 28 total times reaching first base, or 39.3%. In May those numbers dropped to 11 attempts in 42 times on first (26.2%), then dropped again to seven attempts in 30 times on first in June (23.3%). Gardner bottomed out at seven steal attempts in 32 times on first in July, or 21.9%. For comparison's sake, Rajai Davis has attempted a steal 44.3% of the time he's reached first base this year, Carl Crawford 39.2% , B.J. Upton 38.2%, and Juan Pierre 36.7%. Even though he has the fifth most steals in baseball, Gardner is not among the league's elite basestealers because of his 27.2% attempt rate. He simply doesn't run as much as the other guys.
As it turns out, Gardner may have simply worn himself down earlier in the season. Here's what he told the incomparable Chad Jennings the other day…
"Early in the season I was getting on base a lot and running a lot, and my legs just got a little tired," he said. "With Curtis (Granderson) out, I didn't want to push the issue. I need to start running more. I wish I had been running more recently in the last several weeks, but I will. When we need me to try to get into scoring position, I'll try to. I'm healthy, and I was healthy, it's just a matter of trying to be smart."
Stealing bases is a rather grueling chore. Your body takes a beating from sliding into the bag; fingers get jammed, hands get stepped on, legs tire out, it's really tough on the body. Gardner wears some kind of plastic brace on his left hand to support the thumb he broke last summer, the same thumb that caused him to miss two games back in June because of soreness. Add in the fact that he's generously listed at 5-foot-10 and 185 lbs. and makes all sorts of jumping and sliding and diving and sprinting grabs in the outfield, and it's to see how he tired himself out early on.
Even with that rather pedestrian attempt rate Gardner is still on pace to swipe 46 bases, which would be the most by a Yankee since Rickey Henderson stole 93 bags back in 1988. Alfonso Soriano was the last player the Yanks had on the roster that could impact the game with his legs the same way Gardner can, but it's important to remember that bulk stolen base totals are nice but not imperative. If Gardner's legs are truly tired, then he should absolutely be a bit more careful and do a better job of picking his spots. Stealing bases for the sake of stealing bases is a good way to get hurt (and improve his arbitration case, but that's besides the point).
It goes without saying that Gardner has exceeded every possible expectation this year. When your primary nine-hole hitter rocks an on-base percentage in the .390's and is if nothing else a distraction to the pitcher when he's on the bases, then you're already way ahead of the game. I'd like to see Gardner boost his stolen base rate back up to where it was earlier in the season, but I'd much prefer to have him healthy the rest of the way. Hopefully he learns what the right pace is for him so that in the future he can be a consistent stolen base threat over 162 games rather than run himself into the ground in April and May.