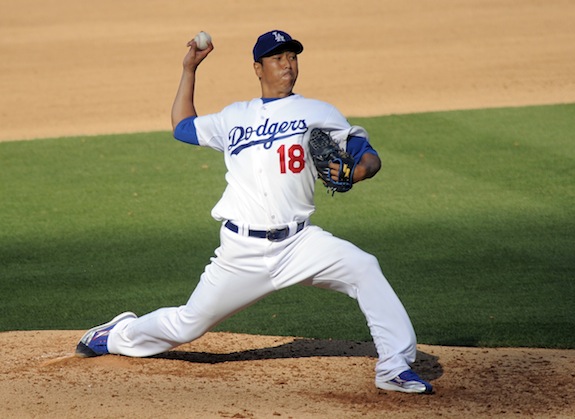 Last night, as the Yanks went about bombing the Blue Jays, Ken Rosenthal let slip an interesting tidbit: The Yankees, rival executives said to him, would be all over a Hiroki Kuroda claim were the Dodgers' right-hander to reach them on the waiver wire. For just the $2.5 million remaining on Kuroda's contract, the Yanks could have a three-win Type B pitcher who would significantly shore up the back end of their rotation. What's not to like about the idea?
There is but one problem though: Brian Cashman says the Yankees aren't interested in Kuroda. ESPN New York's Wallace Matthews pinged Cashman with a query on the Japanese hurler, and the Yanks' GM shot down the rumors. "What we got is what we're going with. I anticipate we are going to use the alternatives we have here, he said, referring to Dustin Moseley and Ivan Nova.
Of course, Cashman doesn't really have the ability to see more and doing so would overplay the Yanks' hand. First, to express interest in Kuroda right now would be akin to tampering. The Yanks cannot openly covet a player on another team. Second, by letting slip their interest, Cashman would all but assure another team ahead of them on the waiver line would move to block a deal. Since the Yanks are dead last in the Majors when it comes to waiver priority on Kuroda, the stars have to align for the Yanks to land him.
The Yanks' GM though had more to say on the subject: "I haven't thought about him. I don't even know if he's on waivers yet. Besides, I'd be hard-pressed to find a pitcher on the waiver wire who can pitch better for us than Dustin Moseley has."
Brian Cashman is no fool, but he seems to be trying to pull a fast one on other teams. Dustin Moseley is 4-2 with a 4.53 ERA, but how well has he truly pitched? In 45.2 innings, he's allowed 44 hits but has an ugly 23:18 K:BB rate. He's allowing nearly two home runs per 9 innings pitched and sports a FIP of 5.97. He's stranded nearly 80 percent of base runners, a mark nearly 10 percent above league average, and his WAR is -0.3. Forget the waiver wire; the Yanks could probably find someone who can pitch as good as, if not better than, Dustin Moseley in AAA.
"I'm not even thinking along those terms because right now I'm not interested in adding anyone," Cashman said to Matthews. "I like the team we have and I think we have what it takes to get the job done."
That may be so. Perhaps the Yanks' budget is tapped out. Perhaps they don't have the $2.7 million to spend on Kuroda. Perhaps they're just holding their cards close to their chest knowing that Kuroda may not fall to them otherwise. But perhaps Cashman wouldn't have spilled the beans to Matthews if they were interested in Kuroda. Don't let Brian fool you though; interested or not, the Yankees with Hiroki Kuroda are better than the Yanks without him.