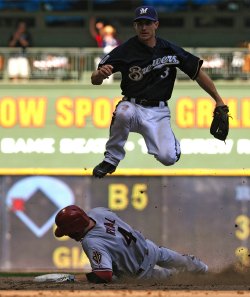 While the Yankees boasted baseball's best record in late July, we all knew they had a few flaws. The bench looked a bit out of order, with players like Ramiro Pena and Colin Curtis taking up roster spots. The bullpen was also in need of a reinforcement or two. Brian Cashman acted at the deadline, acquiring Lance Berkman to be the DH, Kerry Wood to shore up the pen, and Austin Kearns to fortify the bench. Still, that left a few positions as a weakness, most notably utility infielder.
Ramiro Pena is a good story. Throughout his pro career he made a name with his glove, but wasn't able to hit a lick. Then, one spring, he demonstrated some bat skills and ended up breaking camp with the team, because the regular utility infielder was pressed into regular duty. Pena provided some highlight moments early in the season, including a game-changing double that led a comeback against Anaheim. Later in the season he returned as the utility infielder, and heading into spring training it was assumed that he'd again fill that role in 2010.
This year hasn't gone nearly as well as his rookie campaign, in which he produced a .312 wOBA in 121 PA. This year he has 112 PA already and has a puny .219 wOBA. The problem isn't the production, in that this is probably more in line with what the Yankees can expect from Pena. He still has the glove, but his bat just isn't going to play at the major league level. If the Yankees had an infield composed of young, healthy players this might not be a problem. But with the left side aging and, in A-Rod's case, not completely healthy, the Yanks could use a better utility infielder.
A few such players are likely to pass through waivers this month, whether because of contract size or general disinterest. There probably won't be a stellar multi-position player available, but there will be options that will produce better than Pena. Two have reportedly cleared waivers already. While neither Geoff Blum nor Craig Counsell will change the Yankees' season, either could step right in and fill Pena's shoes while providing at least some semblance of offensive value. The best part is that neither will likely cost much in a trade.
Counsell, who will turn 40 later this month, has seen his numbers drop off a bit this year. That could be a combination of his age and his reduced playing time, neither of which will get better with a move to New York. But even in a down year he has produced a .284 wOBA. He can play anywhere in the infield, and has even played 185 innings at shortstop this year. As far as the currently available options go he's among the best.
Astros utility man Geoff Blum, 37, has also cleared waivers. While he has played all infield positions this year he has spent the most time at SS and 3B, which fits the Yankees' needs well. Looking at the past few years of his defensive data he's been about average at third and below average at shortstop, which doesn't bode well for a utility player. His bat this year is also about equal to Counsell's, though he has a far worse career track record. In other words, if you're going to gamble on a currently available veteran, Counsell is your guy. Taking defense into account, Blum might not even be that big an upgrade.
Two more weeks remain in the waiver trade period, so acquiring a player like Counsell is probably not high on the team's priority list at the moment. But if the opportunity arises to add him on the cheap, I don't see why the Yankees would pass. It would be one thing of A-Rod and Jeter were healthy and productive. With A-Rod's health a lingering question, the Yanks could use an upgrade on the bench. If he's the best available, so be it. He'll at least be more productive than Pena.