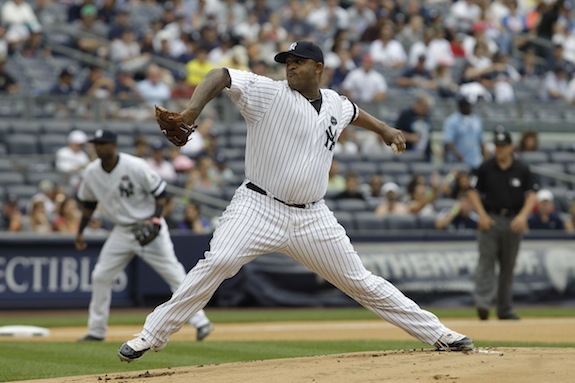 When the Yankees signed CC Sabathia, most news outlets reported it as a seven-year, $161-million deal, but that's not entirely true. As we know — and try to forget — the Sabathia deal is a three-year contract for $69 million with a player option for four years and $92 million. Sabathia's opt-out looms nearly as large as the lefty himself, but speaking on the contract for the first time, CC said he'll stay in New York.
According to The Post, CC said he "won't even consider" exercising his opt-out clause after the 2011 season. "I'm here," Sabathia said to Mark Hale. "Hundred percent. I think you know I've built a house here, right? My kids go to school here. We live here year round. So I'm not going anywhere."
That's music to my ears. As a Yankee, CC Sabathia is now 36-13 with a 3.21 ERA. He's a horse, averaging just under 7 innings a start, and he's pitched even better in the cozy confines of Yankee Stadium than we could have expected. At home, he is 17-2 with a 2.84 ERA. "You can give my wife credit for that, I guess," Sabathia said. "Her cooking. And just being at home, being around my family and going out and being able to be relaxed. It's just one of those things. I love being home. I love playing in The Bronx. I love being at Yankee Stadium. But just one of those things that worked out like that."
When the Yankees signed CC, the opt-out was viewed as an incentive to come to New York. Most who covered baseball assumed that Sabathia wanted to pitch closer his home in California's Bay Area, but the Yankees overwhelmed with him money. Unlike A-Rod's opt-out or J.D. Drew's opt-out, the one in CC's contract wasn't necessarily about getting more money if the market rebounded; it was about allowing CC to adjust to the pressures of New York and decided if he wanted to stay. For now, it seems, he'll stay.
Of course, I can't believe right away that CC won't take advantage of the opt-out in some shape or form. It gives the left-hander some leverage if the market appears strong after the 2011 season. He could ask the Yanks for another year in exchange for waiving the opt-out or he could renegotiate the final four years of his deal entirely. After all, when other high-profile opt outs have come due, the players have used that leverage to get richer. Love of New York aside, would CC be the exception to that rule?
But I'm certainly willing to take him at his word that he wants to stay in New York. He's the king of the Yankees rotation and, after the World Series, the toast of the town (and it takes a while to tend to an organic garden in the bullpen). If he stays, the Yanks have at least one ace for the next few years, and their rotation is still that much stronger. They will still look to land Cliff Lee as a replacement for Andy Pettitte when he retires and have Phil Hughes, Joba Chamberlain and, for better or worse, A.J. Burnett under team control for the next three years. It could very well be a riches of pitches.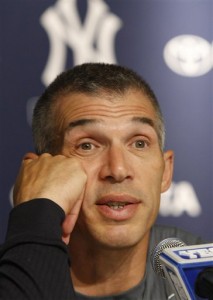 Before CC's opt-out comes due, another Yankee free agent will have a decision to make. As the Bombers head to the Windy City this weekend and as the White Sox's cross-town rivals see their managerial spot in flux, Joe Girardi's contract situation will sneak to the forefront. Our own Mike Axisa tackled the Cubs question a few weeks ago, but with Lou Piniella's resignation this past weekend, the Chicago media will pepper the Yanks' skipper with questions about the Cubs' vacancy. As he must and as he did to ESPN, Joe will say that he loves New York. "I'm sure I'm gonna be asked that a lot now that he's stepped down," Girardi said. "My focus is here. I have a responsibility to the organization and to the guys in that clubhouse and that's where my focus is. I'm very happy here, you know what? Great working relationship here with everyone involved and I'm very happy here. This organization has been great to me."
Girardi, though, recognizes his close ties to Chicago, and as a native son of Illinois, might he be tempted to try to manage the Cubs to an elusive World Series? "I know I have a background there and I'm not gonna skirt around my background there," he said. "I grew up a Cubs fan, I played for the Cubs, but I'm not worried about that now. Im worried about what we're doing now. We're in a fight."
I don't always agree with Joe Girardi's moves. I find his bullpen management a bit too by-the-books at times, but he's enjoyed great success with the Yankees in his three seasons so far. Unless the Yanks somehow fail to make the playoffs, he'll have an offer on the table from the Steinbrenners as the Cubs try to fill their own managerial role. As with CC, Girardi, though, should return to the Bronx. It's just the Yankee way.